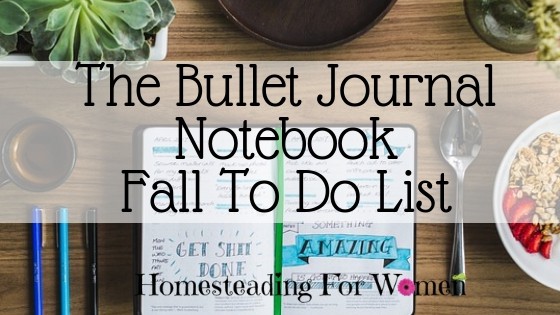 How the bullet journal notebook fall to do list can help you get things done more quickly and on task. I've always had some sort of to do list, that's just how I get so much done. Making a simple list of things to get done on the farm is very important and could save your life in an emergency over the winter months. Why not make it more fun with a bullet journal?
There are so many planners out there today but found most of them to be just too big and bulky to carry around with me. Or just too fancy. I've opted to use my bullet journal just for the daily things I want to get done each day. It really keeps me on track and I end up getting way more things done each day because of it.
Keeps Me From Being Overwhelmed
If I look at pages of things I need to get done each day, I will easily get overwhelmed, and more than likely I won't get anything done because I don't know where to start and it eventually gets buried on my desk, or hubs come in and needs a piece of paper then takes my list with him to be long forgotten by me. Lol!
What I love about a bullet journal is that you can make it your own, and create your own planner the way you like it. Everyone has their own way of doing things, your journal will look different than mine. But it helps to get an idea of what one looks like. I have a Pinterest board full of ideas.
Fall Goals Are Important
It helps to get some main goals you want to get done in the fall, here in Indiana it's cooler outside. We like to finish up projects outside before the weather turns cold.
So I would start a list of big things to get done on one page, if you start with the big things then you can narrow those down into little projects each week. In the front of my journal, I have an index so I can find things that I write more easily. My pages are numbered or you can number them yourself. My notebook won't last all year, and that's ok.  I have several over the course of the year and one main calendar where I keep all the dates and important happenings of the year all in one planner, I like to buy a new one of these each year.
I write big and bold. But I like the convenience of a smaller journal to keep with me. Mine only last about 3 months, which is great for planning. If you plan something everything three months and look over what you've done and where you're going. You will be really surprised just how much you can get accomplished.
How Pages Are Set Up
On my to-do list for the day, I'll write out my goals for the day with a box in the front of the project, as I get them done then I color in the box. I try not to write more than 5 or 6 things each day. So I don't overwhelm myself. Then on that same page, I'll write a little note to myself just saying what went on that day. So it's like a little diary of sorts as well. You'd be surprised how much better you feel if you just write out the stuff that bugs you or the blessings of the day.
I always, always, always, thank God and be grateful for my family and my life each day. I do this first thing when I wake up and before I go to bed each night, plus writing out something in my journal for the day. That is the only thing that helps with stress and depression. Be thankful that you are alive and breathing, for your pet's health, and your family. I'm sure you can think of a few. I'm grateful that I have running water and I don't have a cistern that runs dry anymore. It's the little things that make me happy.
Ideas To Put In Your Fall Homestead Notebook
Chickens ready for winter
Crocks or unbreakable water bowls for animals
Enough hay stored away for winter
Firewood cut and stacked
Emergency generator serviced
Enough stockpiled Food
Homestead winter prepared
Garden weeding finished
Preserving food for winter
That is just a few of the things on my list to do. I'm sure I'll be adding more to the list, it's just to give you some ideas on what to put in the bullet journal notebook and your fall to-do list.
You Might Also Like To Read
Pin It For Later!