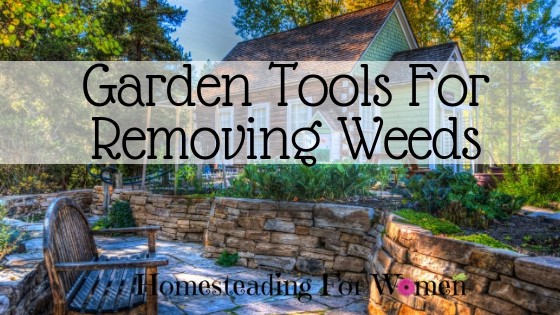 Weeds in your flower garden getting you down? They are me, I've been in a love hate relationship with my front flower garden for years. What I need to do now this fall gather up my best garden tools for removing weeds so I don't tear up your hands or poke my eye out. Weeding needs to be done everyday or it will become unmanageable and then you need the heavy equipment.
Mine are out of control.  What I really feel like doing is to let hubby cut all of it down with his chainsaw and back hole so I can start all over again with it. Some years I tackle all the weeds out from the bushes in the spring and everything looks great all year, then the some years we get busy with homestead stuff and I totally forget about the thorn bushes that are sprouting in with my lilac bush until it's too late.
After years of tackling thorns and weeds, I know what works best to tackle this massive chore. You'll need a good set of gloves that are long enough to protect you upper arms from poison ivy and thorn bushes. Also don't forget some protective eyewear…sunglasses are not good enough, thorns can still be slung in your eye.
I also have a really good pair of garden snips that have a really long handles for snipping out little sapling trees that grow up in the worst places. I also use that to snip off the wisteria vine that I can't seem to get rid of, that thing comes up all over my flower garden. It's really pretty but so invasive, I think if I let it go it would cover my whole house in a matter of a couple years.
Five Must Have Garden Tools For Removing Weeds
Long Heavy Duty Garden Gloves Essential Tool For Removing Weeds

Best Garden Tools For Removing Weeds Long Handled Loppers

Gorilla Garden Cart For Hauling off Weeds

Garden Pruning Shears Tool For Removing Weeds

Safety Glasses with Clear Anti Fog Scratch Resistant

I picked out 5 things that I would not start a project like this without. The gloves are a must, you want them long and sturdy. These will do the trick just fine. I use them for so many other things too, like gathering up firewood in the winter. Or I've even wore mine when I had to wrestle down a rooster that was mean. These are wonder for many homestead chores.
The garden cart is a must for quite a few things I do around the farm. Like gathering up weeds to haul off. Trash bags that go down to the garbage bin to be taken off or in the garden when I'm harvesting. I use one like this almost everyday. The long handle loppers are used a lot around here, to cut down sapling trees or when we are cleaning up around the cabin, hubby uses it when he is making trails in the woods to clean out brush in the path.
I use those pruning shears in my garden every year, they are perfect for smaller plants that you want to cut or even taking cuttings from your flowers. I use them for pruning my rose bush in the fall for winter. They work amazing!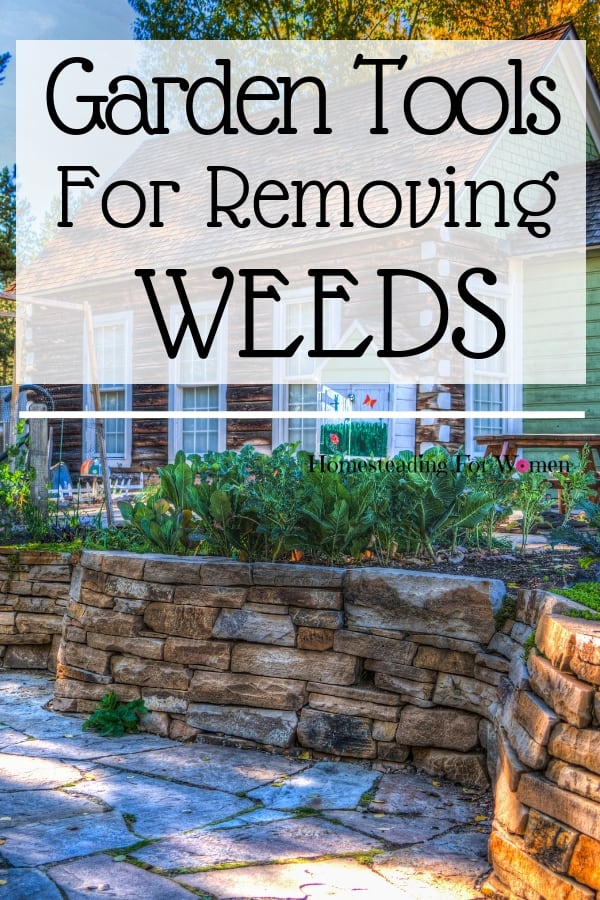 Last on my list are the most important, you should always wear protection over your eyes. If you wear glasses, get a pair that will fit over them. My grandpa came home one day with a big thorn in his eye. I'll never forget it. Better to be protected than have a terrible accident where you end up at the doctor's office, because you were being careless. I love this pair, very stylish are super cute with anti fog, scratch resistant frames. I can't tell you how many times I've taken off a pair that are all fogged up inside from sweating.
That's my list! I hope this helps you find the right garden tools for removing weeds on your homestead. Now I need to get busy with my own weeds! Good luck with yours!
Michelle 🙂
Pin it for later!