It's time to think about planting Fall herbs and what better way to start that than by making a small series of posts about a few of my favorite herbs that I love to use every day and giving you some tips on how you can plant these herbs this fall.  Let's get started, shall we?
If you are looking for ways to increase your health, season food, and provide some amazing holiday-inspired recipes, herbs are a great place to start. While herbs are usually grown in the springtime after the final frost, there are some that you can grow in the fall. Sometimes you'll want to use herbs until well past spring or summer, so if you live in a mild climate, consider growing your own herbs.
Rosemary Plant in Fall Indoor/Outdoor Live Plant

BENEFITS OF PLANTING A HEALING HERB GARDEN
Why should you plant a healing herb garden? You can always check to see if you can get fresh or dried herbs at your local farmer's market first, but there are also some amazing benefits of having them at home. With your own herbs, you can:
Have the convenience of picking the herbs for each dish without going to the store.
You always have fresh herbs and don't have to rely on the dried herbs in jars.
You can use herbs for cooking and holistic remedies.
It gives you more to choose from, with a lot of variety and versatility.
You will always have a plentiful supply for crafting soaps and medicines for your family.
Rosemary Herbs To Plant In Fall – 4 Pack, Live Plant Perennial In Zones 8 to 10

HOW TO HARVEST ROSEMARY WITHOUT KILLING THE PLANT
 Who doesn't love rosemary? This is definitely one of the more popular herbs, and luckily it can also be planted in the fall. Of course, like all herbs on this list, you need to consider your climate during this season. While many people have no problems growing rosemary in colder conditions, you might live in an extremely cold climate, where it might not be suitable for fall growing.
Rosemary is a type of perennial herb that isn't too difficult to grow under the right circumstances. It produces flowers of varying shades like blue, pink, and purple, where the leaves themselves are most often used for seasoning and for a variety of medicinal purposes. It is a really good healing plant to have around.
I'm no expert on growing herbs, but over the years I've had some success at keeping this perennial alive all year long outside. Granted that's if we have a mild winter.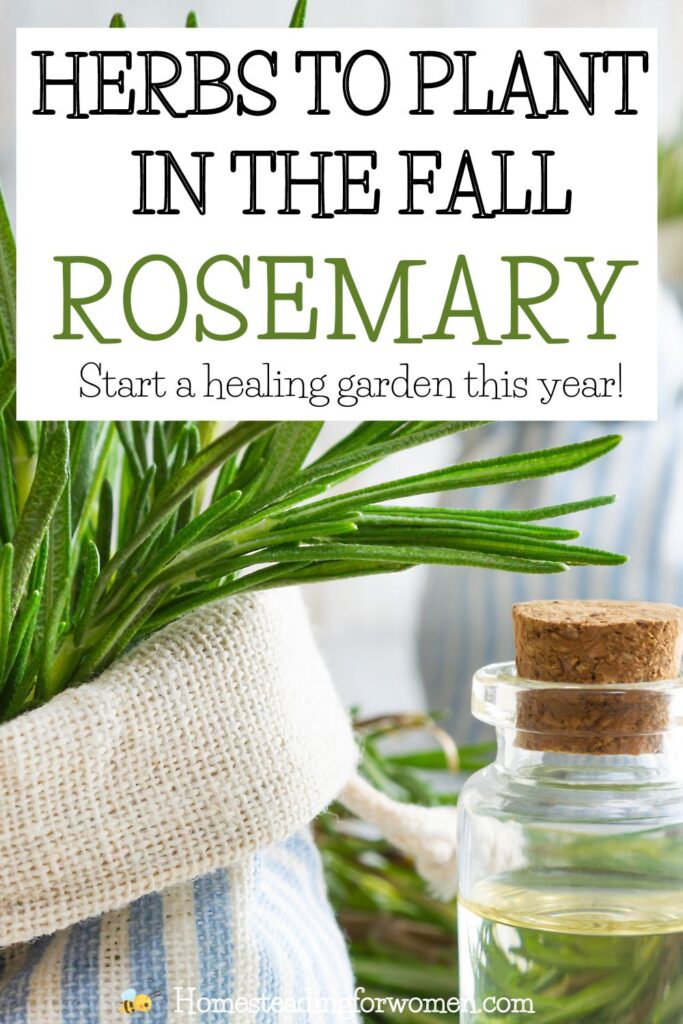 If planting in northern areas, be aware that harsh winters might kill the plant. Here in Southern Indiana, I've been able to keep these plants alive most of the time during the winter, but if we have a lot of below-freezing conditions for very long, then I'll need to replace the plant next spring. If you plant your rosemary in a container, then you can bring it in during the winter, just remember to water it a lot.
I harvest my plant by using the proper tools. Garden snips are perfect for just cutting off a few branches here and there. You won't want to take too much at one time, but over the course of the growing season I would do a general pruning and the plant should be ok.
Hydroponic Rosemary Herb Growing Kit, Self-Watering Mason Jar Herb Garden Starter Kit Indoor, Windowsill Herb Garden, Organic Seeds (Rosemary)

WHY YOU SHOULD GROW ROSEMARY
First, let's go over some of the health benefits of rosemary, as that will help you decide if you want to learn more about growing this herb. Here are some of the top health benefits of rosemary, both in consuming it and using it for medicinal applications:
It helps to improve your memory – An excellent medicinal use for rosemary is for your brain and memory health. The natural properties in this herb can actually stimulate your cognitive function, which helps to improve your focus, help with overall brain health, and improve how well you retain memories. It is an excellent way to work on preventing memory-related diseases like Alzheimer's.
You can relieve stress and anxiety – Rosemary doesn't just help with physical health, but mental and emotional health as well. It has soothing effects, which are great for reducing your stress naturally. Stress can affect just about every facet of your life, so it is important to find as many different ways to relieve it as possible. It can also help with anxiety and mood changes as a result of stress, anxiety, or hormonal imbalances.
You might also like:
Herbs To Plant In The Fall Lavender
Herbs To Plant In The Fall Thyme
It helps with pain relief – Rosemary has also been used for different types of physical pain, from stomach pain like constipation and abdominal discomfort to relieving headaches and reducing inflammation that causes joint pain.
Rosemary is good for your immune system – A great thing about many of these herbs, including rosemary, is that they can help to boost your immune system naturally. There are antioxidants and anti-inflammatory compounds in the rosemary herb that help to protect your immune system and help your body fight off infections and diseases.
Grow Rosemary Indoors with Gourmet Herb Garden Seed Pod Kit – Hydroponic Indoor Garden

BENEFITS OF BRINGING YOUR ROSEMARY PLANT INDOORS
What are the benefits of bringing your rosemary plant indoors? For many reasons, you can just snip what you need for cooking or making herbal medicines. You can use fresh plants instead of dried, this is beneficial on many levels. Fresh plants have more bang and flavor. And think of how cool it will be to watch your little herb garden grow right inside your home! Awesome!
WAYS TO USE ROSEMARY
Still undecided about whether or not you should grow rosemary? There are actually a lot of different uses and benefits for this amazing herb.
You can apply rosemary to your wounds, burns, and scrapes as a topical application.
Rosemary works great when cooking with it, including adding it to tea for pain relief.
You can use rosemary oil to help with joint pain by rubbing it on the joints.
It is an excellent herb for seasoning different types of foods.
TIPS FOR GROWING ROSEMARY
So what about planting rosemary in the fall? If you are new to growing herbs, don't worry. Most herbs do tend to be beginner-friendly. With rosemary, the most important things to focus on are placement, providing good soil, and making sure you have adequate drainage.
You want your rosemary to have at least 6 hours of sunlight during the day, so it does better outdoors or on the patio, as opposed to growing it in your kitchen. Rosemary dries out quickly, so check it often and water it as soon as you notice it visibly dry.
I hope you enjoyed this post about Herbs you can plant in the fall, check out this series of posts below. I love herbs and the benefits are amazing.
Michelle 🙂
MORE HERBS TO PLANT IN FALL
>>Lavender Herbs to plant in fall
>>Thyme Herbs to plant in fall
PIN IT FOR LATER!