This post contains affiliate links. Click here to read my full disclosure policy.
What Herbs To Plant in the Fall – Mint 
Mint is a very popular herb, and luckily you can grow it in the fall! There are many types of mint, from peppermint and sweet mint, to chocolate mint herbs. They all have amazing abilities for seasoning your food and drinks, plus the various health benefits.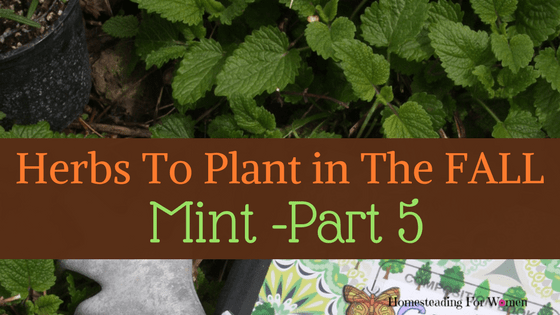 During the fall, you can grow most types of mint to have medicinal herbs at your disposal, plus one of the most popular herb seasonings for foods. You can even make infused water with it. Yum! Super refreshing and a pick me up in the afternoon! Here are some things to know about mint.
Why You Should Grow Mint
 Mint is not only a way to freshen your breath and season your food, but it also comes with a wide range of health benefits.
It helps reduce nausea and indigestion – Mint is wonderful for your gastrointestinal health, helping with digestion and nausea that you might experience. Mint has a cooling and calming effect, making it perfect for relieving nausea. This is safe for pregnancy, breastfeeding, and using when you have eaten something spoiled that is causing your nausea. You can also use mint to help with your digestion, cleansing your palate, reducing inflammation, and helping with stomach distress. Mint tea is often preferred for stomach issues and nausea.
Peppermint and me are best friends these days!
You can relieve your headaches – Another amazing benefit of the mint herb is that it can help relieve your headache or migraine pain. This same soothing relief you get from nausea will also help to reduce your head pain. Whether you have acute or chronic headaches, it can be very effective. You can drink tea with mint or use crushed herbs applied directly to your forehead and temples.
Oh Yea! I use this all the time for headaches! Great to use Peppermint essential oil in a roller ball, I have these all over the house and in my purse!
It soothes depression and anxiety – If you experience mental health issues like depression or anxiety, mint is a great herb to have around. Since it is a natural stimulant, it will help with fatigue brought on by depression. It helps you get more energy, reduce sluggishness, and relax your mind from anxiety when needed. The great thing about mint is that it helps with your fatigue, but it won't keep you from getting good sleep at night.
You get respiratory help – Many people have also seen how mint can help with their respiratory health. This includes easing a cough, burning and irritated nose, and congestion brought on by the common cold or allergies.
 Ways to Use Mint
 Here are some different ways you can use your mint herb:
Add the mint leaves to a pitcher of water for healthy infused water with other fruit like oranges or strawberries.
Use the mint leaves to season potatoes, vegetables, fish, or meat.
Make a batch of mojitos with the mint leaves.
Place mint leaves around your home to deter insects and fleas.
Freshen your breath by chewing on mint.
Tips for Growing Mint
 The great thing about growing mint in your herb garden is that it grows quickly. This is one of the reasons you can grow it in the fall, as you can get the herbs and harvest them before the weather gets too chilly. The mint plants spread out quite a bit, so either plant them in pots, or spread them out with plenty of space in your garden.