This post contains affiliate links. Click here to read my full disclosure policy.
Do you know someone that loves chickens?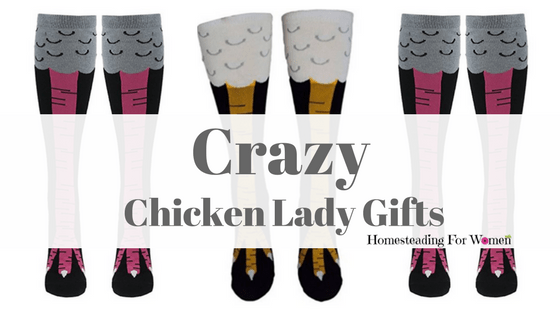 Me!
Stuck on what to give them for Christmas this year?
Yes!
Look no further my friend. Because I just found 5 incredibly awesome Crazy Chicken Lady Gifts that you can give your friend this year for Christmas! Or gift yourself. I know I'm getting one of these babies for myself. Lol!
Crazy Chicken Lady Gifts
I found a couple really cute t-shirts which all us chicken lovers live in most of the time. I really love the gray one that says, "They call me a Crazy Chicken Lady Like it's a bad thing!".  I fell in love with the socks they are really awesome and fun. I'll have to get both pairs of those. And of course we all need a coffee mug to help ups drink our coffee in as we wake up with the chickens each morning!
Crazy Chicken Lady | Ladies' V-neck T-shirt
Gmark Women's Fun Chicken Legs Tube Socks
Crazy Chicken Lady – Two Tone Black Mug, 11oz
Women's Crazy Funny Chicken Legs/Novelty Socks
Call me Crazy Chicken Lady – Funny Chicken Lover Shirt
I love all of these Crazy Chicken Lady Gifts and want them all! So if you're looking for a gift to give a friend that loves chickens then check these out. I know they will love them too!