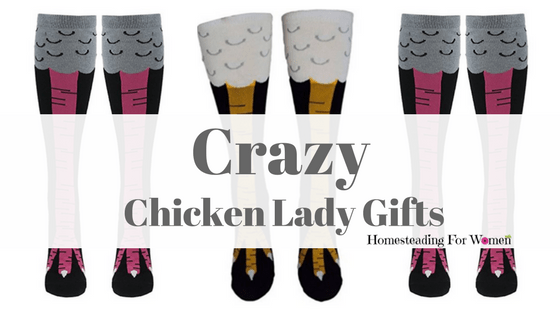 Do you know someone that loves chickens?
Need some crazy chicken lady gifts for your friends or family? Look no further my friend. Because I just found some  awesome ideas that you can give your friend this year! Or gift yourself. Chickens are such a wonderful thing to have in my homestead, some of them are truly my pets. Most of them have a name. And the best thing is that they really contribute to the farm. Giving really good tasting eggs that my family eats everyday. Some of us do get a little crazy when it comes to our chickens. 😉
Crazy Chicken Lady Gifts Knee High Socks

Crazy Chicken Lady Gift Egg Collecting Apron

Crazy Chicken Lady Gift Ideas
These socks are so cute, everyone that has chickens as pets will love wearing them. Every homestead women needs an egg collecting apron. I'm constantly shoving them in my jacket, which sometimes leads to smashed eggs in my pocket. I love all of these Crazy Chicken Lady Gifts and want them all! So if you're looking for a gift to give a friend that loves chickens then check these out. I know they will love them too!
Pin it for later!