When I'm asked to bring a dish for a party, I usually take my old favorite Macaroni Salad with egg. It's an old standby that's easy to make. It's one of those quick and easy potluck salads that most everyone loves. I decided I wanted to up my game and try something new, so I made a list of 41 Potluck salads that I can't wait to try out!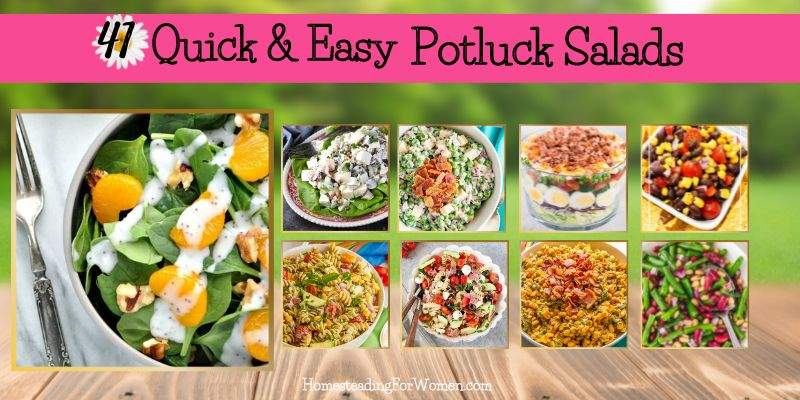 Easy Salads For Parties
I wanted to start out with some easy salads, these are super quick to make and I think they will be well received by the guests. I want everyone to like what I bring and leave the party with an empty bowl with no leftovers, right?! Here are some easy salads for parties to try out.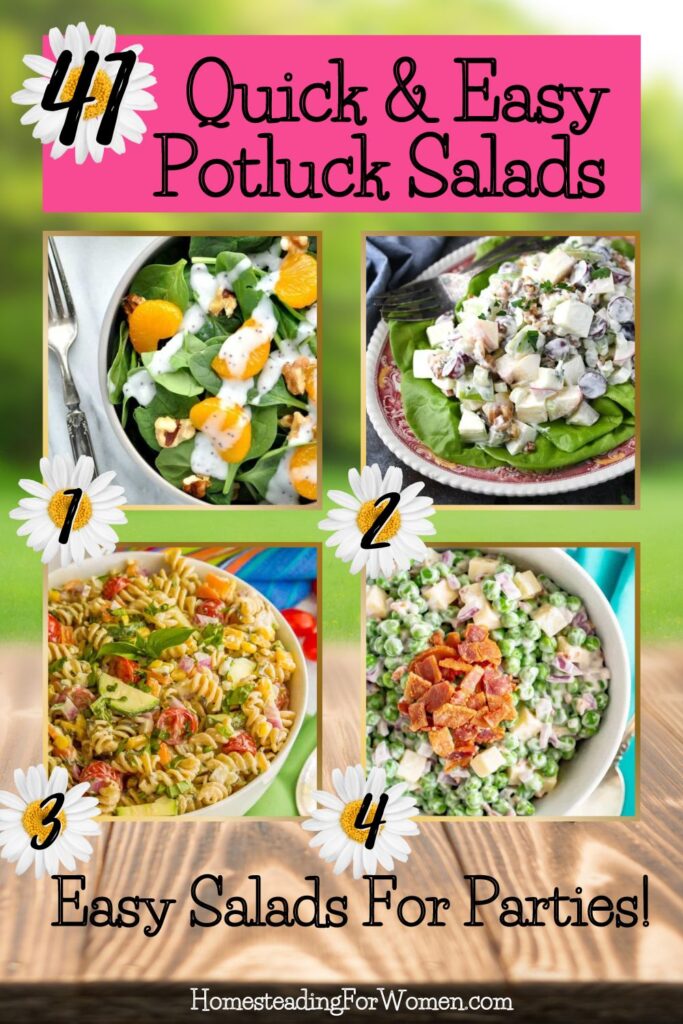 1. The Seasoned Mom's 4 ingredient party salad
2. The Seasoned Mom's Waldorf salad
3. Family Food On The Table Summer veggie pasta salad
4. Family Food On The Table Creamy pea salad with bacon
You Might Also Like To Read==>Old Fashioned Sourdough Biscuits Cooked In My Grill!
Best Salad To Bring To A Party
When asked to bring something to a salad, there's nothing easier than making a salad to take. But which one? What is the best salad to bring to a party? That's easy! I always make something that my family likes. That way at least if we don't like the food at the party we will always have my salad we can eat. Lol!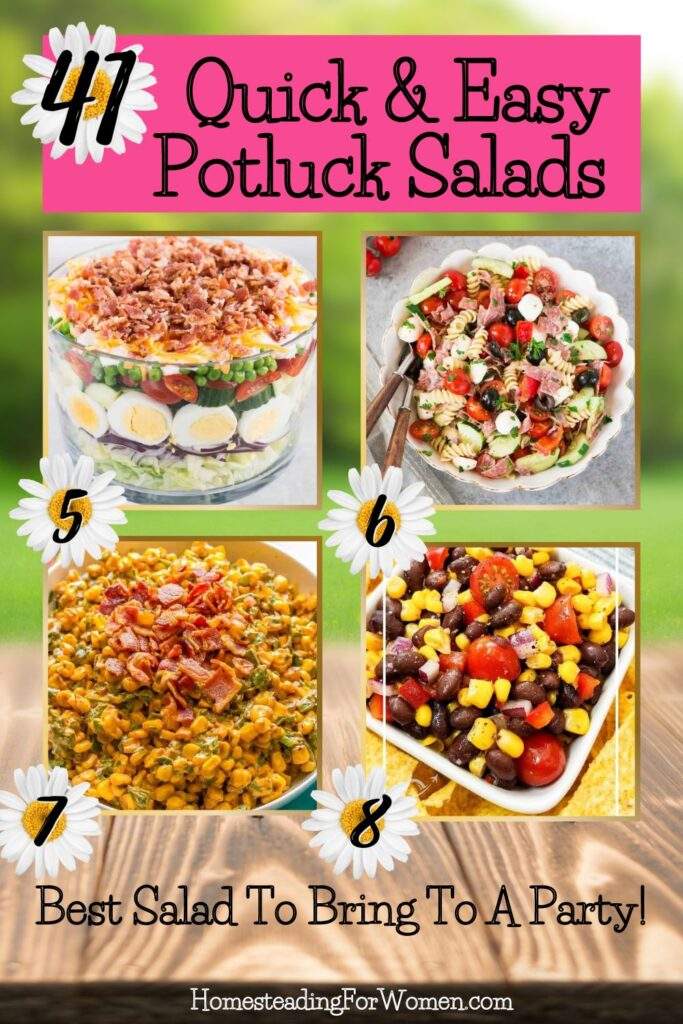 5. Delicious Meets Healthy's 7 Layer Salad
6. Delicious Meets Healthy's Italian Pasta Salad
7. Family Food On The Table's Summer corn salad
8. A Reinvented Mom's 6 ingredient fiesta salad
Quick and Easy Salads for Potluck
If you're like me you want to make something quick and easy for the party. That's the reason I love taking salads to a potluck because it's both quick and easy. Plus there are so many recipes out there to choose from. These look so good too! Yum!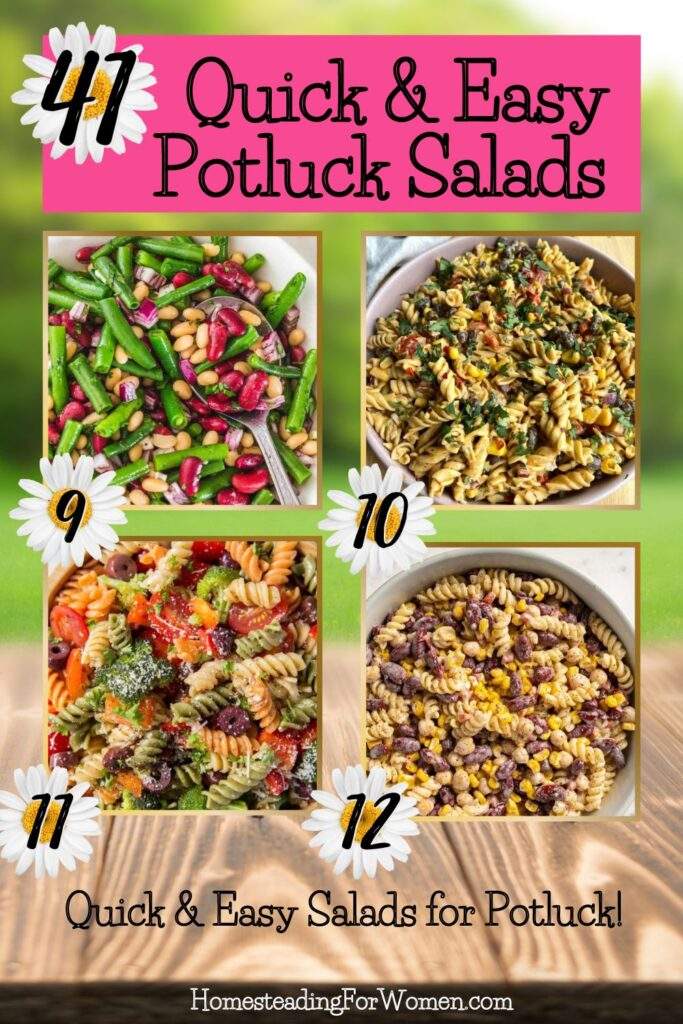 9. Little Sunny Kitchen's Three bean salad
10. One Balanced Life Southwestern pasta salad
11. Yellow Bliss Road's Zesty Italian Pasta
12. The spruces Eats Quick and Easy pasta and bean salad
Easy Salads For A Crowd
We held many parties over the years and the one thing I often worried about is if I have enough food for everyone. I like to pick easy salads for a crowd, that way if it's my party I easily make a double batch without really following much of a recipe.  The salads below would be perfect for a party.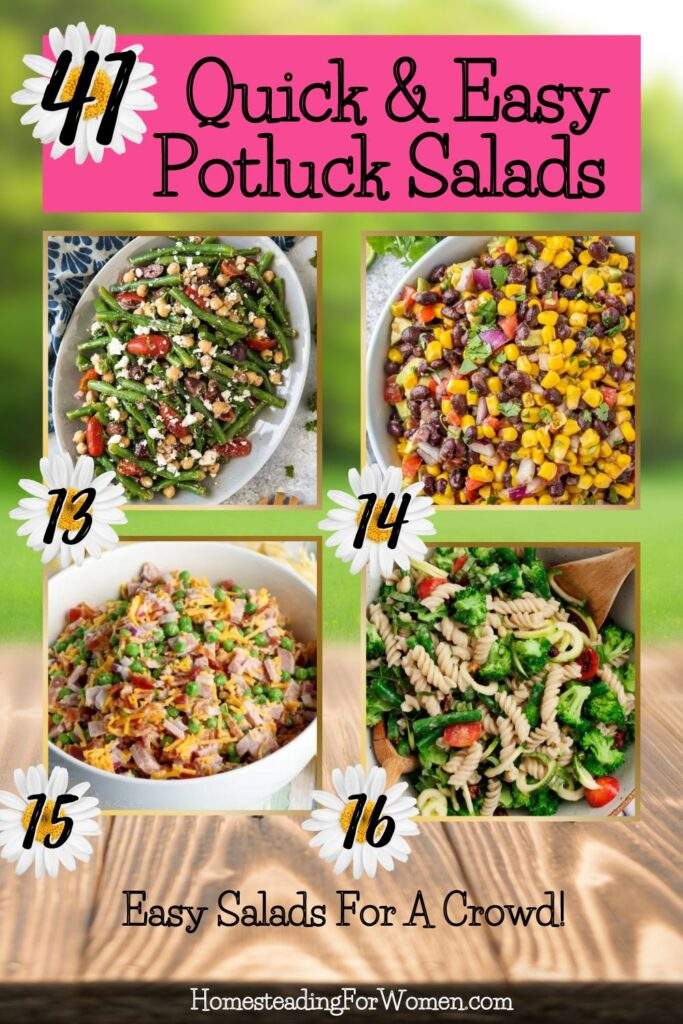 13. Yellow Bliss Road's Mediterranean Green Bean Salad
14. Yellow Bliss Road's Simple Black Bean and Corn Salad
15. Sparkles Sprinkles Ham and Pea Salad
16. Love and Lemons Broccoli Pasta Salad
Potluck Salads For Summer
Summer is a great time to get the family and friends together for a potluck dinner, for those occasions I love to bring salads! And it's a great time to try out something more festive like this Hawaiian Macaroni Salad with pineapple. Oh, that sounds delicious!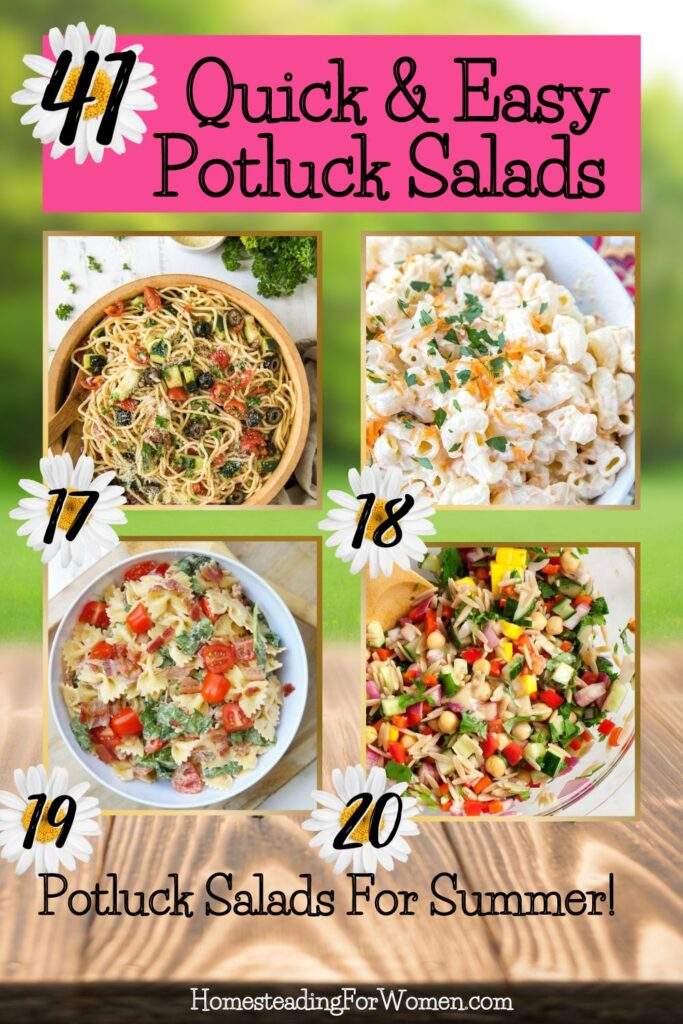 17. Yellow Bliss Road's Summer Spaghetti Salad
18. Yellow Bliss Road's Hawaiian Macaroni Salad
19. Yellow Bliss Road's Easy BLT Pasta Salad
20. Love and Lemons Rainbow Orzo Salad
Old Pasta Salad With Mayo
My mom would always make grandma's old pasta salad with mayo for the family reunion every year. It's a tradition that everyone looks forward to. It brings back so many memories of when my grandma would make it for Sunday dinners after church. It's comfort food that makes us feel warm with fond memories of days gone by.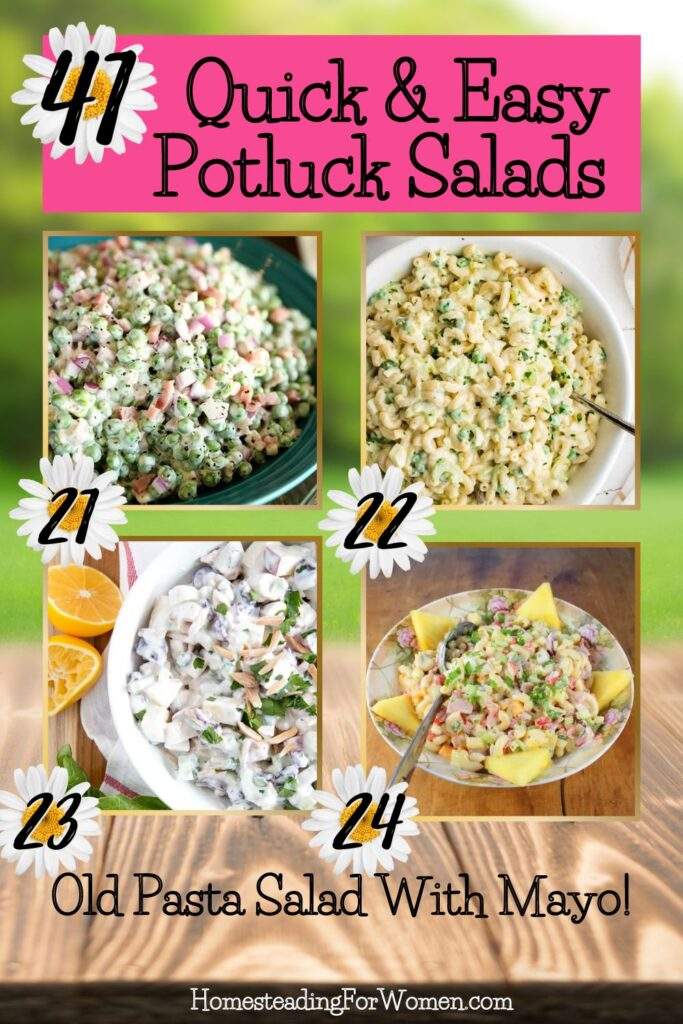 21. Southern Bite's Easy Pea Salad
22. Yellow Bliss Road's Classic Macaroni Salad
23. Yellow Bliss Road's Creamy Apple Grape Salad
24. Palatable Pastime's Hawaiian Macaroni Salad
Pasta Salad With Mixed Vegetables
Summer is a great time for pasta salad with mixed vegetables from the garden. It's a quick and easy salad that is perfect when served cold.  Many people at the party will enjoy the fresh veggies added to the salad. Show off the things you've grown yourself with these recipes with mixed vegetables in them.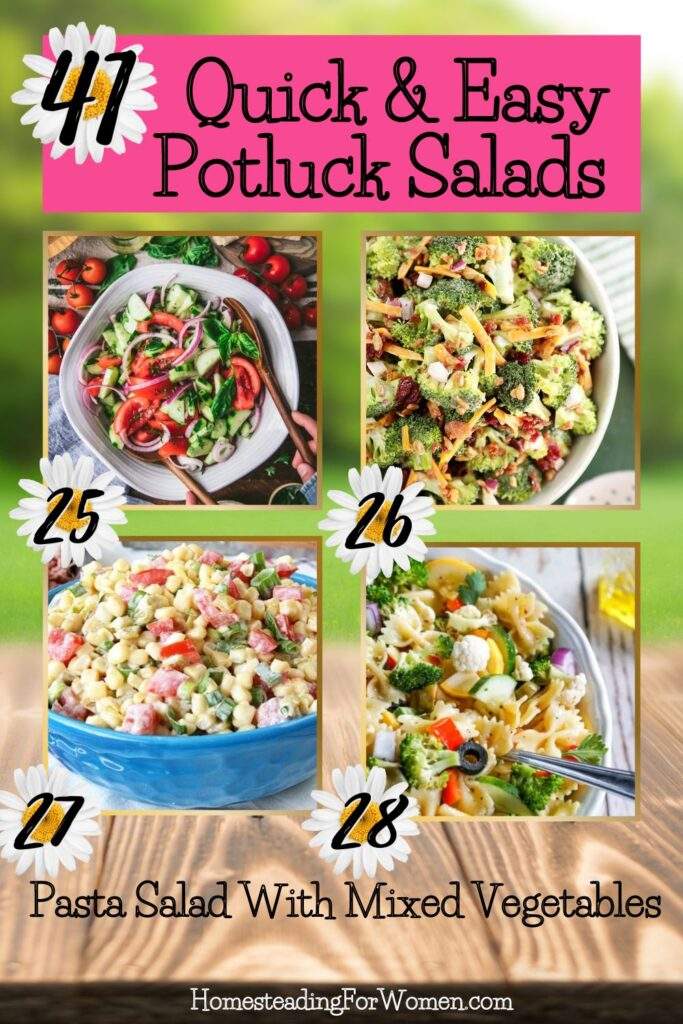 25. The Seasoned Mom Tomato Cucumber Onion Salad
26. Southern Bite's Easy Broccoli Salad
27. Southern Bite's Corn Salad
28. Accidental Happy Baker's Summer Vegetable Pasta Salad
Make Ahead Salads For a Crowd
Are you looking for some make ahead salads for a crow? Almost everyone loves potato salad and that would work for your next party.  I'm really excited to try the cornbread salad, it looks amazing!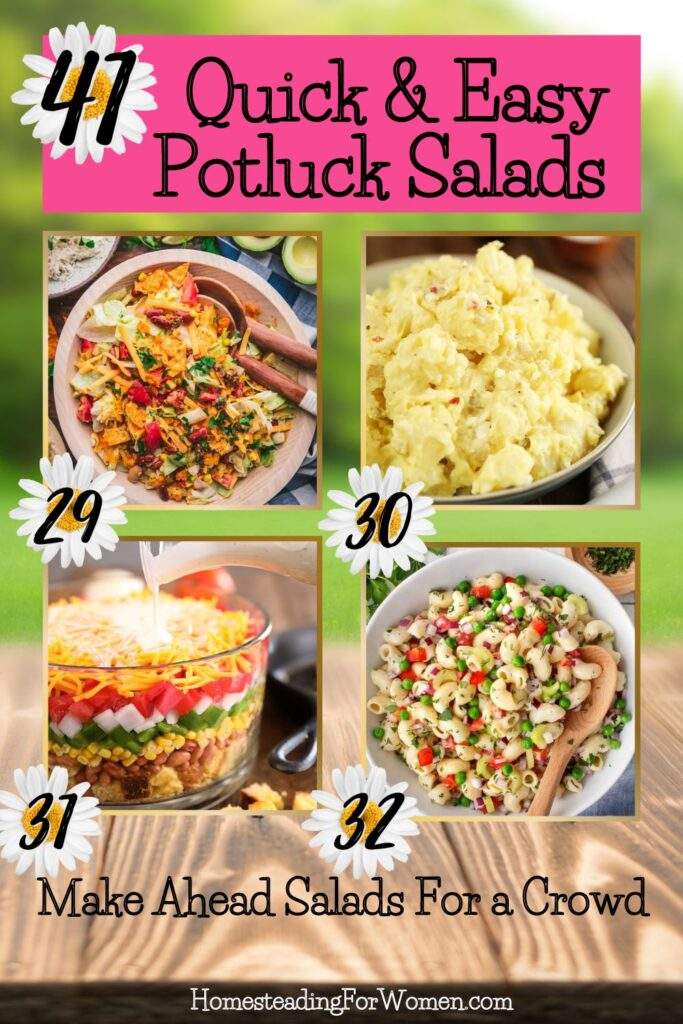 29. The Seasoned Mom's Doritos Taco Salad
30. Sothern Bite's Potato Salad
31. Southern Bite's Cornbread Salad
32. Love and Lemon's Macaroni Salad Recipe
Pasta Salad For BBQ
So you're invited to a BBQ this summer and you're not sure what to bring. I think the pasta salads below would be perfect for a BBQ with friends. They are easy to make and should be a big hit at the party. I'm looking forward to making the Mediterranean Pasta Salad.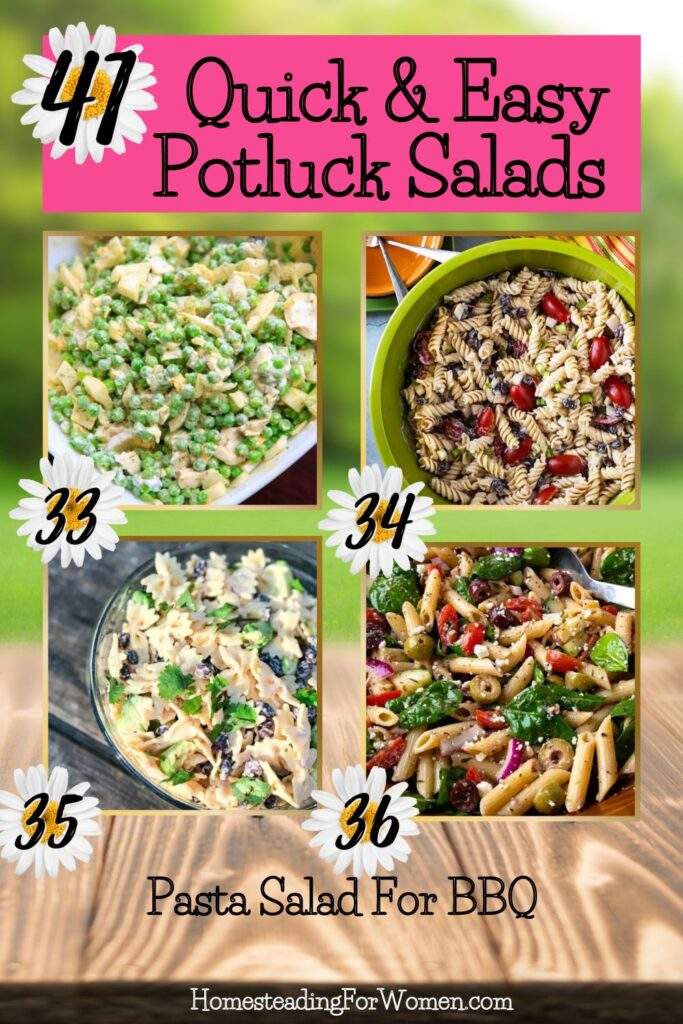 33. Trial and Eater's Grandma's Pea Salad
34. Highlands Ranch Foodie's Creamy BBQ Ranch Black Bean Pasta Salad
35. Daily Dish Recipe's Spicy Ranch Black Bean with Avocado
36. A Southern Soul's Mediterranean Pasta Salad
Macaroni Salad With Egg
I often make macaroni salad with egg for us during the summer months. It's my go-to pasta salad for a family gathering and my family loves it. I found a few more recipes that I would love to try out that will give my plain macaroni salad with egg some pizazz.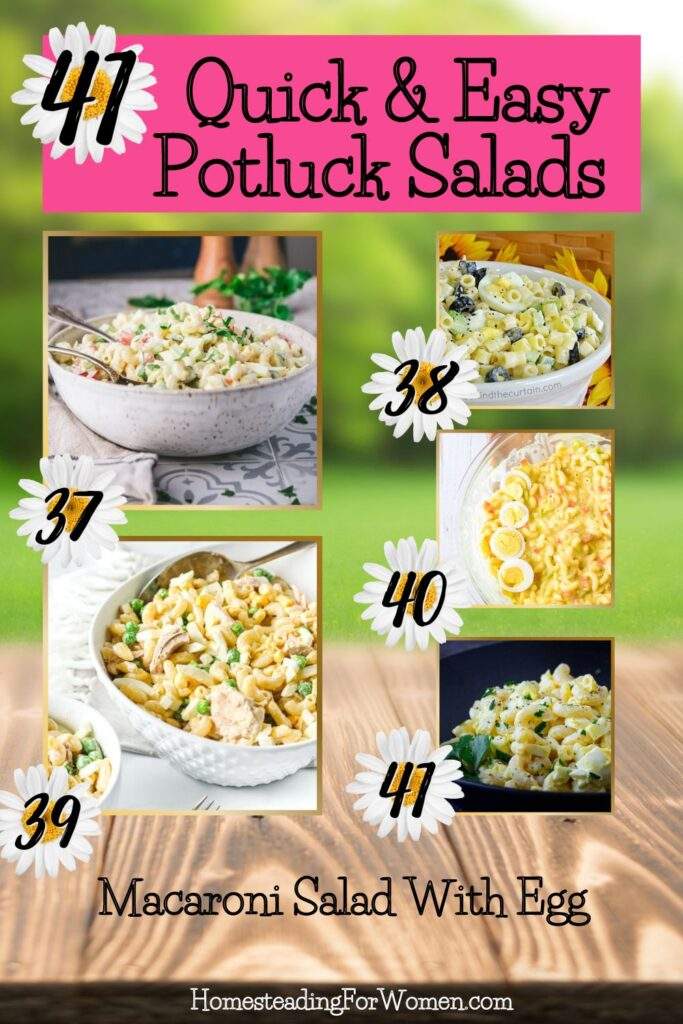 37. The Seasoned Mom's Classic Southern Macaroni Salad
38. Lady Behind The Curtain's Simple Macaroni Salad Recipe
39. Fav Family Recipe's Tuna Macaroni Salad
40. Amanda's Cookin Amish Macaroni Salad
41. Midget Momma's Egg Salad Macaroni Salad
*This site has affiliate links


I hope you've found some great Potluck salads to take to your next family party. I sure enjoyed looking them up and had tried a few of the recipes so far. These are just perfect for a summer party!