Are you concerned  about feeding your dogs commercial dog food? I sure am! I've been making my own for many years now. It's not really hard to make and I make up a batch for all week. In this post I'll share with you how I make dog food In a rice cooker with a simple recipe. Your dogs will love it! Mine do!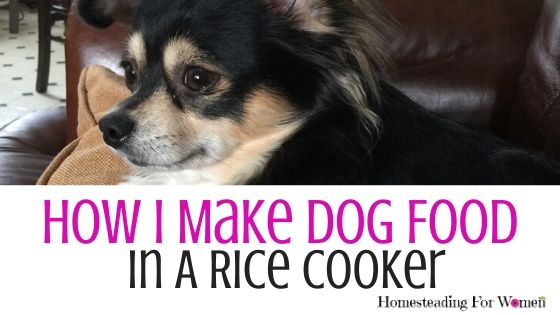 I started making my own dog food years ago when one of my Chihuahua's started having seizures. I  discovered that when she ate the food I  made for her she didn't have them as often if at all. After she passed away, I went back to feeding commercial food again. And not the cheap stuff either. Big Mistake! Again, I  began to see  another of my dogs start having those same symptoms of going into seizures.
That was 6 years ago and now it's just part of my weekly routine. I  make the  dog food in a big pot when I make our meal. A batch will last my 5 little dogs a week in the refrigerator.  Then my Son gave me a rice cooker for Christmas this past year and my cooking time is now cut in half. I love that little thing! I didn't even know they made such a device. So glad he bought it for me.
Along with the food I make little treats for them. I also supplement my dogs with vitamins each day to make sure they are getting all the nutrients their little bodies need.
You might also like to read:
Soft Pumpkin Dog Treats Best Homemade Dog Biscuit Recipe Ever
House Smells Like Dog When It's Humid – Here's My Solution
Winter Chore Clothes Must Haves For Homestead Women
What Ingredients I've Changed Over The Years
I've changed up the ingredients over time and have since changed from can veggies to frozen. I think the can food has too much salt. I also used to buy canned chicken and have switched to frozen chicken breasts. I think it's better for them than the cans but more convenient than cooking a whole chicken.
I do that every month or so. I like to keep the broth for my own soups and their food. But only when I  have the extra time to debone all the meat. I tend to be lazy some weeks and the  frozen chicken breasts save time and a lot of money.
The can chicken was getting really expensive. The dogs do miss licking the can and I  would save those little cans to put in my chicken pens in the winter months when the weather is below freezing. I can just replace the cans when they are totally frozen. I've switched to another method now, you  can read about that here.
My Favorite Dog Food Recipe Chicken and Rice
3 Cups  Rice
2 Frozen Chicken Breasts
1 Cup Frozen Veggies
Small Rice Cooker
Salt & Pepper lightly
The rice cooker has saved me a lot of time. I no longer have to stand in front of the stove stirring the rice. I just add the 3 cups of rice and fill to the proper water level. Then turn on and go do some chores, come back in about 30 minutes and it's done.
While the  rice is cooking. I  add water and add my frozen chicken to a big pan on the stove filling it up so that the water is over the chicken breasts. Boil that while the rice is cooking. When the rice is finished. I take out the chicken breast from the boiling water and cut into really small chucks.
Then I add the frozen veggies let those cook for with the cut up chicken for about 5 to 10 minutes then I add the rice to the chicken/water/veggies. Mix together and if it seems like it's too soupy. I'll cook it down a little bit.
Let it cool and serve. I feed this to my dogs twice a day.  They each have their own bowls, so I drop a couple tablespoons in the bowl at each feeding.