I love to spoil my dogs, don't you? Treats are always at the top of our grocery list, but they are getting ridiculously expensive.  Like $15 a bag that lasts us a week. So I went online looking for the best homemade dog biscuit recipe EVER and I found this recipe for Soft pumpkin dog treats. Perfect!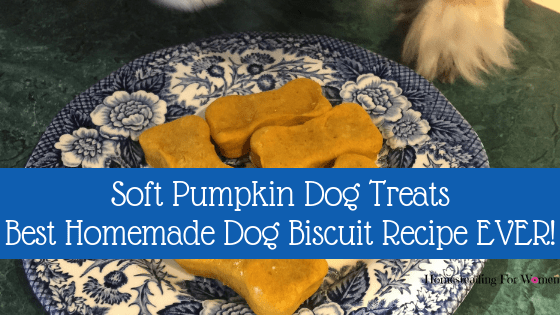 I have senior chihuahua dogs, and they are somewhat picky when it comes to treats. I was a little worried they wouldn't like the pumpkin. But they really did, it gives the biscuit a little bit of a sweet taste. Yes, I tried one and they weren't too bad.
I gathered all my ingredients together and one can of pumpkin will make two batches of treats, I just put the other half of the can in a plastic container with a lid in the refrigerator and will make the second batch in a week, so it won't go bad.
You can use the whole can and double the recipe. Then you can just freeze 1/2 of the treats for later. That will save some time, these will last my dogs a week. So next time I will for sure make a double batch. I already make their food each week, so I can make the treats at the same time as I make the food.
How long do homemade dog treats last?
These treats will last a week, maybe more, my dogs ate them in a week. We just put them in a zip bag on the counter. If you freeze them they would last much longer or you could put some in the refrigerator to make them last for a couple weeks.
Related Post You Might Like To Read:
My House Smells Like Dog When It's Humid!
How I Make Dog Food In A Rice Cooker
10 Cute Things To Make And Sell For Extra Homestead Cash
What is the best flour to use for dog treats?
I just used regular flour that I normally use baking for us, I like to use the non bleached kind. But it's totally up to you. I'm trying to save money at the grocery store so I'm using what we use.
Can dogs have peanut butter and banana?
Yes, dogs can have peanut butter and banana. This recipe only calls for peanut butter.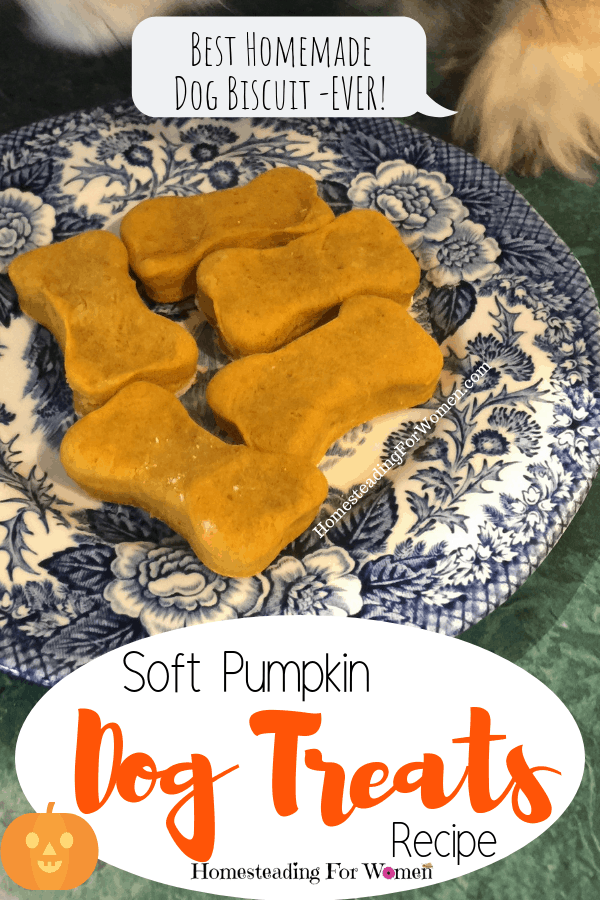 Soft Pumpkin Dog Treats Recipe
Supplies Needed:
Cookie Sheet
Dog Bone Cookie Cutter
Ingredients:
2/3 cup canned pumpkin 
1/4 cup peanut butter
2 large eggs
3 cups flour 
Directions:
Preheat oven to 350 degrees.
In bowl add pumpkin, I used about 1/2 the can and put the rest in the refrigerator in a sealed plastic container. Add peanut butter and eggs, mix together, then start adding in your flour until your dough is no sticky anymore.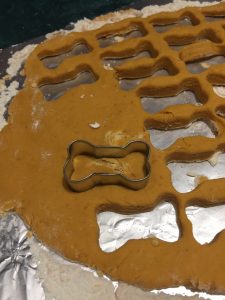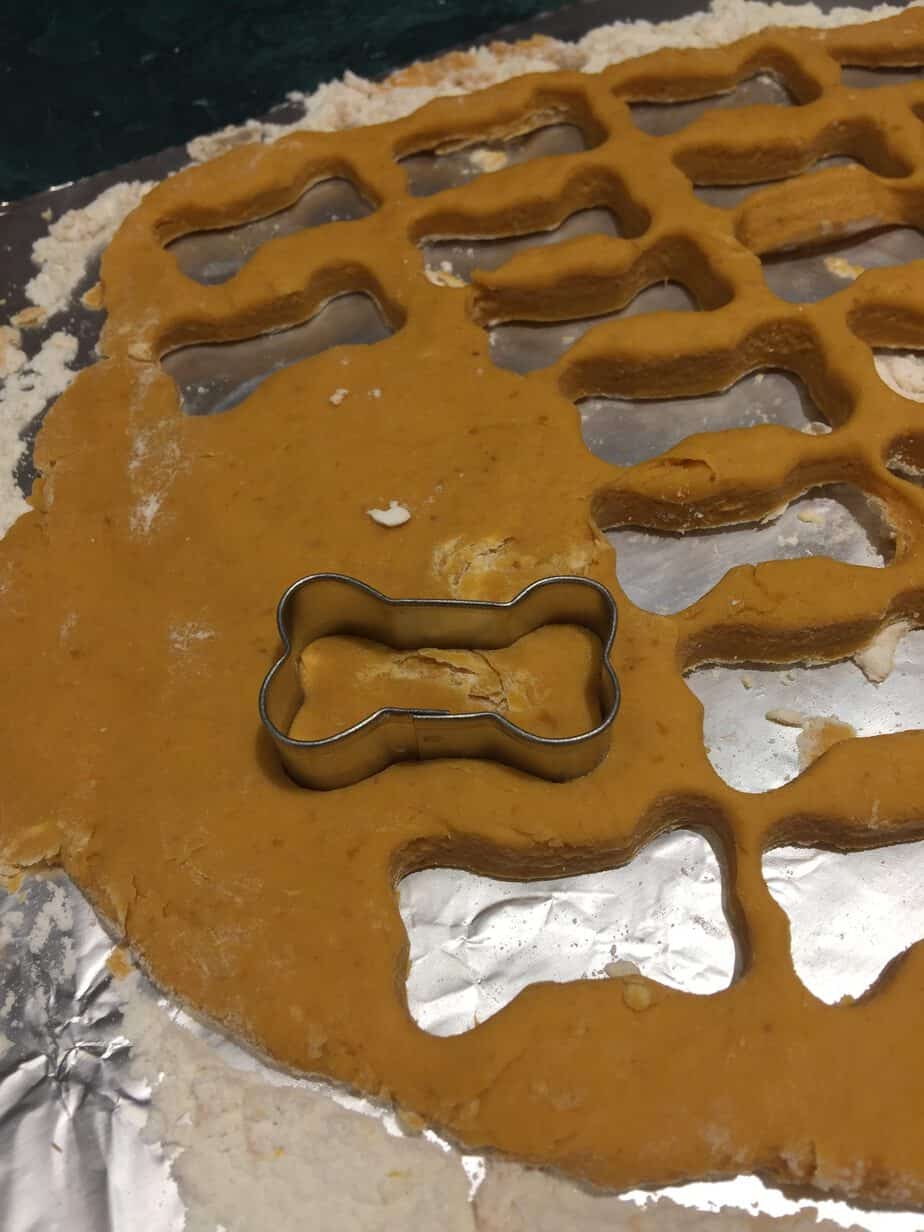 Then place on a floured surface, knead several times. I just patted down the dough with my hands, you can use a rolling pin. You want the dough to be about 1/4 inch thick. Now get out that cute dog bone cookie cutter and cut out the shapes and put them on the baking sheet.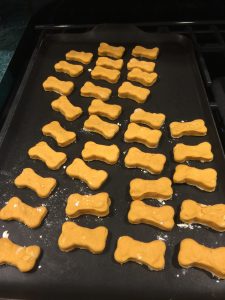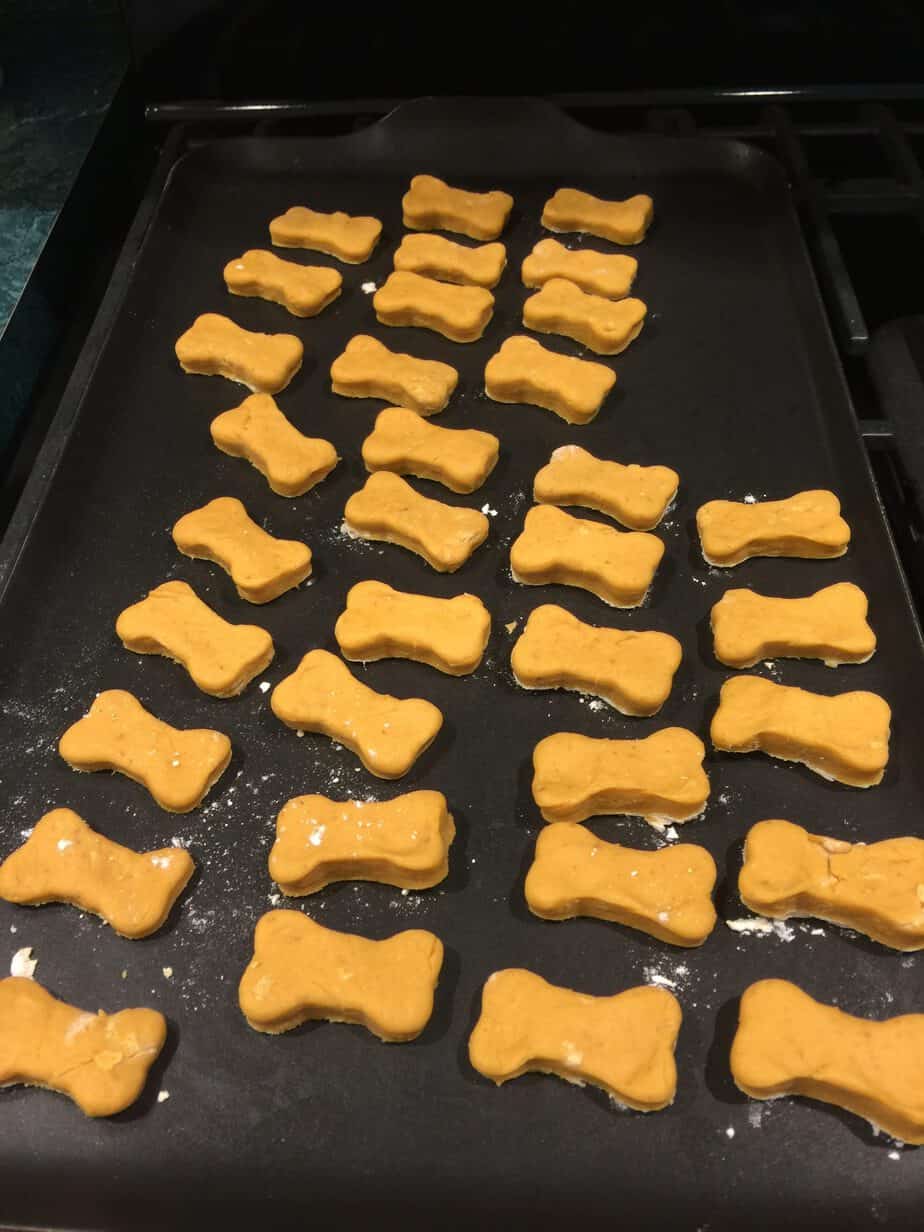 I rolled the rest of the dough until I couldn't get anymore, then just baked the cut out piece as a whole, then after it baked it made nice little bits of treats. The dogs really don't care what the shape is.
Bake in over until golden brown, approx. 20-25 minutes.
Let them cool completely before giving your pets the treats.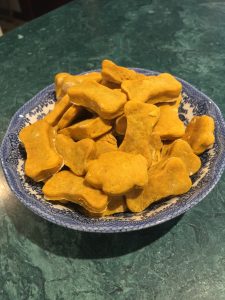 My dogs LOVE these soft pumpkin dog treats and think they are the Best Homemade Dog Biscuit Recipe Ever!
Chipy approved!