*posts may contain affiliate links. learn more
Let's Go Cabin Camping!
I love spending time in our cabin! It's so peaceful and relaxing. The best part is that the phone doesn't work there, so I can unplug and enjoy the sounds of the birds, breathing in the fresh outdoors.
I have several people that stay in our cabin each year so I thought I would put together a checklist for your of 10 Fun things to bring to a cabin. You can also download my Free Printable Cabin Camping Packing List down below.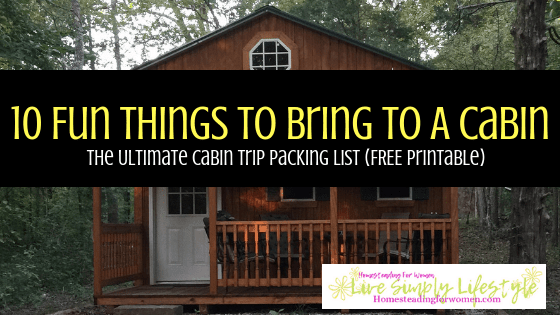 Things You Might Need For A Cabin Trip
If you're planning a vacation trip with friends in a cabin, the first thing is to make a list of things you might need to bring with you.  Even though you're staying in a cabin rather than a tent. You still need to bring things with you.  Most cabins I've stayed in include the basic cooking utensils and cookware but they don't include everything.
When we travel we have a tub set up with some of our basics. Things that can be stored out in the garage without worries, like kitchen utensils, the cookstove, and pans. More on that in a minute. Nothing perishable, but necessities that we can use for both camping or if we stay at a cabin. This saves so much time when traveling.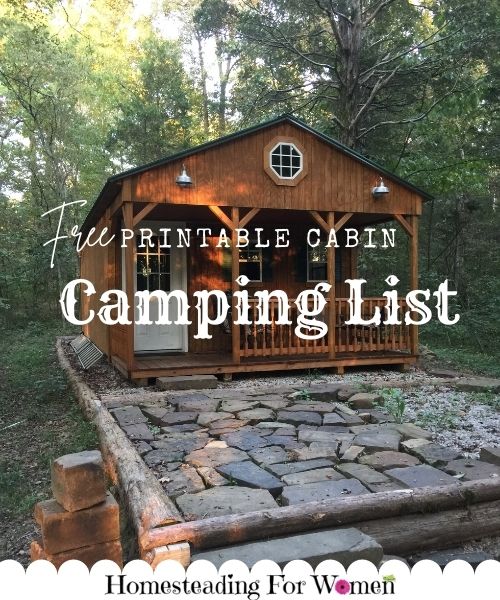 Create a Camping Storage Tub
If you camp a lot or stay in cabins. I suggest that you make yourself a Go-To camping tub with your essentials. Like cookware and first aid items. Ours is a black tub with a lid and that we store in the garage. (Don't forget to label it) Then when we want to go camping or to a cabin again, we just grab the tub and go. This one is heavy duty with a heavy lid so we can stack them without worries of the lid caving in on itself. We have two tubs, one with cookware and the other with toiletries.
I also keep a "Go-To Bag" of sorts filled with necessities of Band-Aids, makeup, hair supplies small bottles of shampoo, conditioner, body soap, and wash rags. That way when we do go camping, I just grab my bag and go over my checklist, add anything that might be missing and head out. It makes packing super fast.
And when you're hubby surprises you with a trip to the beach. You can just grab your bag and go.
You might also like to read:
Romantic Hiking Adventure
9 Benefits Of Camping
Ultimate Camping Cabin Packing List
Don't let this list overwhelm you, it's really simple after you set it up for the first time.
Must-Have List
Medications
Backpack
Table cloth
Radio
Map
Reservation information
Duct Tape
Pillows/Throw Blanket
First Aid Kit
Bottled Water
Suitcase
Warm weather clothing for cool nights
Cool-weather clothing, you never know it might get hot
Swimsuit
Towels, One for the floor of the shower
Bag with shampoo, conditioner, razor, deodorant
Flip flops for the shower
Hairdryer
Extra batteries
Chargers
Cooking/Food
Cooking grill, camping stove
Cooking pan
Cooking utensils
Food
Snacks
Dish Soap
Dishrags/towels
Can opener
Cooking oil
Salt & Pepper
Paper towels, Bowls, Plates & Forks/knives
Ziploc bags
Trash bags
Water Bottles to fill up
Table cloth for picnic tables
Cooler
Extra ice (freeze some water bottles too)
Food for stay, frozen if possible
Foil
Outdoors
Matches
Utility Knife
Tablecloth
Folding camp chairs
Citronella candles
Bug spray
Marshmallow roasters
Pop up tent for picnic tables, in case it rains or protects from sun
Lantern
Flashlights
Large pot for cooking
Coffee pot
Big water container with a spout
Cooler, blanket to cover to keep cooler
Charcoal
Lighter/matches
Beach towels
Floats
Beach umbrella
Camera
Bikes
Fishing poles & tackle. Don't forget to buy the license first. They usually let kids fish free.
Hanging hammock
Cleaning
Laundry soap (if you're staying for over a week)
Clothespins (beach towels)
Clothesline, rope to string up
Laundry bag
Hand sanitizer
Bar soap in a mesh bag
Antibacterial wipes
Paper towels
Tissues
Hangers
10 Fun Things To Bring To A Cabin
 Here's my simple list of things I always have on hand to take with us when we travel. Most of these are adult activities, but kids can enjoy them too.
Deck of cards (change for gambling)
Board games
Telescope (some parks have special places to meet up and look through their telescopes)
Bird watching, make a list of birds in the area to find or Journal
Binoculars -Folding travel size
Collect nature items, flowers, pinecones, and feathers.
Inner tube for floating in the water (tubbing)
S'mores! (campfire fun)
Kayaks These are a blast!
Fishing Poles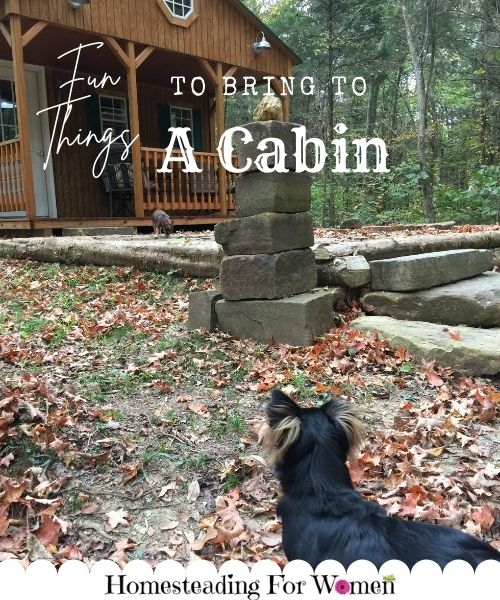 What are the 10 Essentials For Camping with pets?
 When we went camping in our RV we always had a dog or two with us. It's very important to bring along the essentials for your pets. You will need these things the most.
Leashes, collars they can't escape out of, many times this saved my dog's life.
Shot record (some parks require it)
Small fencing for when you're sitting outside if you have little dogs.
Water bowls, water container
Food
Food dishes
Poop bags, please pick up the poop.
Kennel for each dog. You will have to crate them at some point on your journey.
Towels to clean their feet before they come inside, rug for outside.
Treats! Don't forget these.
Unplug, enjoy nature!
Just remember one thing, you're on vacation! Spending time with your friends and family. STAY OFF THE PHONE! UNPLUG- Make it a No Technology weekend. You can plug back in when you get home. But this time, the time on vacation, you can't get back. Treasure it, you're making memories, make as many as you can and have fun! And print out my list of 10 fun things to bring to a cabin, grab them and go.
Happy Camping!
Michelle 🌸