If you're a homesteader then you probably have a chainsaw. Safety should be a top priority when working with big or small equipment around the farm. Today I want to talk about the best chainsaw hard hat for the money. Mr. B just got a new hard hat for Christmas and I really did some looking around when I was thinking about buying him one and thought I would share what I found out with  you.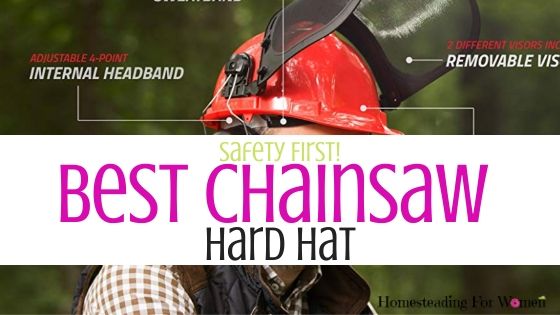 Homestead Chainsaw Safety Gear
I've been around chainsaws my whole life and have never had a mishap with them, not that I've actually used a chainsaw by myself. But I've helped my grandpa bring in wood and then after I got married I helped out with hubby. We've always had a wood burning stove in either the barns or our home. So I know to be extra careful and alert when working around them. They are very dangerous and a person can really do some damage to themselves if they aren't careful.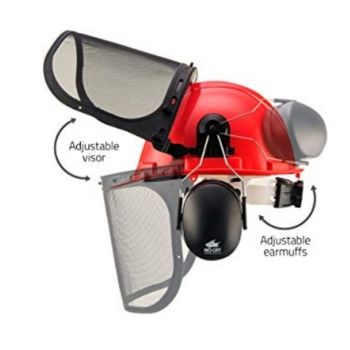 The Best Chainsaw Hard Hat For The Money


Now that we're over 50 things and not as quick as we used to be. I thought it would be a good idea to purchase a hard hat and a pair of chainsaw safety chaps for him. This was just in the back of my mind to get a safety hat for him. But after watching a huge tree he cut come swinging around and just missed his face by inches. I knew I had to get him some protection ASAP!
A chainsaw is a must have at our homestead and If I wasn't married I would definitely learn to use one myself. We've used it for so many things. Living out in the forest, tree's are blown down quite often.
Sometimes in the middle of our driveway. We use it to cut firewood for the wood stove in the house and out in the garage. We save money on electric by using wood heat. Besides I love being toasty warm in the winter. We can turn down the electric heat in the winter to save money. Plus my chihuahua's love the wood heat too.
You Might Also Like To Read:
Free Firewood Rack Plans
Fire Pit Landscaping Ideas -Outdoor Backyard Patio
4 Things You Must Know Before Starting a Small Homestead
The Best Chainsaw Hard Hat For The Money
When I was researching on the best hard hat to buy I  figured people working in the forest would know which hard hat was the best to buy. Looking at the name brand one first.
But after reading some of the reviews, I found out that name brand one was very cheaply made. So I bought him this chainsaw hard hat.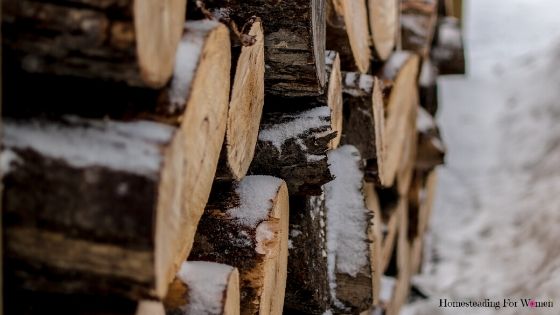 This hard hat is adjustable plus it's safety rated and approved.  Theres a protective shield that snaps on the front to keep chips and things from getting in your eyes. It swings up out of the way easily. He won't have to wear eye protective googles anymore, they are terrible and get fogged up quickly when working. Mr. B complains about them all the time.
There's also ear protection. He said it makes the hat feel more stable on his head when he puts on the ear muffs, which is great.
I think it's the best chainsaw hard hat for the money. The more expensive brands just aren't worth it and Mr. Barry loves it. Which means he'll be more likely to wear it when using his chainsaw. He loves the face cover because he can actually see better than with the googles he was wearing.
There's also a snap on protective screen for the summer time to keep him cooler. He's really happy with my purchase and I'm happy too. Wish I would have bought him one years ago.