I love camping! I was even married at a campground. That's how much I love camping! I love how relaxed it makes me feel. The smell of campfires burning in the night and bacon cooking in the morning. All that brings back such wonderful memories of all the times I've been camping. You see, camping to me is fun and relaxing. In this article, I will share with you 9 benefits of camping with family that you might not have considered before.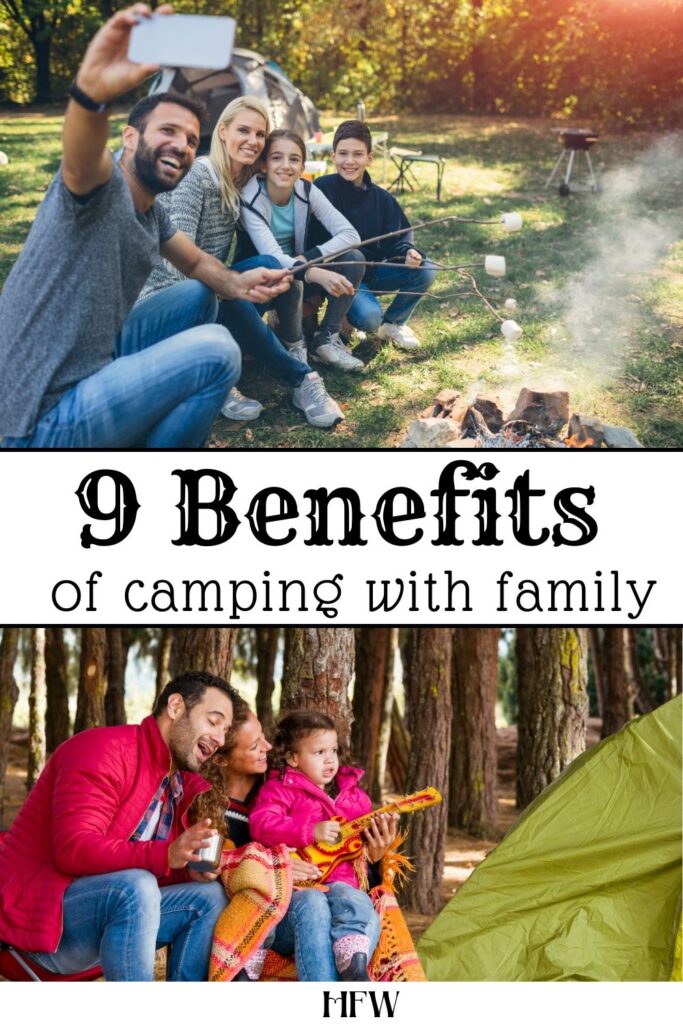 However, did you know that camping also offers health benefits? That's right – camping can be good for your mind, body, and spirit if you do it right. Being aware of the health benefits of camping is the first step. Once the stress of packing is over, camping offers many beneficial ways to improve your health.
1. Reducing Stress
Once you are out and about in the great outdoors, you can get really close to nature. Getting close to nature almost automatically rejuvenates and refreshes you.
Being aware of all the natural settings around you helps you ease into becoming attuned to those settings. Whether it is an open field, a mountain, or a wooded area, you cannot help but feel connected to nature. Connecting to nature is one of the surest and oldest forms of reducing stress.
When stress levels are reduced, the heart rate slows, breathing is easier, and your blood pressure is resting comfortably where it should be resting.
If you're planning a camping trip for the first time, then chances are that you are trying to decide where to go and what to bring with you. I like to reduce my stress with my Ultimate Camping Planner, it helps me keep everything in one awesome binder, when I think of something I want to take, then I just write it in my camping binder. I have my packing checklists in there to make sure I don't forget anything. If you want your next camping trip to be stress free, then pick up a copy of my ultimate camping planner for yourself.
GET THE ULTIMATE CAMPING PLANNER HERE!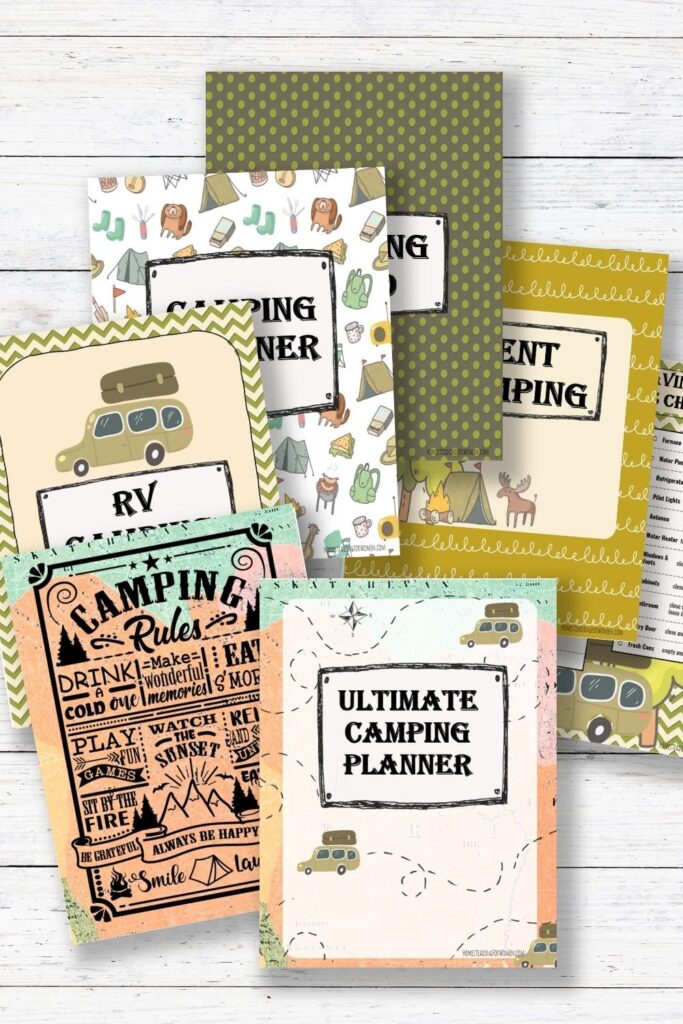 2. Mental Therapy
Camping and being close to nature helps your physical health, but it can also deeply satisfy your need for mental therapy courtesy of Mother Nature. Breathing in fresh mountain air is good for your lungs as well as good for your mental clarity.
Being away from it all – meaning the hustle and bustle of work, technology, and the stresses of running a home – and being free just to sit and stare at the view allows the opportunity to clear out those mental cobwebs.
3. Emotional Solace
Sometimes we all need a place to go and get away from it all and just have absolutely no thoughts in our heads. Camping allows you to be close to nature and forget for a while. It offers you the opportunity just to be alone with yourself and your thoughts, even if you choose not to focus on much of anything. Camping is so natural that it is almost like taking an emotional and mental vacation as you get in tune with nature and other wildlife.
You Might Also Like To Read:
Romantic Hiking Adventure
10 Fun Things To Bring To A Cabin -Free Printable Ultimate Cabin Packing List
4. Closeness with Family and Friends
Camping allows you to become really close with family and friends as you just sit and while away the hours by the campfire, lake, or hours of fishing. There is no better way to connect with family and friends than sit and just be with them.
5. Unplug From Technology
I don't have to tell you how getting away from technology can reduce stress and make you feel better. Unplugging is the best thing you can do when you go camping. Let Nature entertain you by the campfire. Relaxing and reconnecting with your family.
6. Learning New Things About Nature and History
If you go to any campground there will be an information area that you can check out. Some of those places that you visit will tell about the history of the area. Hero's that lived there, battles won and lost. The nature preserve will have animals that you can find in the area. Little facts can be very enlightening and fun to learn about.
7. Walking On Trails
Walking on the trails is very beneficial giving you exercise but most times those trails lead to very interesting things, like a waterfall or balanced rock. Grab a map and take off with a light pack for lunch. And enjoy walking in the forest, get back in touch with nature, while getting exercise at the same time.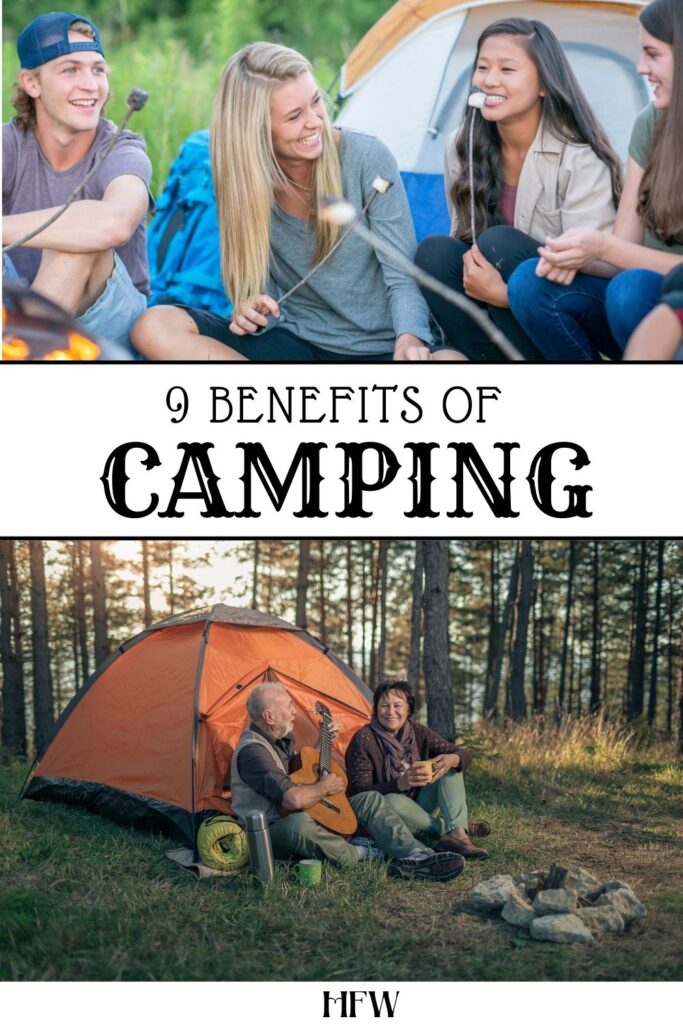 8. Learning New Skills
Not only is camping beneficial for your health but it's also a way of learning new skills. Like building cooking over a campfire.  Setting up a tent, hiking in the woods. Learning about poison ivy. Just to name a few.
9. Brainstorming
You might not think this is beneficial but I've gotten more ideas when I out camping. You know when you stop worrying about day-to-day life. Inspirational ideas come to me. We've planned many things while out camping, like what our next home business would be, I've planned out my fictional book outline. When your brain is at ease, then good ideas just pop in your head. Otherwise would be unnoticed when dealing with the stresses of the day.
10. Playing Games
Playing games is a super fun way to pass the time while camping. I've spent many a night playing board games on the picnic table at our camp. I even created a Camping Bingo Game for up to 30 people.
GET THE PRINTABLE CAMPING BINGO GAME HERE TO TAKE WITH YOU!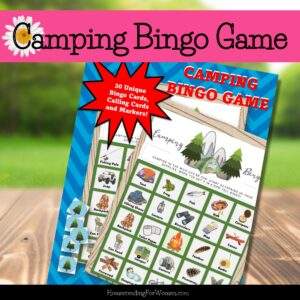 Camping offers a beautiful retreat courtesy of Mother Nature for your mind, body, and spirit. I hope you'll decide to take a camping trip with the family, how about renting a cabin? Here's a cabin camping packing list to get you started!