Ever wondered if it was a good idea to get a small garden compost bin started or if it was a waste of time? Check out these 7 tips to get you started. Learn the benefits and the things you should avoid doing so you can have a successful compost for your garden next year.
Compost bins come in a variety of shapes, styles and sizes. I like to use this small one in my kitchen, it Really keeps the gnats down in the summer time.
You can either buy them online or from a gardening supplies store or if you're on a tight budget, you can just create compost pile or heap without using a bin. The process will still work and you will still get good compost if you follow a few steps to get it right.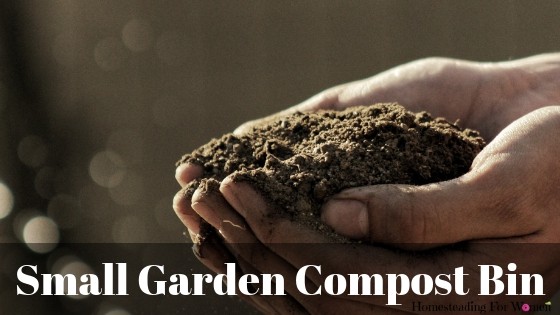 For me, I don't want a messy pile of yuck just out in the open. I did that once with the cricket poo, we just chucked it outside in a big heap by the back door of the building. WHAT A MESS! And the smell just about knocked you over. We even tried to burn it, that was a big mistake. So for this project I'm going for a premade bin that I can keep a handle on and not create a stinky garbage mountain around my homestead garden.
I've picked out a few that I thought I would want to put outside of my garden. I don't want to make just a wooden bin but I did give instructions on making your own at the end of this post.
Best Quality Garden Compost Bin

This one is the most expensive of all the ones I found at my favorite online store. But if you're looking for the best and money is no object then I would highly recommend getting this one. It's a tumbler drum type that you fill up and tumble periodically to keep things moving. Heavily made to last. This one is top notch and all the reviewers really loved it.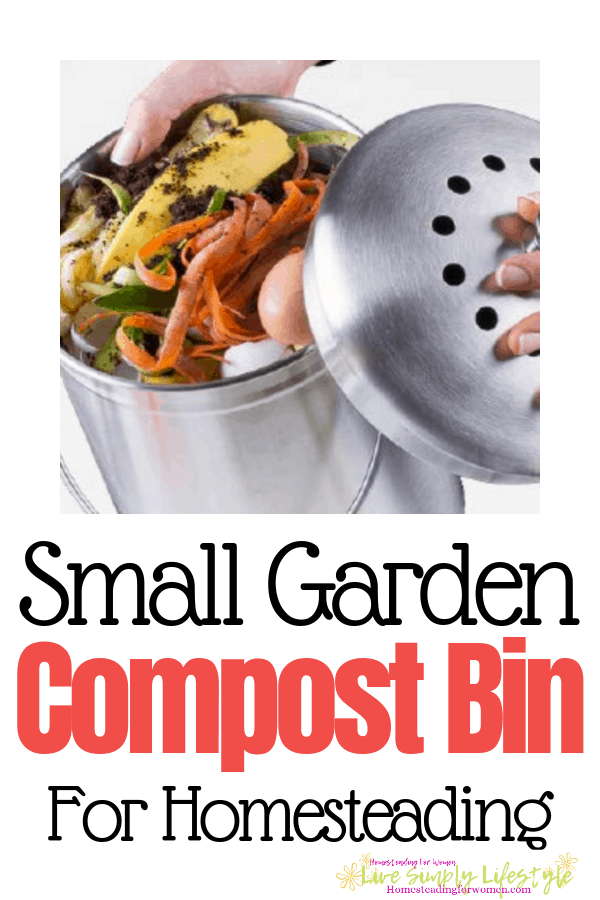 Small Compost Bin For Homestead Garden

This one I think is my favorite. I was reading the reviews and one person bought one of these 10 years ago and loved it so much she bought two more of them. They lasted for all those years making perfect compost. Then the latch started messing up so she wrote the company to see if there was any fix for it. The company sent her a new one for FREE! That's my kind of company! 
60 Gallon Compost Bin for Garden

If your looking for something a little bigger, as I was reading the reviews some of them are comical. One person didn't like it because it didn't survive a bear attack. OK, so keep that in mind if you have bears in your area. We're safe here in Indiana, no worries about getting this one. Most everyone said they really like it.
Small Worm Factory Composter for Garden

Really like this one, I was thinking of starting earthworms with my rabbit poo, this would work out great for that. It's not to big and looks good just sitting out by the garden and not only will I get nice dirt for my garden but I'll have some earthworms too! Yay!
Garden Compost Bin Tumbler 43 Gallon

This would be a mid sized one the reviewers said it was very sturdy and held up to heavy winds. Some say the instructions were terrible, but isn't that the case of most things now a days. But they say it's still easy to put together with some common sense. Now if your not really ready to purchase one then you can go the old fashion way and make one yourself. Just remember my big pile of cricket poo and only make a really small one that you can handle and work by yourself.
Make Your Own DIY Compost Bin
Wooden boxes with slats or mesh sides can be made at home and function just as effectively for composting. All you'll need to do is nail 4 wooden pallets together to form a compost bin. Then scatter the material inside the box and rake them every now and then. As long as you do not compact the contents too tightly, there will be enough air circulation in the box.
Even a compost heap should have some sort of mesh or wooden barrier around it. It will make "stirring" the compost much easier and the compost heap will not be blown and dispersed by strong winds.
If you plan on building your own compost bin instead of buying one, you will need to plan first. How big will your bin be? Will it be able to protect your compost from marauding wild animals looking for a free lunch?
Make sure you use natural wood that is not treated. If you are using wood that has been painted or stained, make sure only non-toxic substances were used. Ideally, you should just stick with natural lumber.
There are many plans available online for free to guide you on how to build your own composting container. Do your research and pick one that suits your needs. Make sure that you have already decided on the location for your compost heap. The size of your bin must fit in with the location neatly.
You want it in a place that is easily accessible by a wheelbarrow and close to a water source and indirect sunlight. If you have children, you want it in a place where they will not have easy access to it. All these factors must be considered even before you start building your compost bin.
When you have decided everything and build your bin, that will just be half the battle won. Creating the compost will be the second half. With patience, care and dedication, you can definitely create excellent compost that will make your plants and garden thrive.
I would love to hear about your compost success on what worked for you. Good luck!
Michelle 🙂
Pin this for later