Herbs To Plant in Fall -Thyme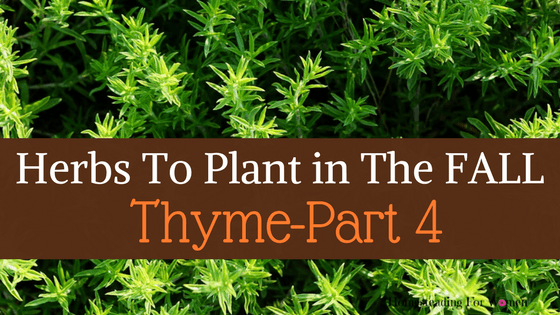 Thyme is another herb that you can grow in the fall, and that has many exceptional health benefits. You Can Read Part 1, Part 2 and Part 3 Here. Thyme is also used in a lot of cooking, so there are multiple uses for it. With thyme in your garden, you benefit by having a highly aromatic plant, as this is part of the mint family. The plant itself can provide you with thyme essential oil if you want to use it, or you can use the leaves of the plant as herbs.
Mosquito Repelling Creeping Lemon Thyme – Live Plant – 3

THYME CREEPING Live Plants – Groundcover Plant – 6 LIVE PLANTS

Organic Herbs De Provence Collection Rosemary, Lavender, Sage, Thyme 4 Live Plants

This is highly fragrant, so placing it next to herbs without much fragrance will really improve your garden without overpowering it with different strong scents. You will notice that the thyme plant has small leaves and thinner stems. Here are some ways to use it, along with tips for planting thyme and the health benefits.
Why You Should Grow Thyme
 Thyme, like many other herbs, has two main purposes: it can be used in cooking to add more flavor, and it provides natural healing abilities. In many cases, you can do both, where you gain multiple health benefits from cooking more with it. If you are interested in learning more about this herb, here are some health benefits to keep in mind:
It helps reduce your blood pressure – Having high blood pressure is known as a 'silent killer', because there are rarely side effects or symptoms. However, it can be a slow killer, leading to heart disease and stroke. It is important to keep your blood pressure at a reasonable level as much as possible, which you can do with regular exercise, a healthy diet, and herbs like thyme.
You get more antioxidants – It is always good to have more antioxidants in your body, which you get from healthy eating, including herbs like thyme. This herb has phenolic antioxidants, which help with the free radicals in your body. This can help boost your metabolism and prevent stress on your organs.
It promotes a healthy heart – Thyme is an excellent herb when you want better heart health. This is also due to the antioxidants in the herb, plus the fact that it has manganese and potassium. It helps promote proper heart health and reducing your risk of stroke and heart disease.
You can get more vitamin C – Thyme is an herb that has a good amount of vitamin C, similar to the sage herb. The vitamin C will help with production of your white blood cells and help to protect your muscle and tissue cell regeneration. Did you know that you can use Thyme essential oils to support your health? Find out where I get my beautiful oils for my family's health at wholesale prices.
Ways to Use Thyme 
The first way you can use thyme is to cook with it. It goes great with just about any type of meat, especially when you combine it with other herbs. You can also get good flavor when adding it to beans and tomato side dishes. Using thyme to cook soup or stew is another popular option, as well as flavoring lamb.
The majority of health benefits from the thyme herb are from consumption, so try to use it in as many meals as you can, from an egg and tomato omelet, to making your own lamb stew.
You can also benefit from using Thyme essential oil that will give you the same results as using the herb but only it's 50 times more potent, which means it works so much quicker than the herb, so if you cook with the oils you only want to use a tiny bit.
 Tips for Growing Thyme
Thyme is an herb that is traditionally planted in the spring following the final frost, but you can also plant it in the fall if you live in a mild climate with a lot of warm weather in the fall. You want to have a slow-release fertilizer for this herb. The soil should be a little alkaline, which you can get by adding some lime to the pot with the herb. It is better to start thyme with a young plant instead of trying to germinate the seeds.
You might also like to read Part 1 Rosemary, Part 2 Sage, Part 3 Lavender.