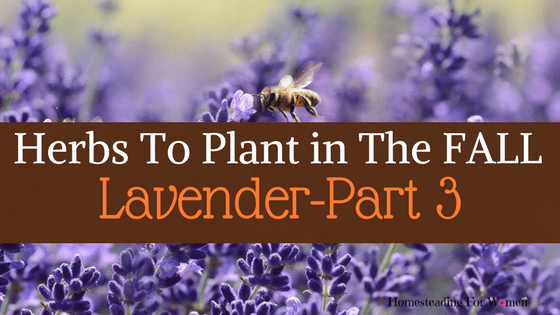 Herbs To Plant In The Fall Lavender
Part 3 of the series…Herbs To Plant In The Fall Lavender. Who doesn't love lavender?! This might not be commonly associated with fall herbs and flavors, but lavender is easy to grow in the fall and can withstand slightly cooler temperatures. There are so many wonderful uses for lavender, that you should definitely try growing it if you can. They do need a good amount of sunshine for lavender, preferably direct sunlight, though it can handle the cooler temperatures of fall. Lavender has a pretty, feminine scent, but is also soothing and can be used for a lot of mental and physical health benefits. It dates back to ancient times when people would luxuriate in baths with lavender herbs. Lavender is also great at repelling insects in your garden.
Herbs To Plant in Fall Lavender Plant

Why You Should Grow Lavender
Lavender is a very versatile herb that can definitely be used for cooking and flavoring drinks, but it is the extensive list of health benefits that make it one of the top herbs you can grow in your garden. Here are some different ways you can benefit by having fresh lavender at your disposal:
It helps with skin conditions – Your skin will love crushed lavender or a lavender tincture. With fresh lavender, you can apply it to your skin to help with minor scrapes or burns on the skin, or use it for skin conditions like psoriasis and eczema.
Herbs To Plant in Fall Lavender 1 Plant

Relieve mental distress – Lavender also happens to be amazing at helping with your mental and emotional health. It is often used for stress, anxiety, and even depression. It has the ability to calm your nerves and relax you, which helps with everything from emotional stress to reducing anxiety and helping treat your panic attacks more naturally.
Lavender reduces chronic pain – There are some types of chronic pain that can be relieved with the help of lavender, including headaches and migraines. It not only relaxes the mind, but can relax the body as well. You can use your it for your headaches by adding it to your pillow or making a DIY headwrap.
Herbs To Plant in Fall Lavender 8 Plants

It helps provide more antioxidants – The antioxidants in lavender aren't necessarily used for boosting your immune system like other herbs, but instead are ideal for your skin. They can help slow down the aging process when you use lavender on your skin regularly.
You can sleep better – Don't forget to use lavender for insomnia! Using lavender herbs or the essential oils are wonderful for promoting better sleep by relaxing your mind and your body.
Lavender Herb Plant Fall Gift Package

Ways to Use Lavender
 The way you choose to use your lavender herbs depends largely on what you want to use it for. Here are some different options available:
Make your own potpourri with the dried lavender flowers, adding it to sachets and pillows.
Create a lavender tincture with the herbs and natural oils to apply to your skin for anti-aging and help with various skin conditions.
Treat wounds, cuts, and burns with lavender.
Add lavender to a pitcher of water to consume and get multiple health benefits.
Create DIY products like lavender soap and bath bombs.
Organic French Dried Lavender Herb Flower – 16 Ounces


Tips for Growing Lavender
 If you want to grow lavender in your garden, look for the sunniest area in your yard. Even in the fall, you should still get a good amount of sunshine during the day. You want your soil to have good drainage and be slightly sweet. With lavender, you should get an established plant instead of trying to germinate it from the seed.
Lavender is good to harvest when the flowers are almost fully open, but not quite. This allows it to stay fragrant and have lasting effects. If you are making herbed sachets or similar products, you can remove the flowers and the stems to be used for them. The same goes for lavender potpourri.
If you have problems growing your own Lavender then you can buy lavender flowers and use them in your own DIY projects or buy Lavender essential oil to help with sleep or contact me to order just one bottle.
You might like to read Part One and Part Two of this series.
Pin It For Later!