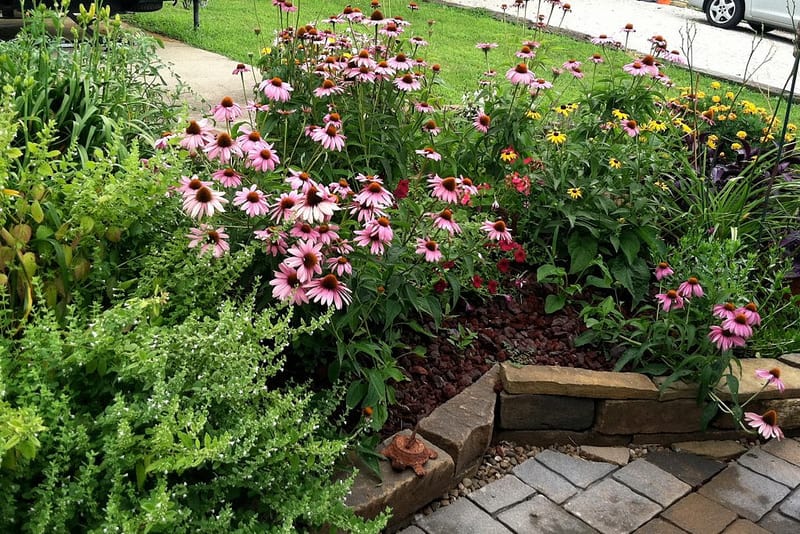 I have Three Kinds of Gardens. The picture above is my Herb/flower garden. I think this was the second or third year. This year I have to redo most of it. See my Purple flowers? They are Echinacea. If you don't know what that is, you soon will as I love that stuff! It's such a great Healing Herb. Although I've never harvested my own. I use it when I feel a cold coming on. I would call this garden my Herb Garden.

This is my old horse watering tub. Yep we had horses at one time when we had the big farm. Now it is home to anything I can think of. We put a bunch of rocks in the bottom to give it good drainage and then put in a bunch of Promix that you can get at the garden center. This is a picture of early peas in my container garden.
What Kind Of Gardens Are There?
I've had Three different types of gardens. Herb garden, Container Garden and the traditional garden. It really just depends on how much room you have. But don't worry too much about if you don't have much room. See that tub of pea's we ate on those for months and at the end of the season I froze a bunch and used them in stir fries. Yummy!
Herb Gardens can be just a container with one herb in it or in that horse tub I grew the early peas and then I could have planted some beans in it. But we planted flowers instead. Now it has a perennial Flower that grew in it naturally from a potted plant I had close by. It did really well in there so I'm not sure if I want to move it or not. I think I could still get some peas growing in it for a few months. We'll see what happens.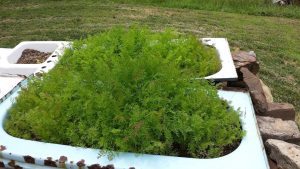 Here's my Bathtubs Garden Full of Carrots! See how much fun you can have if you just think about it for a minute. Hubs used Old bathtubs to practice shooting back on the big farm. We decided to bring them over to our new place and use them for little container gardens. They are super easy to take care of if you pull out the weeds at the beginning of the season you won't have any more once the plants gets growing. And the carrots just pull out of the soil so easy when it's planted like this. You'll be seeing more of these this year for my garden.
Just remember one rule I have. A simple garden that is well taken care of will out produce a big garden that has weeds in it. I'm going to have a simple garden this year with my Bathtubs and Herb Garden and one New Container Garden we started a couple years ago. Stay tune for that!
Happy Bathtub Garden!