I love home grown vegetables from the garden. This is my favorite time of year, when we start planting the garden.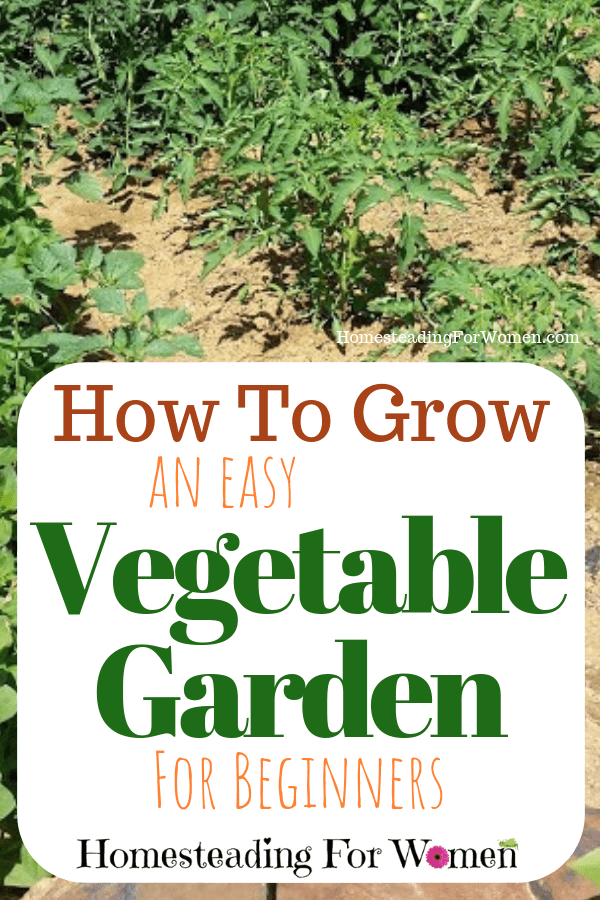 If you're  just starting out homesteading or just dreaming of a homestead, the first step is to be able to feed your family on your own land.
You need to grow a vegetable garden.
In this article I'll show you how to grow an easy vegetable garden for beginners, giving you simple tips to get started no matter where you live now.
Don't worry I'll start with some easy plants to grow.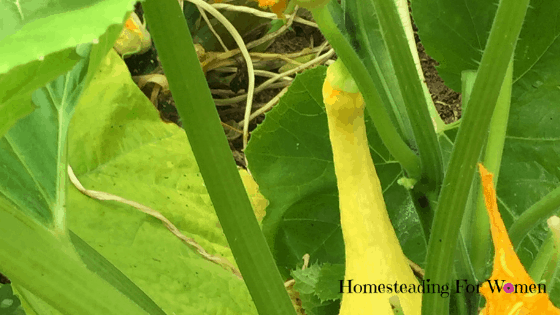 How To Grow an Easy Vegetable Garden For Beginners
It's simple to start a garden, you can grow a tomato plant in a bucket on your carport and have it run up one of the columns that support the roof. I see this all the time in suburban homes. Heck my dad does it, only his is in the back yard flower bed.
I think he did grow one in a bucket when he was camp host. He loves his fresh tomatoes, I remember eating plain tomato sandwich with mayonnaise and a slice of cheese as a kid and LOVED it! Grandma always had a big supply on hand when they would start to get ripe.
So getting started is easy. Just plant one thing and take care of it until you get to harvest.
Easy Vegetable Garden Bucket Planter For Patio or Deck
Tomatoes are really I believe the best place to start. If you've never had a vine ripen tomato, you're in for a treat. The tomatoes you buy in the store taste Nothing like one grown at home.
 8 easy to grow vegetables for a complete beginner
Many of us gardeners plan and plan during the winter months. Scanning seed catalogs, bookmarking blogs looking out for different vegetables we would like to plant  in next summers  garden. We even have binders full of sketches of where we want each plant. Mostly these go out the door the second the sun comes out for me. 😉
But it was really fun planning.
You might not be a pro at gardening like me. Ha! I'm no real gardener at all really.
It's pretty hit and miss. Some years my garden is great and other years It's a total waste of time and I'd be better off just buying my veggies from the farmers market.
But on those years when everything in the garden is growing great. The plants are giving me a bounty to harvest, with plenty for my family and my friends.
That's when it's all worth it,.
That's when it  makes me so happy and proud of myself.
I'm here to tell you it's not that hard, really it's not.
Bonnie Plants Husky Cherry Red Tomato Live Vegetable Plants –
Here's 8 plants that are super easy to grow.
Tomatoes (this is the one I would start with)
Squash (yellow is my favorite)
Peppers (I'm seeing salsa in your future)
Zucchini (make bread it's so good!)
Green Beans ~ I love these!
Corn (if you don't have raccoons, they love this)
Onions (these are Great in salads)
Spring Salad, leaf lettuce (Butter Crunch is really good)Only in early spring or fall crops, they don't do well in the summer months.
These are the ones I would start with, they will produce for a long time, if you pick off the vegetables when it's still young. The plant will keep producing for a while. Tomatoes for longer.
Container Gardening
Like I mentioned before my dad aways grew his tomatoes in buckets on the back patio in town. So that would mean he had a container garden. Yep, you guessed it, you can grow almost any veggie in a container, just fine. Make sure you put a layer of rocks in the bottom and drill a hole in the bottom of the bucket.
I have some unusual container gardens on my homestead. I'm pretty lazy and the ones I have are a little rustic. haha. You can read about my container gardens here.
Tips on Growing Vegetables For Beginners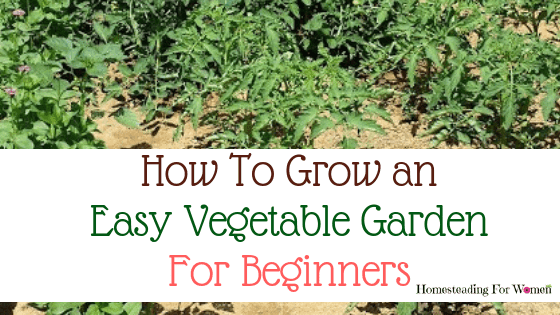 Some tips from an old pro about gardening. Well it's really like I said trial and error. It really depends on the weather too. Some years it's really rainy and all the plants mold and die or some years it's too dry and the plants weather up and die.
My advice is to start SMALL
I know, I know you want a big garden that will feed your whole family. Don't do that at first, start small. Like one type of plant or maybe a couple. Take care of those and keep them weeded and watered. You will harvest more veggies from a plant that is taken care than you would if you planted a whole acre of garden only to let it grow up in weeds.
Yeah, I'm speaking from experience. If you have a lot of rain and you don't have time to weed the garden it will get away from you really quickly. Then you'll just have a hot mess and no vegetables to eat.
Growing Vegetables in Raised Beds
Raised Garden Bed Red Cedar Wood
Growing Veggies in Raised Garden Bed For Vegetables with Legs
Growing Vegetables in Wooden Raised Garden Bed
I love to grow veggies in raised beds, like my unusual garden I linked to above. Raised beds make it so much easier to keep the weeds down. Because every year you will take out most of the dirt and start over again, like we do with ours. Weeding is down to almost nothing. Which will save you so much time and your plants will do so much better. I highly recommend starting with raised bed or two. Then you can add to your garden next season. This will make you more likely for success. So when you get one or two down pat, you can start branching out. You'll know after one year, how much time you have to devote to your garden.
Growing Vegetables From Seeds
Heirloom Tomato Seed Assortment- 10 Varieties- Over 900 Seeds- Non GMO Heirloom Varieties
David's Garden Seeds Cucumber Pickling Boston SS3009 (Green) 50 Non-GMO, Heirloom Seeds
David's Garden Seeds Squash Summer Amberpic 8455 (Yellow) 50 Non-GMO, Hybrid Seeds
We start a bunch of our plants from seeds. You save SOO much money doing it that way. Have you checked out the prices of those plants at Walmart? Wow. They are getting like $5 for a tomato plant. If you plant the seeds yourself in early spring then you will have gobs of plants for your garden and can even share some with your friends.
This is another way you can make money on your homestead. Buy planting seeds, then you can sell the plants at the farmers market and get $5 a plant like Walmart does. 😉
I hope this has show you a little bit on how to grow an easy vegetable garden for beginners like yourself. So get cracking and go out and buy a plant and start taking care of it. You'll be so happy you did. Gardening is addictive so watch out. You might want to start a journal and start ordering in seed catalogs to look at and dream about over the winter months.