Let's Wash Some Raw Wool!
Have you ever wondered how to process your own fiber from a raw wool fleece? To save money with your spinning yarn addiction? I sure have with very little success. Until this year! I finally figured out how to wash raw wool without it turning into a felted piece of fabric. Today I'm going to share with you the steps I took in washing the raw wool fleece I bought this spring from a few local farmers. I'll have some nice wool to spin over the winter.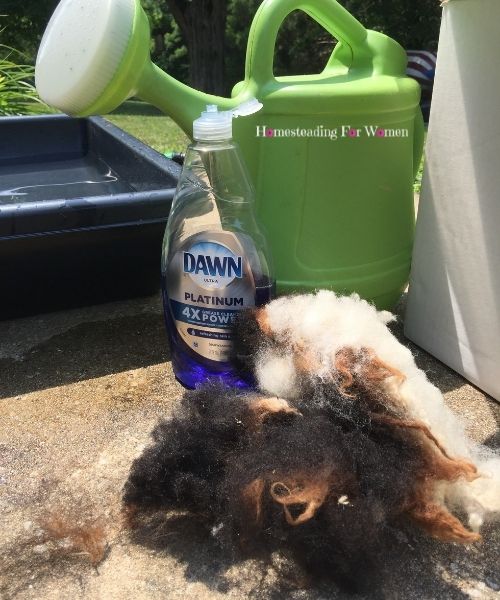 Why Buy Raw Wool In The First Place?
I recently bought a new spinning wheel this year and decided to buy a raw fleece during the Spring shearing season. Buying fleece right from the farm can save a lot of money for spinners. On average a bag of prepared roving costs around $30 for a very small project. I love buying pretty roving but I can not afford to do that all the time. So many of us will seek out local farms and wait patiently for the shearing season to start and then we flock to snatch up the prized fleeces as quickly as they get posted online.
I thought I would give it another try this year and really take my time in purchasing my fleece this time. I wanted it to be as clean as possible, to keep me from picking out straw and things as I'm spinning.
So that's what I did, I was really picky about the fleece I was going to buy and made sure that the reviews the farm was getting were positive before I bought one.
Turns out is really addictive. I bought one, loved it, and then bought another one from the same farm. Then I was watching a YT video on spinning and learned about another wool I wanted to try and spin. That helped me buy the third and last fleece I bought this spring. If my washing of the wool goes as planned. I'll have plenty of fiber for my projects this winter. I can't wait!
Don't Buy The First Fleece You See!
The last time I bought raw fleece was several years ago. I watched a video, which there were not that many out there on how to wash raw wool. I gave it a shot and it turned into a big mess of felted blob, littered with hay and debris. I threw it away.
This year I found several videos on how to wash raw fleece. I also took the advice to be more careful when picking my fleece to buy. I didn't want to see a lot of hay in the fleece. That stuff doesn't wash out. You have to pick it out by hand.
Armed with good advice, I was pickier with the fleeces I bought and I made sure they were as clean as possible. It's hard to do when you see the fleece put up for sale. You want to buy it right away before it is sold. You have to be quick but also do some homework first. Don't buy the first fleece you see like I did the last time. Take your time, look at the reviews of the seller. See what the prices are of the sold ones. If it is too cheap or not sold right away. Then there's a reason for that.
That's what I did, I took my time, calmed myself down before purchase, and ended up finding three fleeces to buy.  Look for farms that have rave reviews in their shop. On average I spent around $75 per fleece, with shipping. Each came in a large box, all had the name of the animal. That way you know that they care enough to name the animals. That means they are well taken care of, I love that.
How To Wash Raw Wool So It Doesn't Turn Into A Felted Mess!
You want to pick a nice hot sunny day and do this in the morning. I did it in the afternoon and my wool didn't get all the way dry. So I brought it in that night and took it back outside the next day to finish drying. Next time I'll start earlier.
Washing Raw Fleece Directions
Fill the tub with hot tap water, add Dawn Blue dish soap till the water is blue in color. The last time I boiled the water, don't do that. Hot tap water is perfect to get the dirt and grease off the wool. Then take part of the wool, not all of it, spread it out before placing it in the water. You don't want to move the wool around in the water, that's when you get felting. Just dunk it under and leave it. Set your timer for 20 minutes.
I had two large concrete mixing pans, new ones that I used for this project. They worked great, but hard to get off the ground full of water. I had one on a stand and that was better. A tub with handles would have been better, but I didn't have that on hand. I use these tubs under my Angora rabbit cages and they work great! Easy to clean and easy to dump out.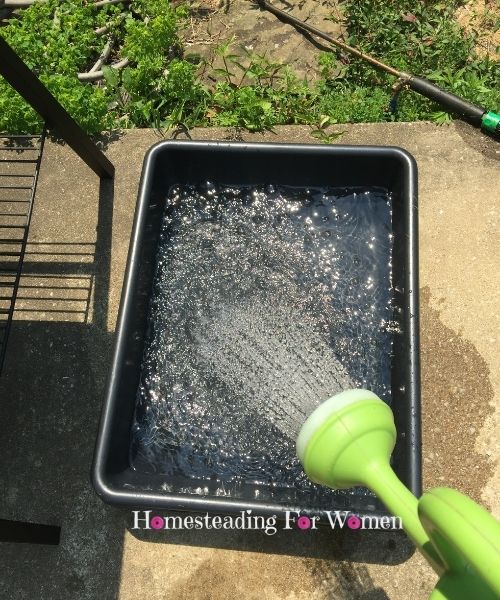 I divide out the fleece into the two tubs and that worked out perfectly. You don't want to put too much wool into the tub as it won't get clean. Less is more in this case.
You'll do that washing with soap twice and time it for 20 minutes.
I used a netting bag, that we had in our camper for dirty clothes. It fit over the bucket perfectly. It had a drawstring so I placed the netting bag over the bucket and then dumped the tub full of wool and soapy water right in the bucket. It would help if the bucket had a hole in the bottom. But the mind didn't.
When I finished dumping the wool in the netting bag with wool, the bucket was full of water. I pulled out the wool in the netting and then placed it on one of the rabbit cages I was washing. I then poured the soapy water over the bag placed on the cage. This gave it a good rinse. I didn't squeeze the bag, just let it drip for a while.
The next thing I did was to rinse the wool twice. Just fill the tub with hot tap water, no soap this time.  Lightly push the wool in the water. Leave for 10 minutes. I did this twice. Pouring in the bucket with mesh, placing it on my rabbit cage, rinsing with the bucket water while on the cage.
The last time I let the wool in the mesh bags on my rabbit cage sit for a few minutes to let most of the water run out. Then I had two big beach towels ready and I had some chicken wireframe we made for a display for one of our festival events. I put that over two sawhorses and rolled out the towel. I added the first bag of wool over a folded towel, folded longways. I then spread the wool out over the towel as far as it would go, without pulling too much. Then rolled it up tightly,  just like a jelly roll. Then I set the timer for 30 minutes after I had both of the wool fleeces in the towels.
After 30 minutes I unrolled the towels and placed the freshly washed fleece on the chicken wireframe, you could use a sweater drying rack. I thought I had one someplace, but couldn't find it. I put it out in the sun to dry. Like I said before, the day got away from me and the fleece wasn't dry when the sun went down. So I put both fleeces in the tubs and brought them inside for the night. Then the next morning put them back on the drying rack in the sun to dry the rest of the way.
It worked perfectly! I have some beautiful wool to play with over the winter! I'm so happy!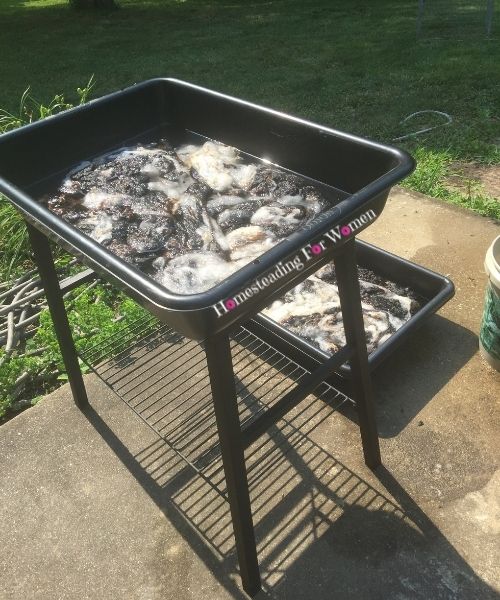 Here's The Raw Wool Washing Process
First Wash. Fill wash tubs with hot tap water, not too full that you can't pick it up. Add Dawn Blue to water until it turns blue.
Add raw fleece pull apart some before gently placing in the hot water, don't swish around. Just dunk it ever so gently until it's submerged.
Set timer for 20 minutes.
When the timer goes off dump the wool and water into a bucket that has a mesh laundry bag inside, secure with the toggle around the rim, dump in the wool and water.
Gently pull the bag from the bucket and place it on some wire or mesh stand. Pour remaining water from the bucket onto the bag of fleece.
Let drip for a few minutes.
Second Wash. Follow the above directions for a second time.
First Rinse without soap added to the water. Follow the above directions only skip adding soap.
Set timer for 10 minutes.
Second Rinse without soap. Follow the above directions with no soap added.
Set timer for 10 minutes.
Let drip for a little longer this time.
Folded Towel, add wool to the folded towel, roll into a jelly roll.
Set timer for 30 minutes.
Lay clean fleece onto a drying rack, mine was a chicken wire frame. You can use a sweater drying rack. Let dry completely before storing away for spinning later on.
Happy Raw Wool Washing Day!!
Michelle