My cousin is about to have a baby and I'm running out of time to make a blanket for her before the baby gets here, so I need a need to find an easy fast free crochet baby blanket pattern for beginners the easier the better. That way I can get it done in a couple of days.
I started on my hunt for the perfect pattern and I really had one pattern in mind as I've made these before. But you will be surprised at the pattern I ended up making, which I will share near the end of this article. I love the pattern stitch of this one and it's so easy! I watched TV while I made it, so simple and beautiful!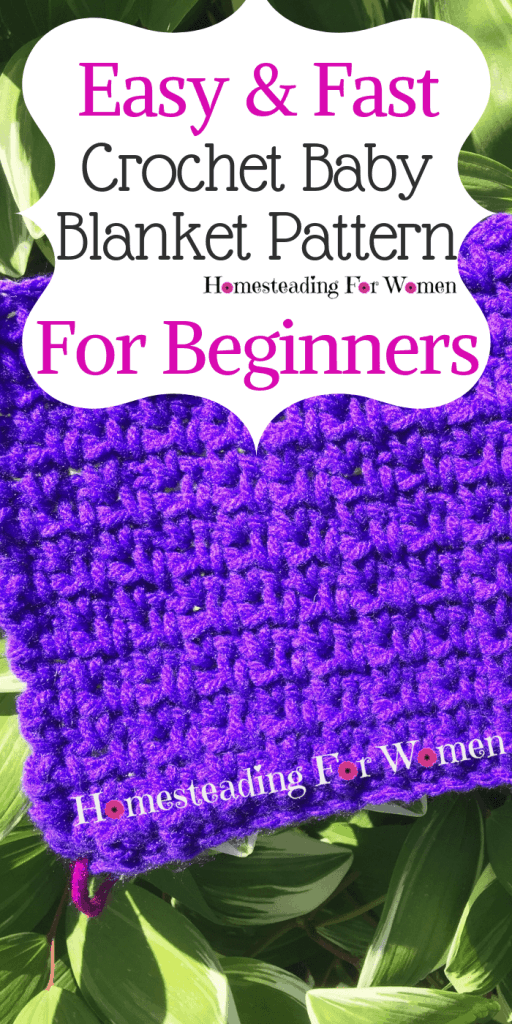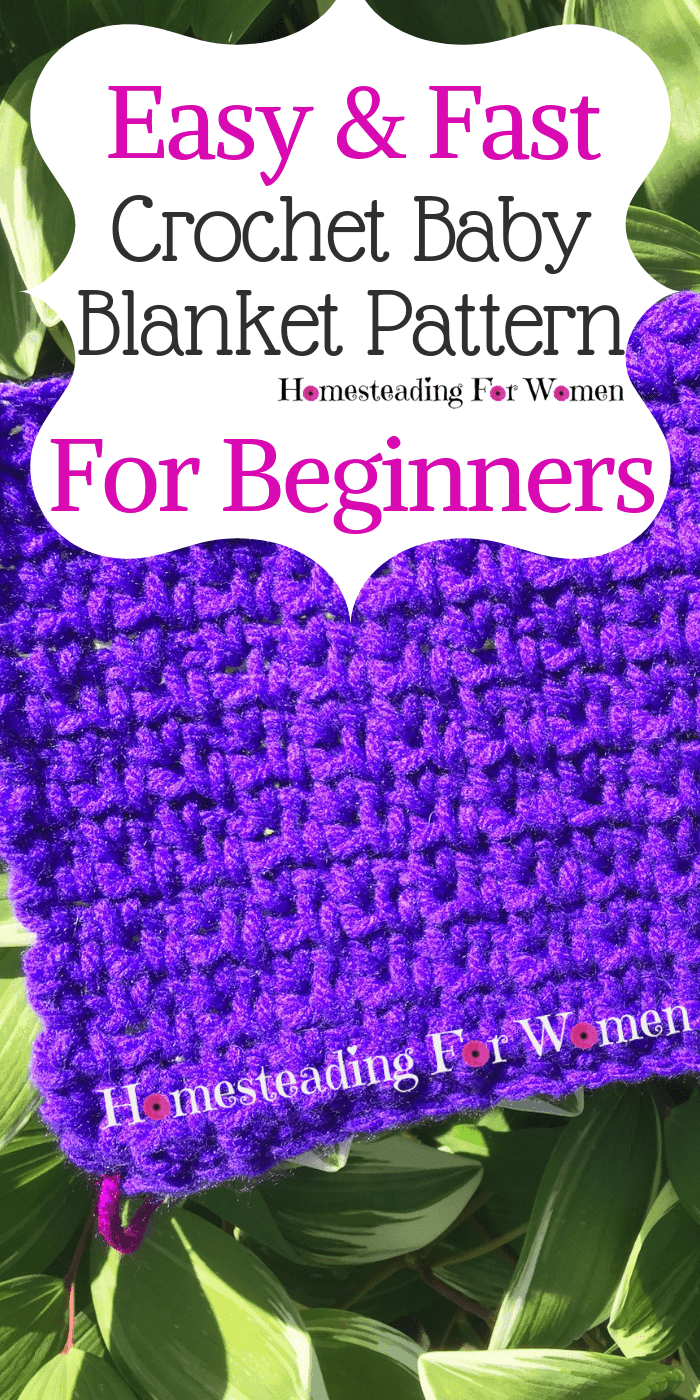 Related posts links you might like to read:
https://homesteadingforwomen.com/make-your-own-paracord-bracelet/
https://homesteadingforwomen.com/creative-diy-hom…or-ideas-pebbles/
https://homesteadingforwomen.com/farmhouse-coffee-bar-ideas/
Supplies You Need To Crochet a Baby Blanket
What is the best crochet stitch for a baby blanket?
That really depends on who you ask. Some people prefer to use the double crochet stitch is easier for beginners to make baby blankets with, while others swear that triple crochet stitch is the best stitch. It just depends on you and what pattern you like. I've found the one that I like best, and I'll share that in a minute.
What is the size of crochet baby blanket?
Typically a baby blanket will be around 30 inches or so. You don't want it too big, that mom is tripping on the blanket but you want it big enough that she can wrap the baby and not have a bunch of fabric left over. Here's the sizes I like best.
20″ x 30″ Preemie, Only make this size if you donating to the hospital.
30" x 34"  Newborn
36" x 44"  Toddler
How many chains do you need for a baby blanket?
Again, this depends really on your stitch count of your swatch. Yes, you really should always make a swatch no matter if you are crocheting, it's important if you want your finished project to be the correct size. Sometimes with a crochet blanket it's not that big a deal, but if you were making a sweater, then you would for sure need to make a swatch first. But here's the suggested chains the average size baby blanket.
Ch 105 premie size blanket
121 regular size blanket
145 for toddler size blanket
How many skeins, balls of yarn do you need for a baby blanket?
Usually it's two skeins or balls of yarn to finish a regular sized baby blanket. But if you're making a toddler size. I would buy 3. You might want to buy three anyway, just in case you decide to make a hat and booties to go with the blanket. Or you can buy the big super saver jumbo Red Heart yarn.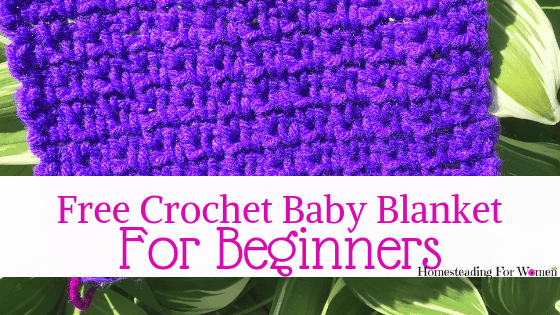 Easy Fast Free Crochet
Baby Blanket Pattern For Beginners
This is what you've been waiting for and I'll give you my  favorite free crochet baby blanket patterns that are fast and easy. I like to look for beginner patterns because they are designed to be easy, thus they will be fast for me to finish. Yes! I need that now. Running out of time. At least this time I didn't promise to make the blanket to the new mom. So I wouldn't stress myself out, trying to get it finished.
The Spruce Crafts Crochet Baby Blanket
This is a free pattern that is super simple to crochet. The pattern is easy and fast to finish. I made a swatch in about 30 minutes and that's while watching TV and stopping a lot.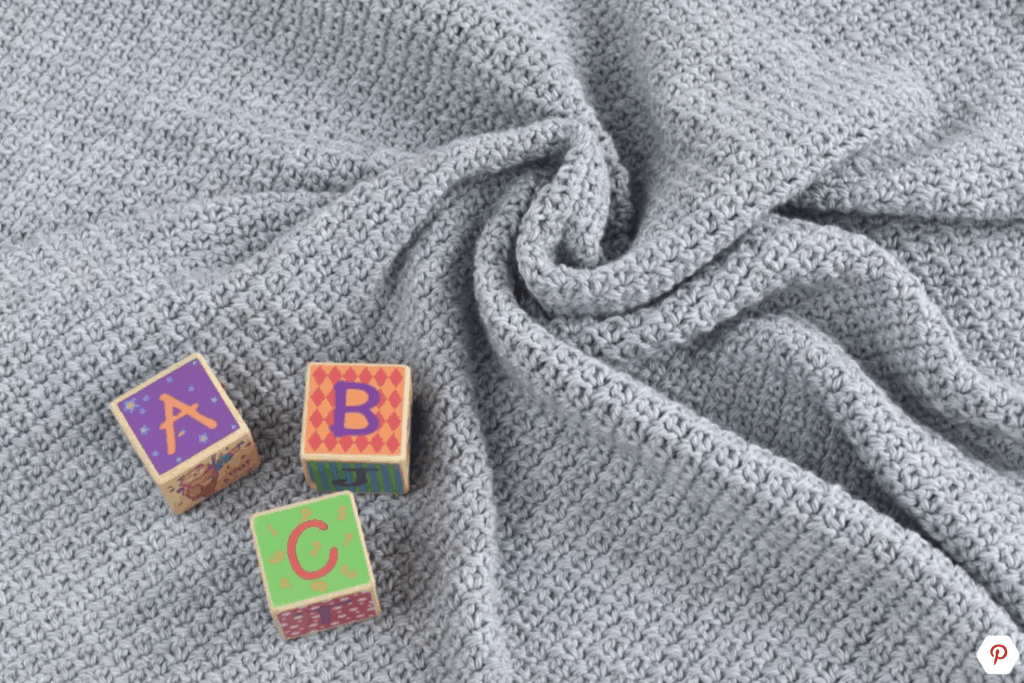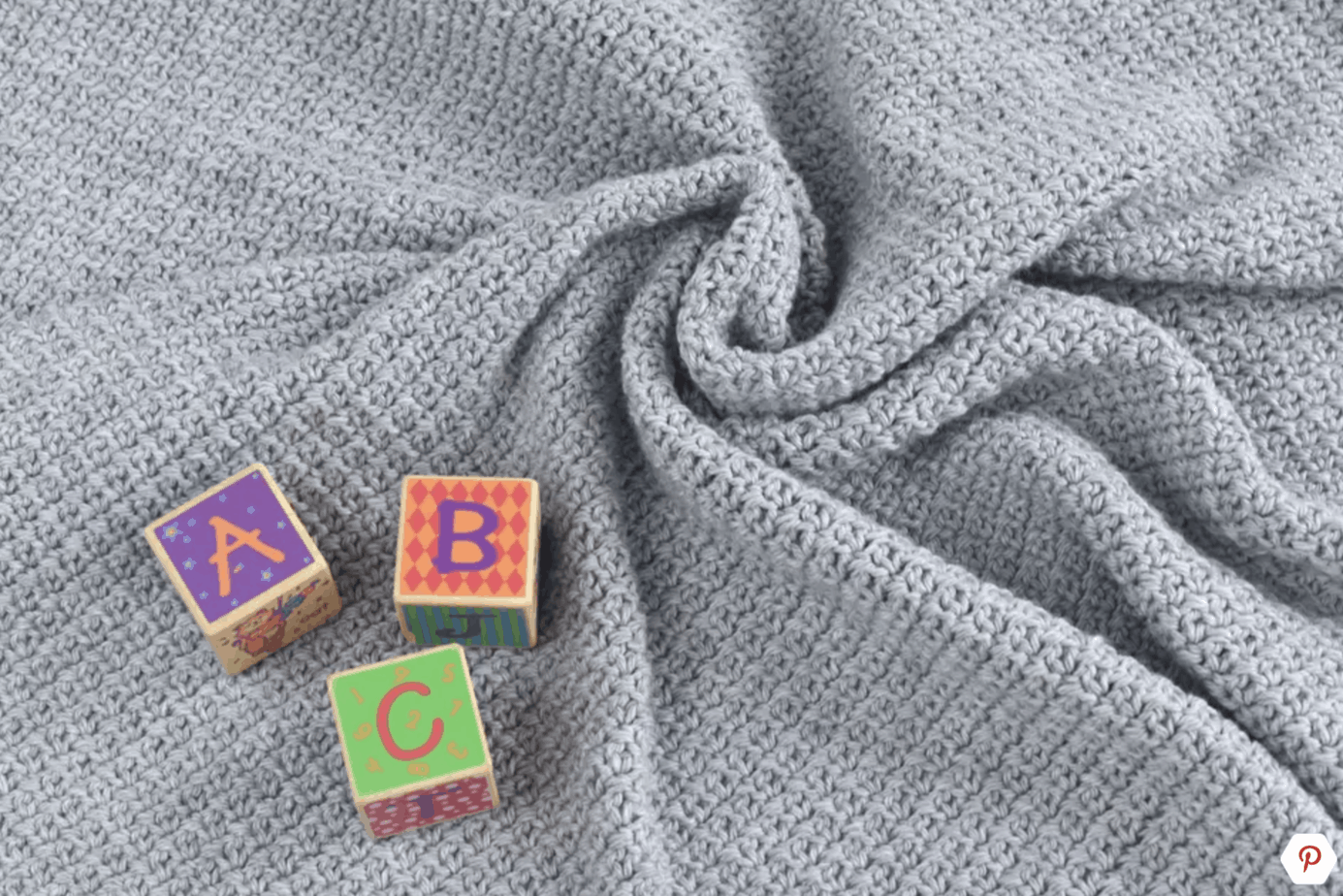 Click Here To Get The Easy Crochet Pattern Single Crochet
There is a video tutorial that shows you step by step how to make the stitches, which I LOVE!
The pattern is a repeat chain one, skip next stitch, single crochet in the next chain hole. I love not only how the simple pattern makes a really nice blanket, it has substance and wow, was it easy. I'll be able to knock this out quickly, bet I can get it done in 3 hours or less. And it will look really nice when I'm done.
I know that the baby is going to be a boy, so I'm choosing to make a blanket with Purple Red Heart Yarn light grey would work as a nice unisex color, instead of the neutral green color. I love purple and so does the mom. Win-win.
I'm using a J hook and I have a huge skein of purple of … in my stash. I'm stash busting, so look around if you have a stash or you can order some online. I'm going to buy this yarn for my next afghan pattern I make for myself and I'll order enough that I can make another baby blanket.
Then store it away for the next baby in the family. That way I won't have to stress out and hurry up to make a gift for my family or friend. I know many crafters who do this, when one blanket is given out then it's time to make a new one and store it away for later.
But I'm not like that, I wait until the last minute…I did have 9 months to get it done. Lol!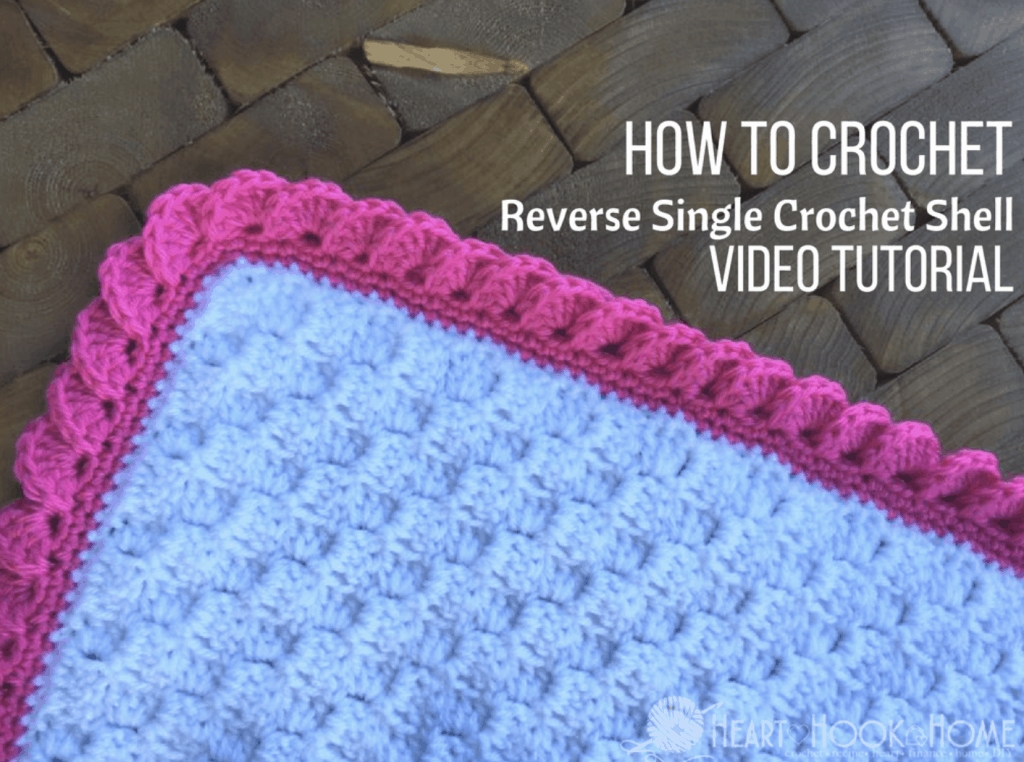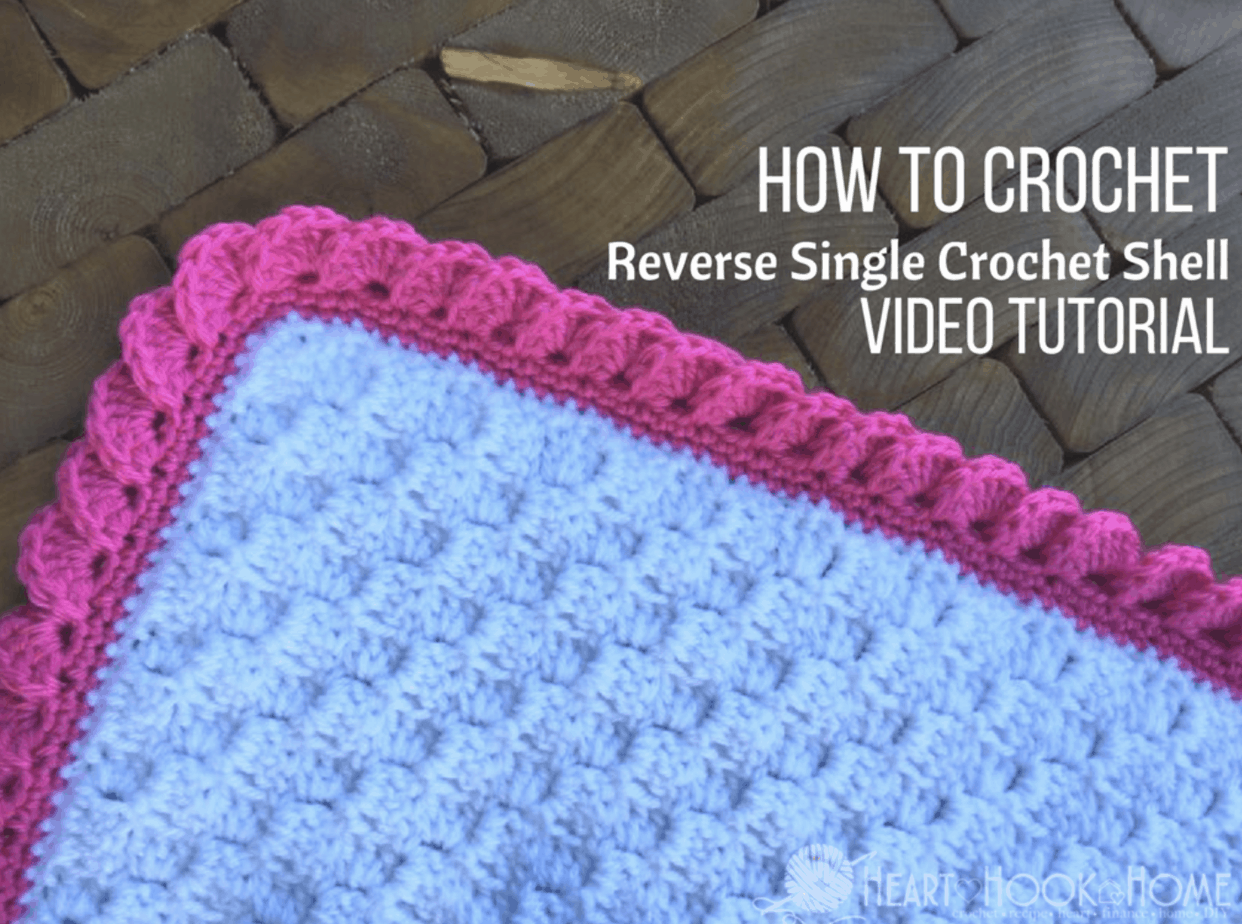 BTW: I'm going to add this border to my baby blanket from Home Hook Heart.
Simple Crochet Baby Blanket Pattern
You might want an even easier pattern. I found this one a totally newbie crochet pattern that you can do easily while watching TV or chatting with your friends. If you use variegated yarn then the pattern will make itself. To get the pattern for this just click the link under the picture.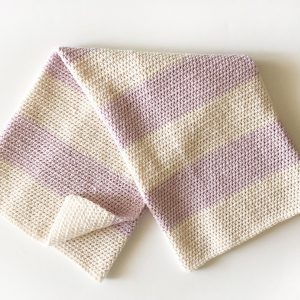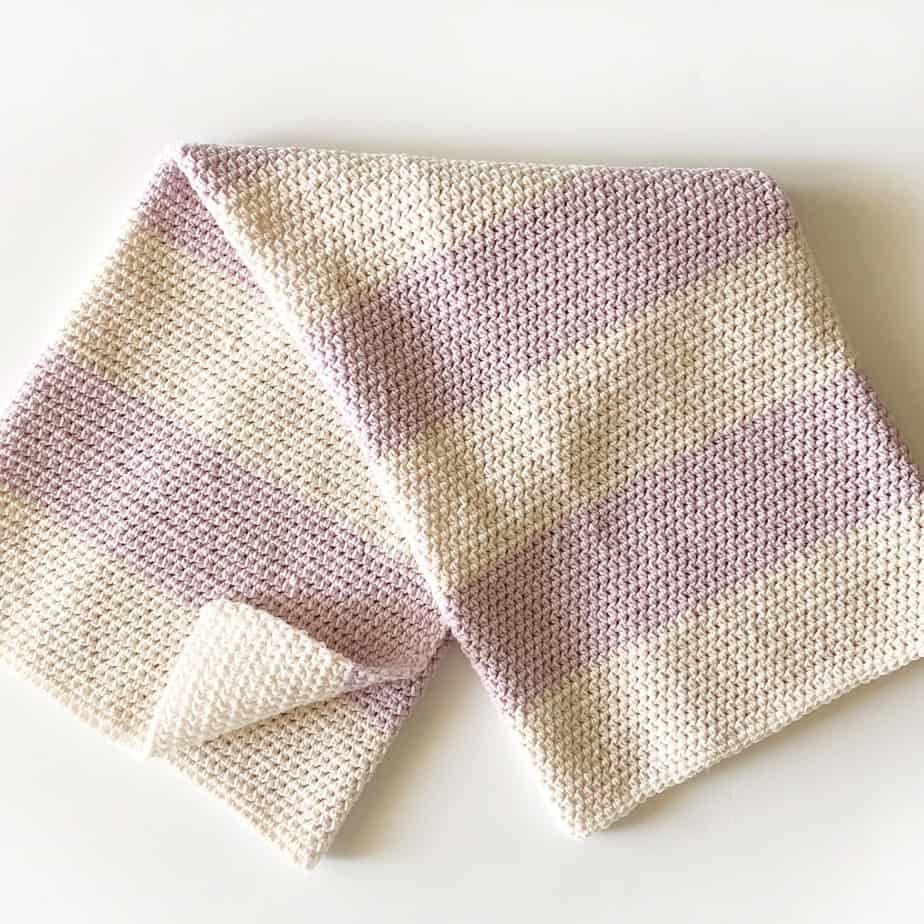 I hope this will help you if you have a new baby in the family and need a quick homemade gift. I love to find these easy fast free crochet baby blanket patterns perfect for beginners and people in a hurry like me.
Happy Crocheting!
Michelle 🌸