*posts may contain affiliate links. learn more.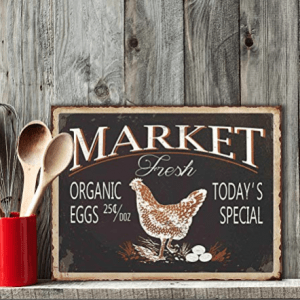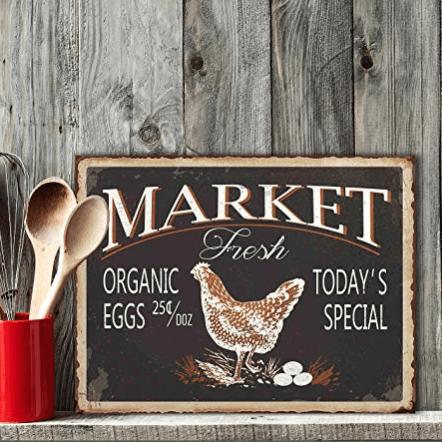 I'm getting ready for the holidays and I'll be having our Alaska friends fly in early next year for a visit, and I want to fix up the house some for them.
I'm starting with the kitchen first. That's where we seem to spend the most time when they are here. My style is mostly vintage items. So it would need to go with that of course.
I saw the cutest farmhouse coffee bar ideas on pinterest, they are just my style.
I love old stuff, don't you?
Our house is all filled with vintage things and the farmhouse style will work perfectly with my decor.
I love this sign, it works perfect with the other chicken things I have in the kitchen already.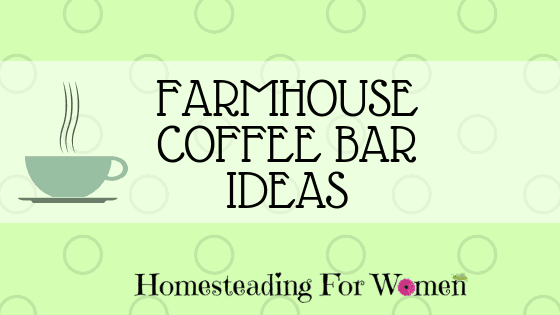 DIY Coffee Bar Ideas with Farmhouse Style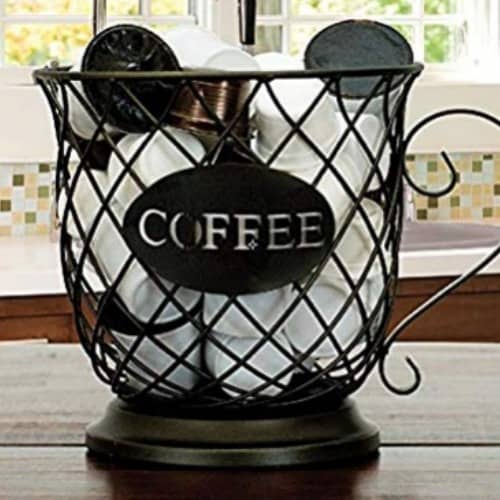 I think this big cup would be perfect to hold all my kups in, make a really neat display the metal makes it go nicely with all my old stuff.
I like to refill my own K Cups with these cute purple ones, saving me about 75% on my coffee cost. I love my purple keurig it's perfect for me and hubs, but darn those cups really add up at the grocery store each month.
I'm all about saving money! Aren't we all?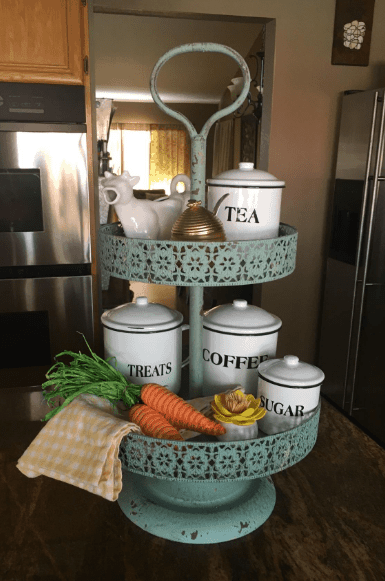 This would be really great organizer for my coffee bar. I have very limited counter space and love the idea of it all in one place.
I found this one that I like better.
You can get what looks like an old treat server here. And those small canisters just set off the old country look I'm going for. Plus you don't see all the tea bags.
They didn't come with the Treats canister but I found this one that would be small enough to fit in the organizer.
I'm loving the treat one the best. With all my little dogs around the house that's a must for me!
TREATS!!…listen for all the little feet run to the kitchen. 🙂
If I Had More Room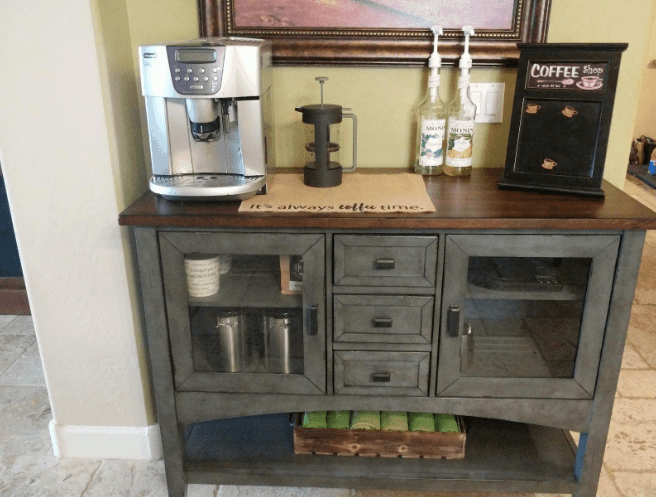 If I had more room in my house I would get this one, or something like it. I found this one, it doesn't have the glass doors which I would like better because I'm not that neat when it comes to the inside of my cabinets.
It would be great to have one area of the kitchen just for making coffee. My guests can just do it themself when ready. The organizer would look really nice on that table with a farmhouse style chalkboard to hang would be nice and maybe one of these to hang coffee cups on.
I could add several things vintage items to make it more my style, with a few vintage cups hanging on the hangers and a mason jar or two would be a nice touch. I would add cream and sugar bowls with a spoon rest. Don't want them to make a mess. 🙂
How about you?
What are some of your Farmhouse Coffee Bar Ideas? I'd love if you would share them here with us.
With Love,
Michelle 🙂
You Might Also Like To Read:
Pin It For Later