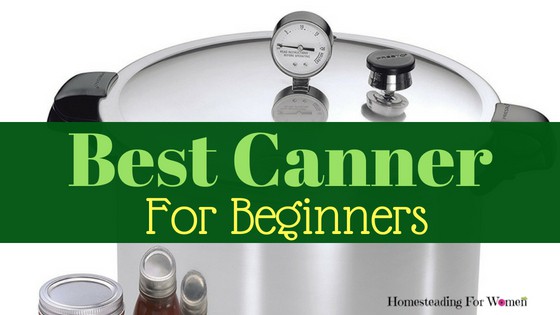 The Best Canner For Beginners would have to be the one that's been around the longest and one that my grandma used all those years ago. American pressure canner is the best selling and most raved about at my online store. Are you getting ready to start canning for the first time?
Me too! I've watched grandma can but never tried it on my own. I really need to start out simple and then work my way up. I started looking on my favorite online store to see what they had to offer and I found some really interesting things and now I'm excited to give it a try!
What's The Best Canner For Beginners
Best Canner For Beginners All American 21 1/2 Quart

Homesteading with a Crew To Feed Get This One. This one has a 5 star rating! And would be perfect for the die hart homesteader that wants to cook with the best quality. It's a bit pricey but it will pay for itself in the first year. Top notch quality and it will hold up to 7 quart jars or 19 pints. If you're going to buy something that you will be using for years to come. Why not buy the best that you can afford the first time. Right?
Best Canner For Beginners Presto 23 Quart

My Favorite One If You Want To Make Green Beans! My Favorite one first! This Pressure canner is one recommended by Amazon. It is a top seller and has the best customer reviews. It is 23 quarts which means it will hold 7 quart jars. 
Less time canning if I picked something smaller then I would be working much longer hours over the stove. I also like that it is heavy duty aluminum. It is extra large, has instruction, recipe book and it has a 12 year warranty on it. I can also use it as a water canner for my tomatoes. Two for one!
Best Canner For Beginner Granite Ware

If your just starting out preserving your own food. I would recommend Buying This One! It's not hard to use, nothing fancy. You just put the jars in boiling water so the lids will seal. Now you can't preserve green beans in it but you can make jelly preserves and tomatoes. I'm sure you can do more, just check in your canning book on what you can preserve in a hot bath.
Ball Complete Book of Home Preserving

Don't Forget To Get a Recipe Book!
I Love this book it's the only book you need to start canning, it's stocked full of tips and recipes. The reviews are amazing. It's made by Ball, you've heard of them I'm sure. ;-). I have a copy of my grandma's canning book and it was a Ball booklet.
Look no farther if you interested in learning how to can safely. This book is massive over 400 pages of recipes and tips to get you started canning on the right foot.
One lady said she started with some grapes her hubby brought home and made jelly for the first time and it was all thanks to this book that helped her get started. Like I said before you can make jelly easily in the Granite one above.
Happy Canning!
Michelle 🙂


Pin it for Later!