This post contains affiliate links. Click here to read my full disclosure policy.
Welcome to my Homesteading for Women blog!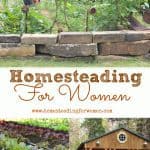 Hello! Michelle here! Let me first say how happy I am to be writing this blog for women who want to get back to their roots and live a simple life again. Maybe you want to start your own Urban Homesteading For Beginners with your family like me. So many blogs out there are for guys. I wanted a blog just for women and teach some of the lost skills that so many girls are missing out on in life nowadays, with this new digital life. They are growing up in a phone rather than in the real life.
I on the other hand grew up outside. I spent my days in the woods, making mud pies, riding my bike which lead to many trips to the ER to fix a busted lip or knee. Lol! I learned how to cook from scratch, clean, sew, mow the grass and hang out our clothes outside on the line to dry in the summer. I was cooking full meals for my family after school each day as my mom worked at an early age. I used her old Betty Crocker Cookbook and would call her if I got stuck.
On the weekends we had a summer camp that we went to each weekend, where I ran with my friends, went fishing all day at the river and swam in the ponds by the camp. I even learned to drive at that campground. Dad would let me drive on the old road to the camp when I got old enough to not wreck us.
The Backyard Homestead: Produce all the food you need on just a quarter acre!
The Backyard Homestead Great Book For The Modern Homesteading Woman!
I love this book! It walks you through what you need to get started with your own homestead. No matter if you live in the suburb or out in the country. Everyone can live a homestead lifestyle with just a few simple changes. Like adding some containers filled with veggies this summer or get a couple chickens for the backyard. This book is a great way to learn some new skills. Fun for you and your family.
Growing up in Southern Indiana in the 70's, my grandparents grew all their our food, well most of it anyway. They had two very large gardens and grew a multitude of yummy things. Corn, tomatoes, potatoes, green beans, peas, lettuce, cabbage and onions were the main crops. Grandma had a wonderful flower garden as well.
I want to get back to that simpler life, and now that I'm sort of retired, I can take the time to do what I love and that's living out in the middle of the National Forest and building a simpler life, one filled with less chemicals and more pure country living. Join me on this adventure!
My Goal with This Blog
My goal with this blog is to get back to my roots and make my little slice of heaven in the forest become more of a modern homestead. If you would like to read more about me on this page.
Learning to preserve my own food from the garden and my Redneck Bathtub Garden canning and making jelly from strawberries. Make a Container Herb Garden For Beginners.
I preserved some herbs in oils to make my own herbal medicine but had to throw out the whole batch, because I had no idea what I put in the jars. Oops better labels next time.
I also want to spend more time in our Tiny Cabin in the woods.
Here is my list for 2018, so I can take a look back at this list next year and see how well I did. And if you scroll on down you can see My Plans for last year 2017 and what worked and what didn't. You Can Read my Happy 1st Blog Birthday Post here.
My Homestead Plans for 2018
Here are my plans for the coming year, it's quite a list! But it's time to start a new chapter in my life and get some things done around the homestead. Plus do things that I put off doing last year and do some things I've never done before. I'm super excited about this!
Hatch Chicken Eggs
Buy more Silkie Chickens that are smaller
Build new chicken cages and fences where the goats used to be.
Tear down the old chicken houses and replace.
Learn how to show Chickens at a fair, so my eggs and chickens will sell better and for more money with winning chickens breeders.
Buy quails and hatch to sell
Learn more about ducks and buy some.
Start our cricket Biz again only this time sell to only very small scale selling to 7 stores not 7 states like before. 🙂
Buy and try to grow a Pawpaw tree. Back in the 1970's my Grandma's woods had them and I remember eating them at her house.
Get a new stash of Elderberry's this year for syrup, next winter.
Buy Heirloom seeds and grow some of Grandma's Green Beans to Can for next winter and Can Tomatoes for Chili next year.
Learn how to Can Tomatoes and Green Beans! And really do it this year.
Plant some Fall flowers that will come up next spring.
Get my eBay sales back up, meaning I need to go to every yard sale this summer.
Put on a new metal roof on the house and Garage.
Buy a building for the crickets and then finish the inside.
Have a gas tank installed in the new cricket building.
Get water run to the new building.
New outside dog that won't hurt the chickens.
Learn more about sheep, or milk goats. I would like to get sheep so I can spin the wool. But I could just get a rabbit for that. We could raise a couple sheep each year to put in the freezer. But could I eat them after raising them? Not sure on that. But we don't have enough land for cattle. Maybe I'll just get some chickens for meat. I'm just thinking out loud on the some animal we could use for meat each year. Ok I think it will be chickens. Super easy and small. You don't have to raise them for very long before you put them in the freezer. I'll get a few this spring and see how hard it is get them in the freezer. So I'll at that to the list.
Learn how to butcher and freeze meat chickens.

UPDATED February

: Get some rabbits! I'm obsessed! Angora Rabbits for my own Wool Production! Buy Three Rabbits in Different colors.
Make Cages for Rabbits
Make sure Rabbit Cages are in a secure building with doors for winter.
DONE! Buy a Spinning Wheel and learn how to spin better. I bought this one on layaway. Spinolution Pollywog!
Make a pair of Angora Gloves for this winter.
Start some superworms to sell for bait and the pet stores.
Double my mealworm production to sell to the pet shops too and feed my chickens.
Get my furnace and air conditioner fixed or replaced.
Get this blog to bring in $100 a month.
DONE! Buy a new camera for ebay.

DONE!

Get new lights to take pictures inside.
DONE! Buy a cube to make my pictures look awesome on ebay.
Clean out craft room so I can do crafts again. Lol! Sell stuff on ebay.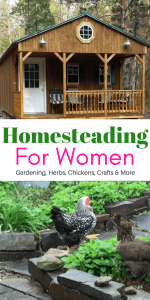 Looks like I've got some big plans this year. The biggest will be getting the crickets going again and get a metal roof on the house and fix the furnace and air conditioner. Big expenses but the income will be awesome. I love selling on ebay it's fun and it pays the bills which is awesome and I will always do it, it's like a money tree. It doubles my money because I make back double or more of what I spend. The crickets is hard work but it can really get all my big expenses paid for this year without getting a loan. We are debt free, besides our house payment. And with the crickets going again. My second year income will be to pay off the house.
I look at my parents who are on social security and they can't go or do anything. They have no extra money. Plus they have big debt. Not me. For one I never thought there would be any social security for me when I retire, so I've always knew I would need some type of income to support me. I'll be investing in Real estate maybe this year but for sure next year. Rental houses, Hunting cabins are on my radar in the coming years. And Silver/Gold coins.
We used to trade crickets for silver coins back in the day. I'm so glad because when silver peeked a few years ago. We sold our coins on ebay. That paid off all our debt which was a lot after the crickets and being stupid with credit cards. I'm so grateful for those coins and will be buying them back for the next few years, so next time silver and gold goes up or if the dollar fails we will have money. It's one of the best things we ever did and it let us rest and heal after the loss of our Son and our Business these past 10 years.
My Homestead Plans for 2017~What worked and what didn't

This is what I did in 2017. I've written in Red my notes on what worked and what didn't
Make a

Container Herb Garden For Beginners

. Win! This worked GREAT! We grew a pumpkin in one and Carrots in the other one. One didn't drain right so we left it. But the carrots grew all year long. We grilled some, put some in soup, feed some to the mealworms and the chickens loved the tops. They lasted summer long and then in the fall we took the rest out and had a big bowl full that I've been adding to soup. It was Awesome!
Fix the chicken cage, the wire fence around the cage is totally falling down, the past owners of the house didn't dig the holes deep enough for the poles and one fell over. My chickens can now come and go as they please. But they are around 10 years old so they can do what they want. 🙂

Win!

 

Yep we fixed up the old cage and fence and put my silkie chickens in with my old gals. The old ones stay in a group by themselve. I can't believe they are still alive.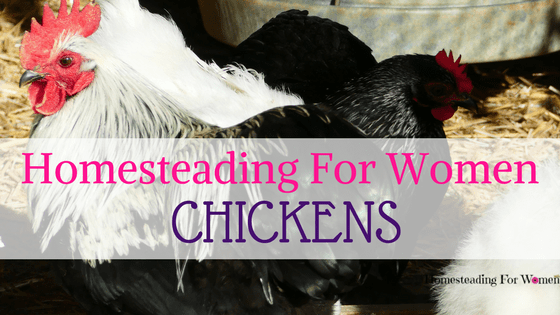 Get new chickens as stated above my hens are old ladies and choose not to lay anymore in their retirement.

Win!

 

We ended up buying chickens in the spring, silkie chickens and a golden sea brite which I call "Mrs P" Later in the fall we bought a rooster and hen for her. She wasn't too happy about that. I just love their color. I also bought s Black Cochin rooster and a couple of hens that I hope to hatch out their eggs next year.

I also want to get some chickens for meat. Granny always had plenty of chickens for eggs and eating. I can't wait to get some new chicks on

CHICK DAY

at our feed store.

FAIL!

 

Nope didn't do this. Did you know that silkies have black skin! I couldn't bring myself to eat one, even though I wanted to eat one of those Huge silkie roosters that we bought from the auction. They are going back next spring!

Be a much better garden grower and learn to can my veggies this year. I loved to get grannies canned green beans, can't wait to put up for myself this coming year. FAIL! My garden was a fail this year. Hubs planted stupid sun flowers in the garden and they shadowed my crop. The rabbits kept eating my green bean vines to the ground each night. I did get a couple messes of them to cook and a few tomatoes. I think we only got a very small amount of yellow squash. There's always next year.
Do something about all the weeds that grow up in the flower garden the previous owners built. A couple of years ago I had a run in with a big patch of poison ivy. I was moving some iris plants, that was growing in the edge of the woods. I wanted them by the house. Stupid mistake. I should have got my book out to see what was poison ivy and what wasn't. I know what it is now! 🙂 It never bothered me before, but I guess with age things change. WIN! We had the best most beautiful flower garden this year. Hubs really worked on getting that looking good. You can see it on

instagram

. Beautiful! Way better than the weeds in the previous years.
Make Extra Money 

I want to make more money this year, I've got a lot of things I want to get done. Need a new roof on the house and garage, build a barn for our tractor and campers. Our Heater/Air Conditioner crapped out, so this needs to be fixed before winter. In the meantime, no air conditioner this summer. Yikes!

 

Fail! 

No we stayed the same or even made a little less. We worked on a craft show for months and made nothing at it. Total waste of time and then we lost out on a bunch of yard sales so that meant less money on ebay. Next year will be better

I said we have a Tiny House Rustic Cabin in the woods, that is totally off grid, this will be the third summer and we've just about got it finished on the inside. We would like to add solar panels this year to it. I'll be sure and give updates on that this year as well.WIN!

I love this cabin it's so much fun to go to the end of our driveway and into the woods and be at the cabin. From there you can't hear or see the house. It's just like we took a trip and rented a cabin in the forest but we are just a small ride on the 4 wheeler up to the house. Love it! Or friends love to visit it too.
That's it for 2017! I think it went well. I see more green than red which is good. We did end up getting sick a couple times last year and got the flu at Christmas which turned out that we had to cancel seeing the family until later in January. Next year is going to be big changes on our homestead! Be sure to subscribe so you can hear all the details!
Related Posts:
Garden Planting Vegetables For Beginners
7 Herbal Books You Must Get First
10 Mistakes I Made With My Goats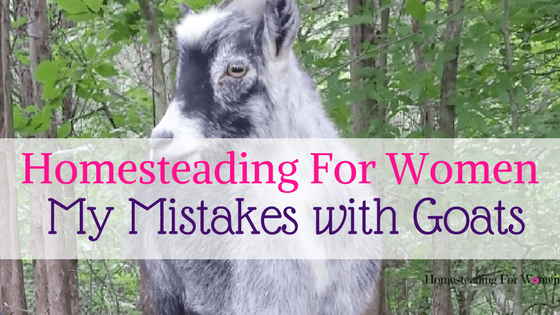 Goats Got the Boot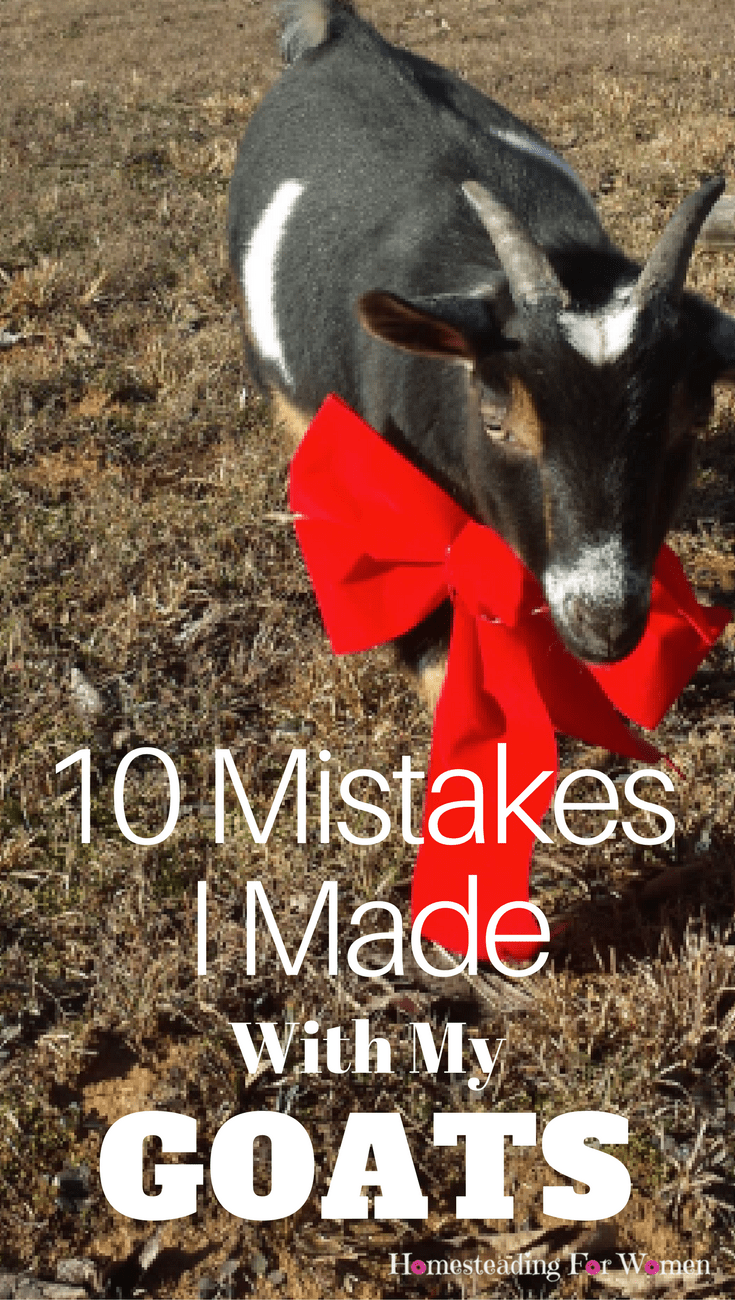 We did the Goat thing, but it didn't work out. I got rid of the goats last year, they were very destructive so I won't be getting any more of those buggers…Not for a while anyway. 😉
They were super cute but they peeled  a bunch of our cedar trees. Goats need a very good fence or you're going to wake up to something being eaten. They really loved my rose bush, it never had flowers the years I had my goats.
They would run from the cage to that bush every time we let them out, trying to keep them from peeling the cedar trees.
I'm thinking the chickens will be much better and maybe some rabbits later in the year.
 Start A Side Business To Supplement Your Homestead
As you've already read. I'm an entrepreneur I've been self employed for most of my adult life. I've done everything from making stained glass windows for the Governor of Indiana to Raising Bugs for a living. I know how to make a quick buck or two. I've started my 100 ways to Make Extra Money page, that I'll be adding to over time of all the things you can do to make extra money.
Getting a side business started will set you on the path to being able to live the life I live. Out in the country with my animals and not having to work a so called Real JOB! Oh I still work but in my "Fat Pants". 😉
Raise Mealworms for your chickens and then sell some to your local pet shops or sell them online. It is super easy to do and you don't need but to buy one batch of worms for about $5. Put them in a bucket and forget about them. Easy!
Raise Meat Rabbits. I've not done this YET! I've had my share of rabbits and the last ones had really long angora hair. They were Beautiful! But I still remember cleaning up the cages, so can't get any yet. 🙂
Raise Crickets, this is what we did for over 20 plus years and we made really great money doing it. Later this year I'll give a little tutorial if anyone is interested.
Raise and Sell chickens for meat and or the baby chicks. I read someplace that one homestead makes $1000 a month selling her baby chicks. Pretty cool! Might have to look into that now that I have all my new Baby Chicks!
Grow a Garden and sell your fresh veggies and herbs at the Farmers Market. You could also sell your chicken eggs.
Start a blog! That's what I'm doing here and I have a 5 Day Start A Blog Course to get you started if you're interested.
Sell Your Old Stuff on eBay! That's what I've been doing for the past 6 years, selling full time on eBay.
Happy Homesteading,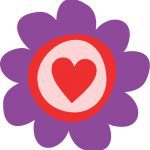 Michelle