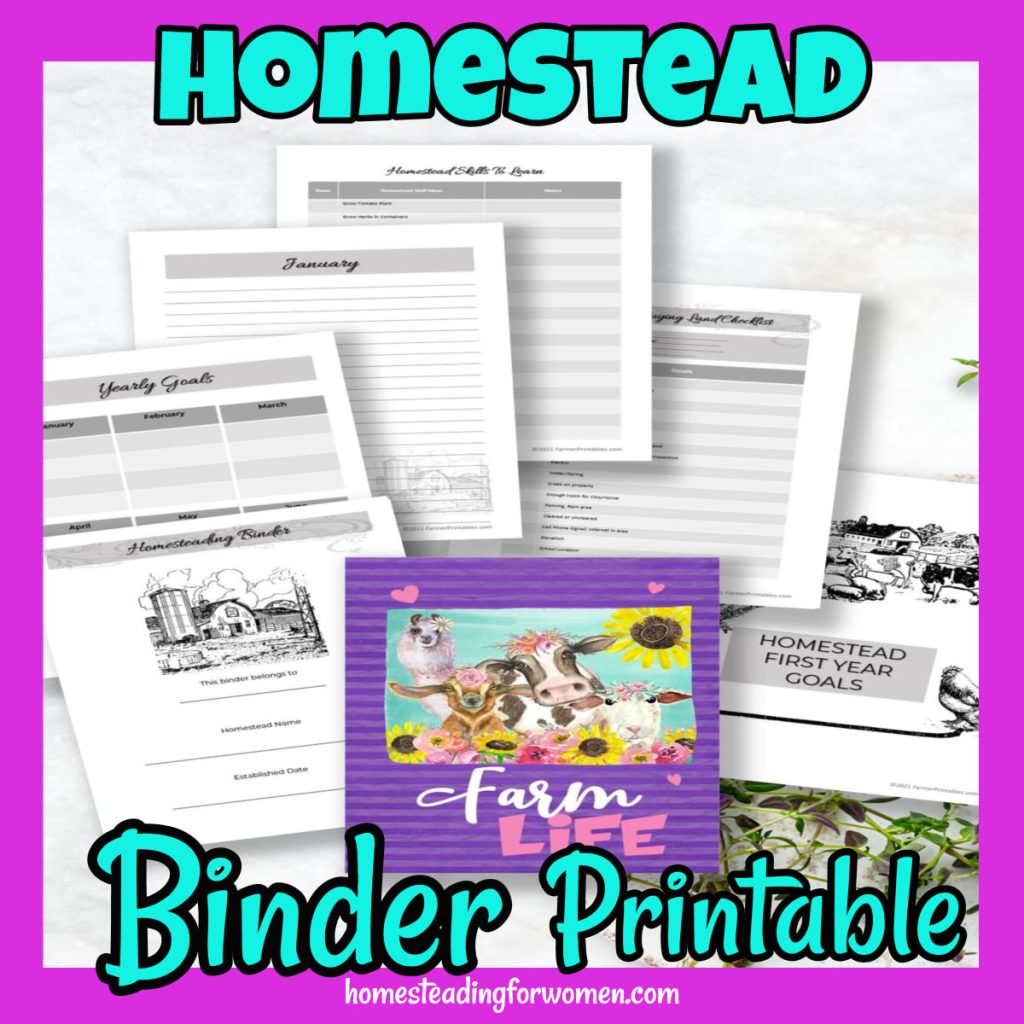 Welcome to Homesteading For Women – we hope you enjoy all our tips and tricks for homestead women! Please note that we use affiliate links and ads to generate income at no cost to you.
Homestead Binder Printable– Are you a first-time homesteader or a wannabe homesteader? There are many things to consider before taking the plunge and buying land for the first time. That's why I created my Homestead Binder Printable. So you could have a workbook to get you started on the right foot.
This gives you the basics of what to look for when considering buying land for the first time. And what skills you will need to live out in a rural area for the first time.
But don't worry.
You can start a homestead right now, no matter where you live!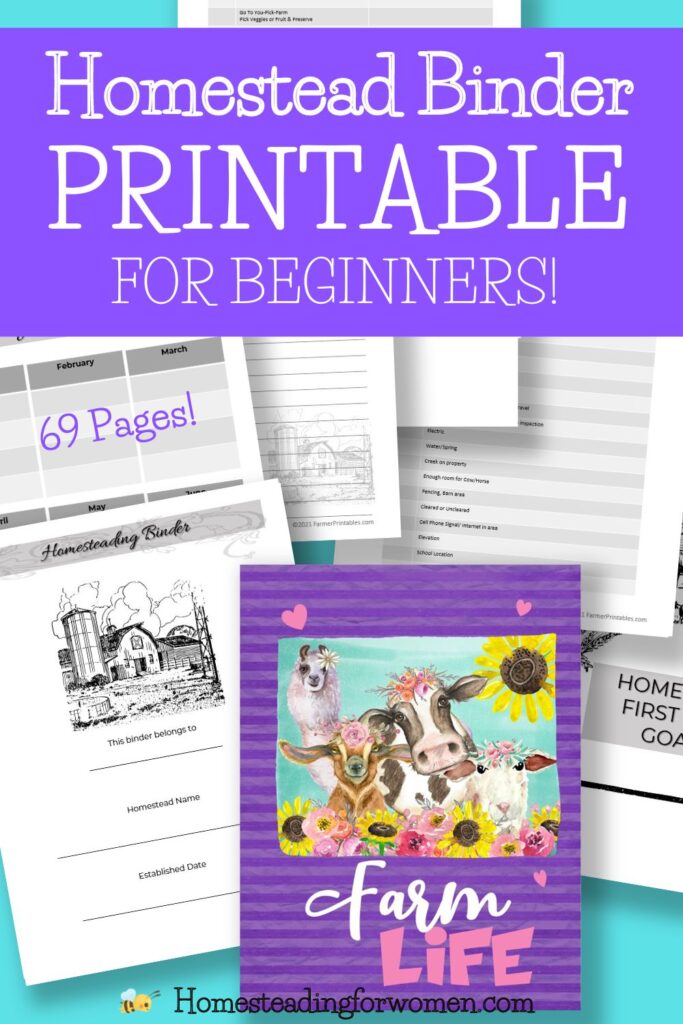 How To Get Started Binder
When I created this, I thought back to the first time I looked at the 100-acre farm we bought and what I was looking for at the time for the property.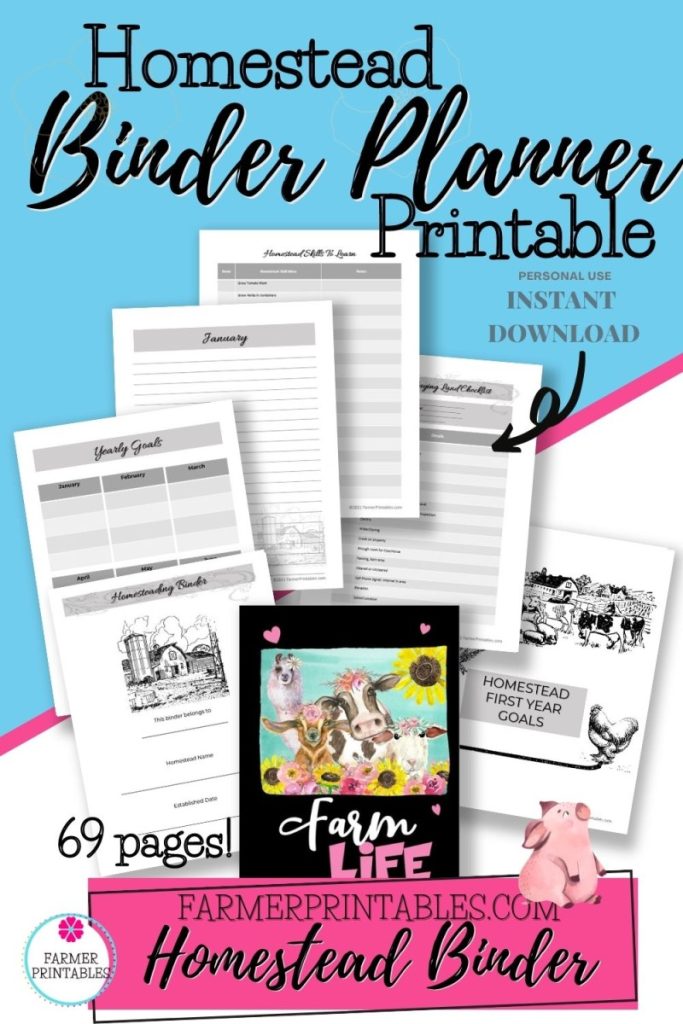 I wrote everything down that I could think of, like things to look for when buying land. I even made a little challenge for you of goals to set for the first year of homesteading. You could even use this right now to practice skills needed later on, like building a storage pantry in your kitchen. This can be any easy wood project.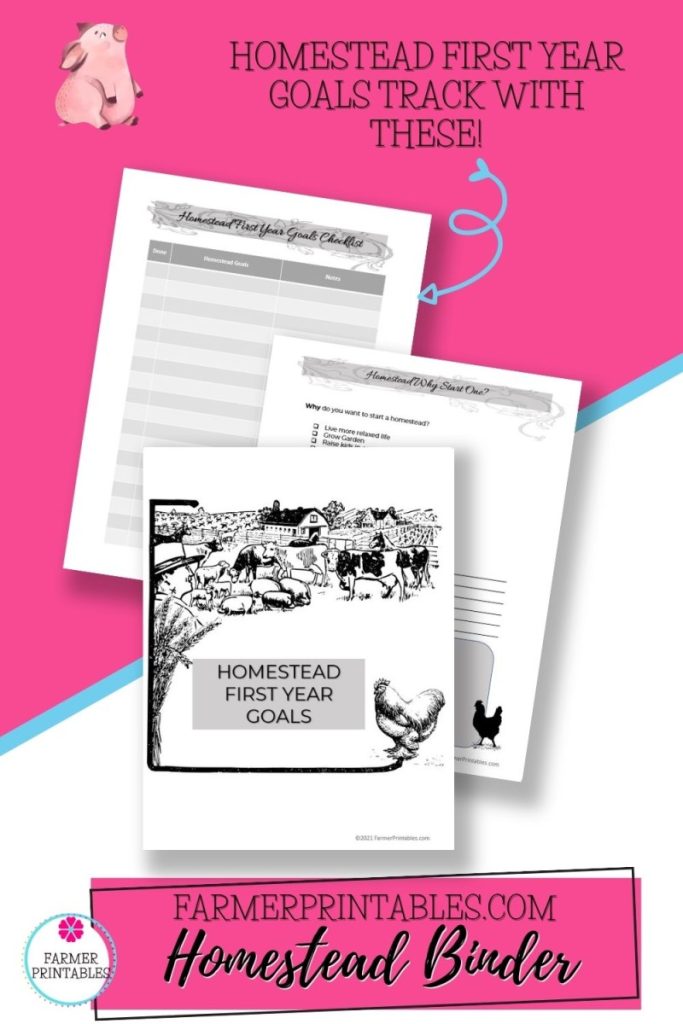 I created an awesome Homestead Binder Workbook for Newbies. It's 69 pages full of useful information to help you get started living the homestead life.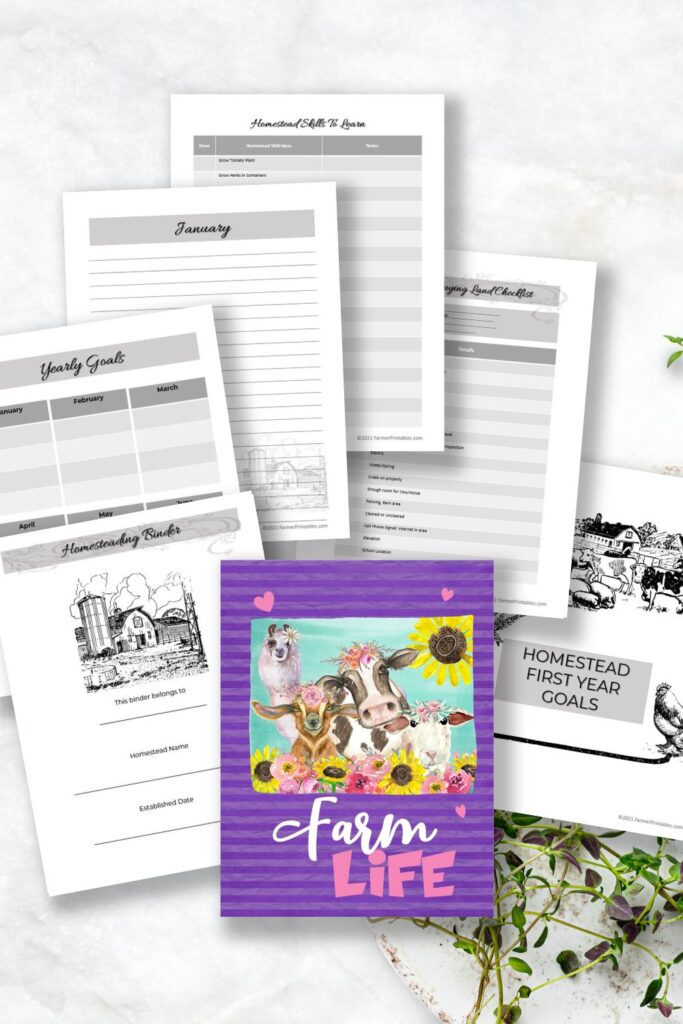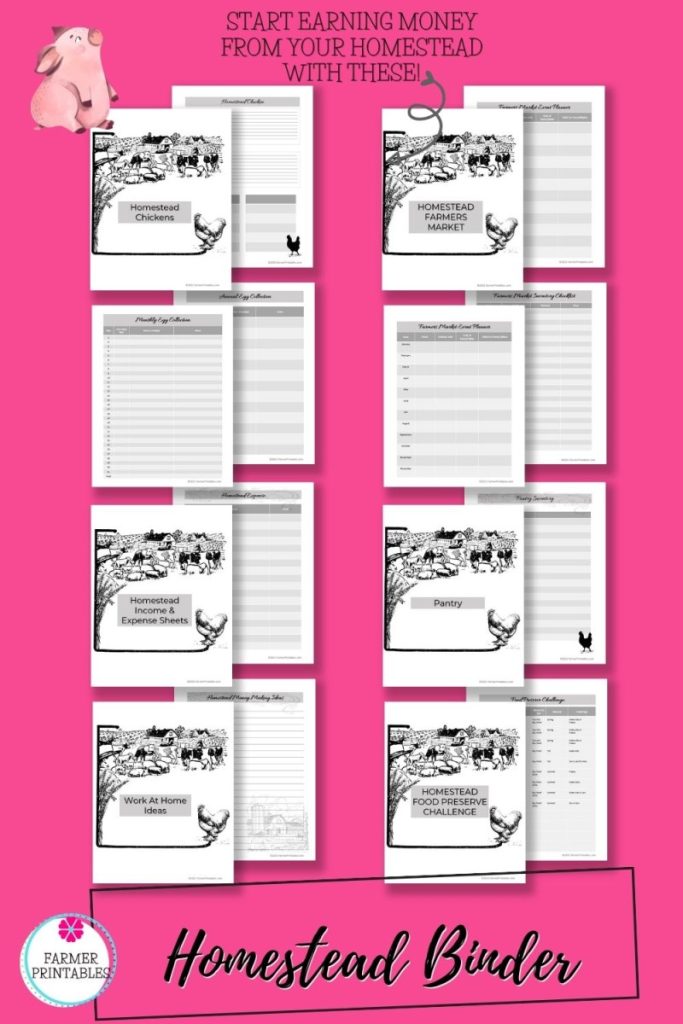 Homesteading Isn't Like Instagram
It's not like Instagram, folks. I can tell you that FOR SURE!
It's the truth. I watched a Youtube video where a girl took off work for a year to travel on a bus she converted for living in while driving around the countryside. She was showing her makeshift bathroom, which was a bucket under her bed. 
Yikes!
She said to the camera, "Well folks, it ain't like Instagram, that's for sure." I started laughing. Of course, it's not!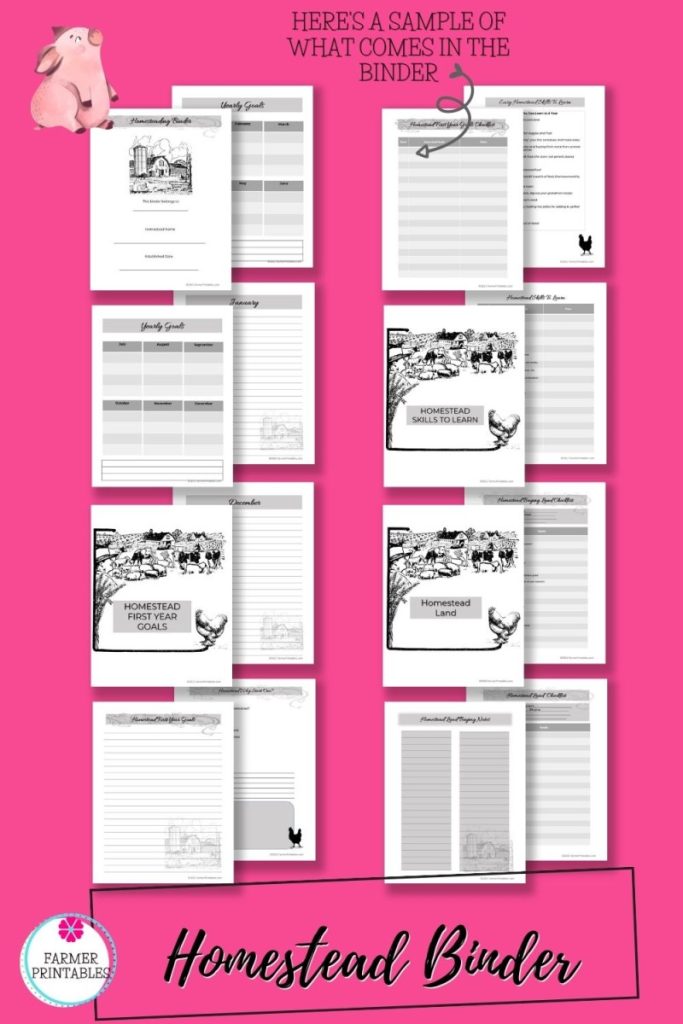 The same can be said about homesteading on Instagram is totally different than real life. Not pretty pictures, most of the time. Some of them have tried to show the truth but were shamed so badly that they aren't on social media any longer.
It's a tough life, mowing grass, caring for the animals in all weather conditions, and growing a garden when it won't rain. But the rewards outnumber the hard work. I love the sunshine, the smell in the air, and watching the wildlife, the birds eating from my feeder.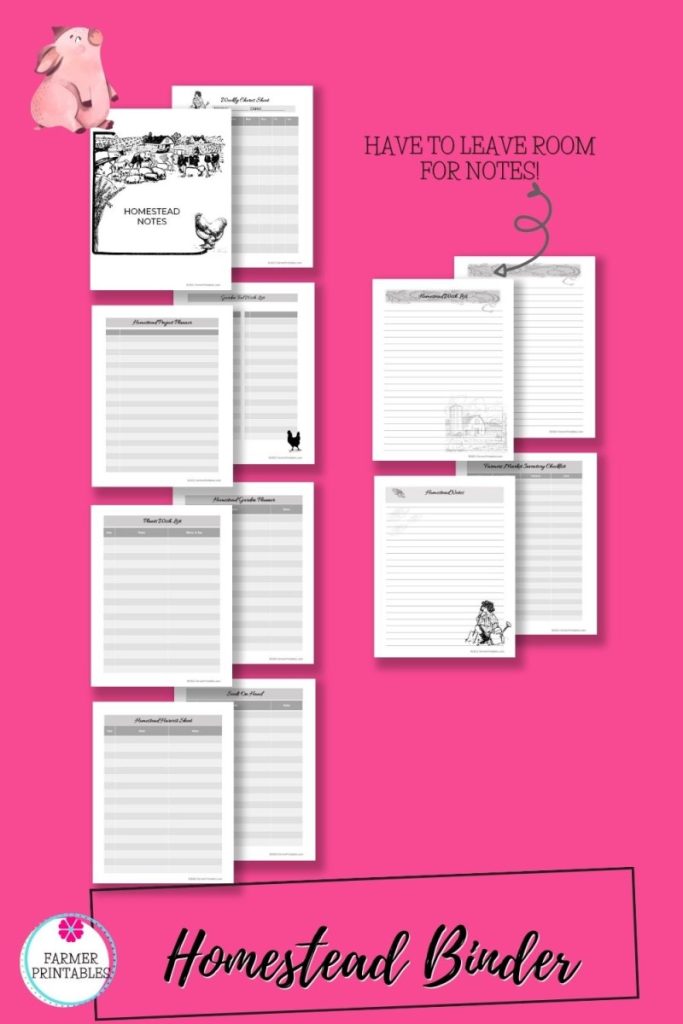 The deer splashing in my pond, the baby rabbit peeking out from the tall grass, the eagle that lands in my tree sometimes. It's AMAZING!
What's Inside The Homesteading Binder?
Take a look at the inside.
That's why I've lived on a farm most of my life. I know what it takes to live off the land. Over the years, I've helped others make their dreams come true and buy their first property out in the country. I created this homestead binder with the beginner in mind.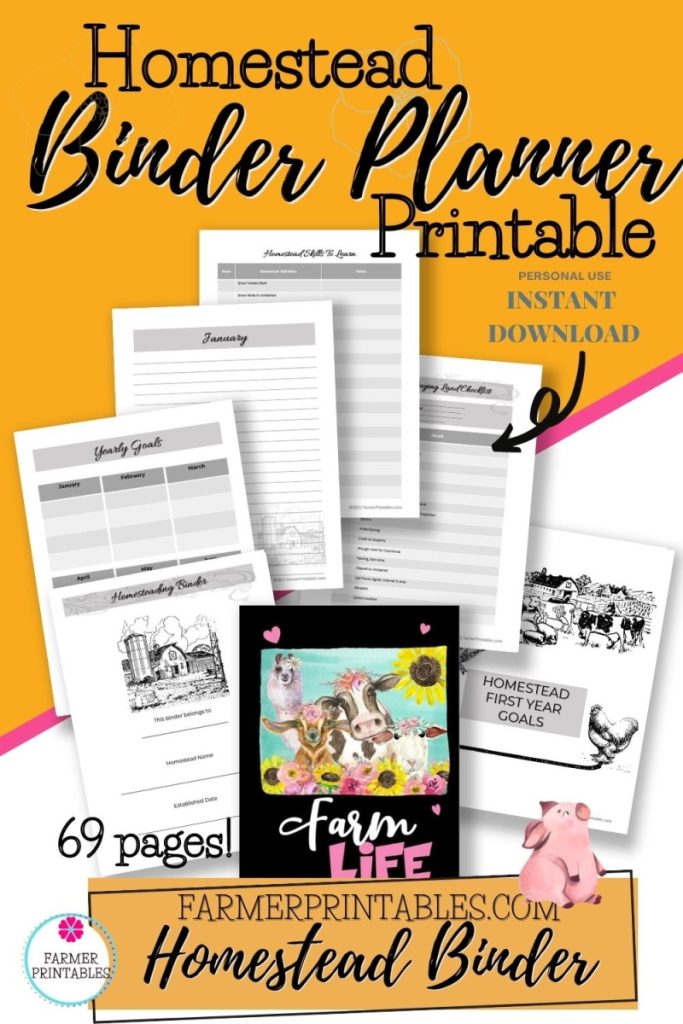 I've made a checklist of what you should look for when buying land. Listing things you should ask yourself and your family to see if you are really up to living out in the countryside, like the skills you need to learn, challenge checklist of skills you can learn in a year.
I've included egg collection pages, monthly goals sheets, and so much more.
Here's a look at what you get:
This 69-page Printable Homestead Binder includes a Homestead binder cover, planning pages, and more, including:
Cover
Belongs To
Yearly Goals
12 Monthly Planning
Homestead First Year Goals Cover
Homestead Why Start One
Homestead goals
Homestead First Year Goals
Easy Homestead Skills To Learn
Homestead First Year Goals Checklist
Homestead Wish List
Homestead Notes
Homestead Skills To Learn Cover
Homestead Skills To Learn checklist
Homestead Skills To Learn Notes Sheet
Homestead Land Cover
Homestead Buying Land Checklist
Homestead Land Checklist Blank
Homestead Land Buying Notes
Homestead Chickens Cover
Homestead Chicken Lined
Monthly Egg Collection
Annual Egg Collection
Homestead Income & Expense Cover
Homestead Expense
Homestead Income
Work At Home Ideas Cover
Homestead Money Making Ideas Lined
Work At Home Ideas For Homesteaders Lined
Homestead Farmers Market Cover
Farmers Market Event Planner
Farmers Market To-Do List
Farmers Market Inventory Checklist
Farmers Market Sales
Pantry Cover
Pantry Inventory Lined
Refrigerator Inventory Lined
Freezer Inventory Lined
Long Term Storage Inventory Lined
Homestead Food Preserve Challenge
Food Preserving Planner Lined
Food Preserve Challenge Checklist
Food Preserve Challenge Recipes
Preserves Notes
Homestead Notes Cover
Weekly Chores Sheet
Homestead Project Planner
Garden Tool Wish List
Plants Wish List
Homestead Garden Planner
Homestead Harvest Sheet
Seeds On Hand Lined
Cute Notes Lined
Lined Notes Sheets
Size of Journal 8 1/2 x 11
Instant Download (Nothing will be Shipped)

Get The Homestead Binder Here!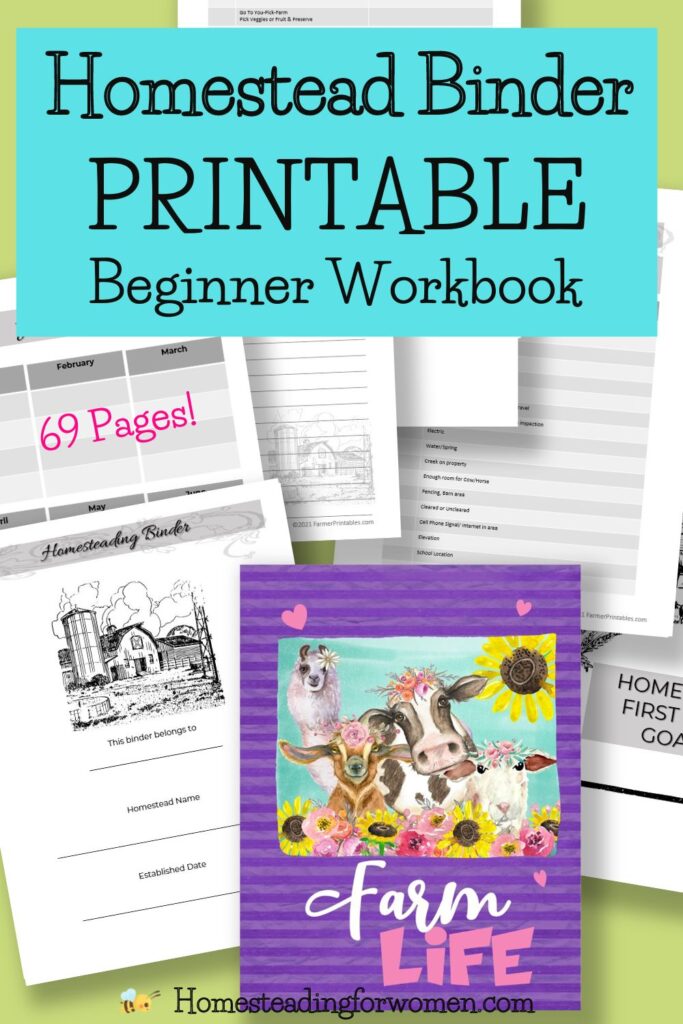 You might also like to read:

==>13 Easy Steps To Start Your Own Backyard Homestead No Matter Where You Live Now
==>What to learn more about homesteading? Check out my Homesteading Guides here!