I Love to see the first flowers start coming up in the spring!  Don't you? It means spring is right around the corner. My plan is to get some bulbs planted this fall so I'll have pretty flowers blooming at the first sign of spring.  Today I'll show you 7 different bulbs to plant in the fall, starting with some of my favorites. You're going to love these too!
Daffodils are the first to bloom here in Southern Indiana, it usually will mean that we'll get one more snow that covers those fun yellow flowers. But then winter will be on it's way letting spring come in with all it's beauty.
The second flower I see in my garden are the little purple crocus that pop up, tiny purple flowers from the previous owners efforts.  This year I'm thinking about next year's spring flowers and it takes just a little bit of planning and you will have some super cute flowers blooming next spring.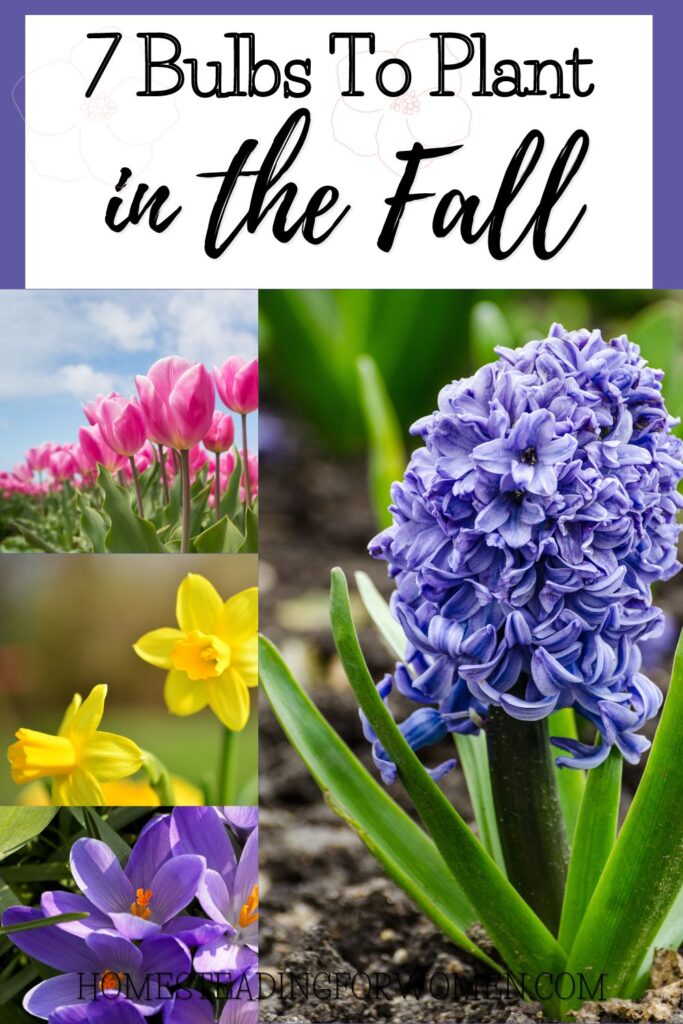 7 BULBS TO PLANT IN THE FALL FOR YOUR GARDEN NEXT SPRING!
25 Daffodil Bulbs for Planting in The Fall

Daffodils are my favorite of all the spring flowers that come up. Ours usually come up and then we get one more big snow that covers them up for a day or so here in Indiana. They tell me that winter almost over and I love that every year. Where I live in the midwest rural areas you see big batches of these coming up each year around old homesteads. Someone planted them around their house but it's not there anymore, the flowers still come up year after year. Plant Daffodils with these bulk fall bulbs.
30 Grape Hyacinth Bulbs To Plant In Fall

Grape Hyacinths are another spring flower favorite. These are all over my yard from the previous owner and every spring they pop up and I love how they smell. I need to plant some new ones back in the flower bed. Purple being my favorite color, these are a must for my spring garden.
10 'Ziva' Paperwhites Bulbs To Plant in Fall

With these paperwhites you can plant them outdoors in your garden or you might want to put them in pots inside and force them to flower for Christmas! They are easy to grow. Just purchase them in mid October and plant them right away then around the first of December they will start to bloom.
Blue Moon Crocus Bulbs To Plant In The Fall

Crocus flowers are really beautiful spring flower, this gives you a mixture of purple, white and yellow flowers. 40 bulbs come in this pack, which will be plenty for most flower gardens. Giving it just the right about of color that will really make your garden "Pop".
10 Purple and White Tulip Bulbs for Planting In The Fall

IRIS FLOWERS ARE HEARTY BULBS THAT COME BACK EACH YEAR.
German Iris Bulb To Plant In The Fall

Iris Bulb To Plant In The Fall

Old Black Magic Bearded Iris Bulb To Plant In The Fall

Fugalaucm Pleasant Bearded Iris Bulb To Plant In The Fall

*This site has affiliate links
I hope you got some ideas on some different bulbs you can plant this fall for your spring flower garden. The great thing about planting Iris flower bulbs is that they will make more bulbs after several years, that you can divide out and move to other parts of the garden, even share them with your friends and family.
You Might Also Like:
Herbs To Plant In The Fall Lavender
Herbs To Plant In The Fall Rosemary