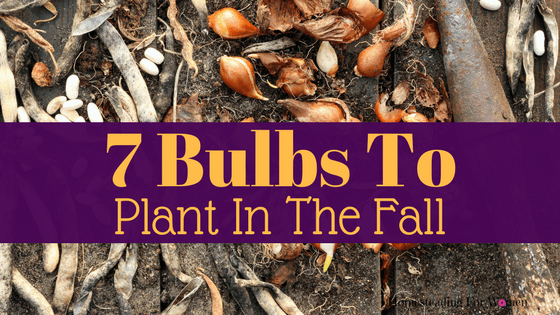 I Love to see the spring flowers coming up in the spring! I'm going talk about today 7 different bulbs to plant in the fall, starting with some of my favorite.Daffodils come up first in indiana then I see little purple crocus that pop up tiny purple flowers in little spots in my flower garden from the previous owners efforts.  This year I'm thinking about next year's spring flowers and it takes just a little bit of planning an you too will have some mind blowing flowers next spring.
7 Bulbs To Plant In The Fall
50 Daffodil Mixture Bulbs To Plant In The Fall

Daffodils are my favorite of all the spring flowers that come up. Ours usually come up and then we get one more big snow that covers them up for a day or so here in Indiana. They tell me that winter almost over and I love that every year. Around here out in the country when you see a big batch of these coming up each year around old homesteads. Someone planted them around an old house that isn't there anymore, but the flowers still come up year after year.
Grape Hyacinths Bulbs To Plant In The Fall

Grape Hyacinths are another spring flower favorite. These are all over my yard from the previous owner every spring. I need to plant some new ones back in the flower bed. Purple being my favorite color, these are a must for my spring garden.
Ziva Paperwhites Bulbs To Plant In The Fall

With these paperwhites you can plant them outdoors in your garden or you might want to put them in pots inside and force them to flower for Christmas! They are easy to grow. Just purchase them in mid October and plant them right away then around the first of December they will start to bloom.
Jumbo Crocus Bulbs To Plant In The Fall

Crocus flowers are really beautiful spring flower, this gives you a mixture of purple, white and yellow flowers. 40 bulbs come in this pack, which will be plenty for most flower gardens. Giving it just the right about of color that will really make your garden "Pop".
Burpee Tulips Bulbs To Plant In The Fall

Tulips are a big deal around my area, living close to the Kentucky Derby in Louisville. Tulips are the theme around the Churchill Downs. I remember watching the news on year and a big storm came a few days before the big day destroying all the flowers. The workers spent all night replacing all the tulips so the gardens would be perfect for the event. You would have never known it, everything looked fabulous.
Pin it For Later!