This post contains affiliate links. Click here to read my full disclosure policy.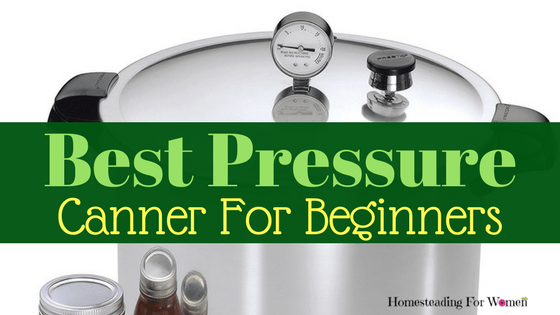 Are you getting ready to start canning for the first time? Me too! I decided to take the day and really search out which would be the Best Pressure Canner to start with. I have Grandma's old one but will it still work? I think I might just get a new one so I looked at my favorite online store and picked out a few to talk about and created this post of the Best Canning Equipment For Beginners.
I wanted to buy a new pressure canner. But there are so many to choose. One of them I picked out at first wasn't even a pressure canner! But it looked like one. Be sure to read the descriptions fully. I picked out the Top Rated ones and read all the customer reviews. I wanted something super easy. I don't want to spend a whole day learning how to use the thing. I just want to can a few cans of green beans and tomatoes. Here's what I found.
Presto 01781 23 Quart Pressure Canner and Cooker
Presto 01781 23-Quart Pressure Canner and Cooker
This Pressure canner is one recommended by Amazon. It is a top seller and has the best customer reviews. It is 23 quarts which means it will hold 7 quart jars. That's great! Less time canning if I picked something smaller then I would be working much longer hours over the stove. I also like that it is heavy duty aluminum. It is extra large, has instruction, recipe book and it has a 12 year warranty on it. I can also use it as a water canner for my tomatoes. Two for one! My Grandma used this brand.
All American 21 1/2 Quart Pressure Cooker Canner
All American 21-1/2-Quart Pressure Cooker Canner
This pressure canner has a 5 star rating! This is the canner for the die hart homesteader that wants to cook with the best quality. It's a bit pricy but when you think of all the money you will save at the grocery store. This canner will pay for itself in the first year. Top notch quality and it will hold up to 7 quart jars or 19 pints. If you're going to buy something that you will be using for years to come. Why not buy the best that you can afford the first time. Right?
Mirro 92122A Pressure Cooker Canner Cookware 22 Quart
Mirro 92122A Polished Aluminum 5 / 10 / 15-PSI Pressure Cooker / Canner Cookware, 22-Quart, Silver
The Mirro Canner is the least expensive so far in my search and not too many people have review it. But it will get the job done if you're on a budget. Many complain about the instruction booklet that comes with this canner. That it's not very helpful. If you do buy this one get online and view the manual from there. I'm scratching this one off my list. Not to beginner friendly.
CAREY DPC 9SS Smart Pressure Canner and Cooker
CAREY DPC-9SS Smart Pressure Canner & Cooker
I was super excited when I found this canner and cooker. Until I read the reviews. This is why I got confused about the cookers as you will read later. This canner will do it all, yippee! But not a lot of people bought it for one thing less than 50 at this time of writing. Also the reviews vary, most say the instructions are vague and the cooker keeps giving off error messages. I'm only showing you this so you can see how easy it is to get confused about the canner you need to buy. I will not be buying this one.
Instant Pot DUO60 6 Qt 7-in-1 Multi-Use Programmable Pressure Cooker, Slow Cooker, Rice Cooker, Steamer, Sauté, Yogurt Maker and Warmer
This is what I wanted to show you is the Programmable Pressure Cooker. I thought this would can jars. I was confusing the cookers. Pressure cookers are not designed to cook food in jars. Bottom Line: Pressure cookers are used for Cooking-NOT CANNING. Pressure Canners are used for Canning. See it's easy to get confused. Glad I did this Review, it really helped me and I hope it helped you too. Please leave a comment if you have found the perfect canner for your family. I think I'll pick the Presto Canner like the one my Grandma used all those years ago. I think the only thing she had to buy for it was a new ring. She did have a couple canners going at one time. She only bought a new stove that would accommodate more than one canner. 🙂
I want to buy a new pressure canner to can some veggies this year. But it's so confusing for a newbie like me. Here is my list of the Best Pressure Canner Reviews For Beginners.
Canning Accessories
Every Homestead Kitchen Tools you didn't know you need!