Let's Make Saving Money Fun!
Are you trying to save money but never seem to get any headway? I'm right there with ya! I use to have a tough time, saving money in the past. Until I started using my 52-week money-saving challenge printable, then it was easy to save money.
Are you ready to start saving money with me?
Let's Do This!
The Easiest Way To save $5000 In A Year 
I need to make saving money fun. That's why I created something that I could print out and record the money I added to my savings account each week. I would rush home after the trip to the bank, to mark down how much money I saved. It doesn't take long to get in the habit either.
Save Money Even When You're Broke!
You can even save money when you're broke! I was shocked at the money I was spending on stuff that I could totally do without.
Before long you'll be doing the same thing I did, like going out to eat with the gals at work, you'll end up bringing your lunch so you can put more money in your savings that week. Trust me I did the same thing!
Money is a mind game. And if you make it fun, you'll start saving. Sure you'll do without a few things, but once you have a nest egg. You won't be so stressed out about being broke all the time. And you'll learn how to manage your money a little better.
And it all starts with this simple money-saving printable that I'm going to give you.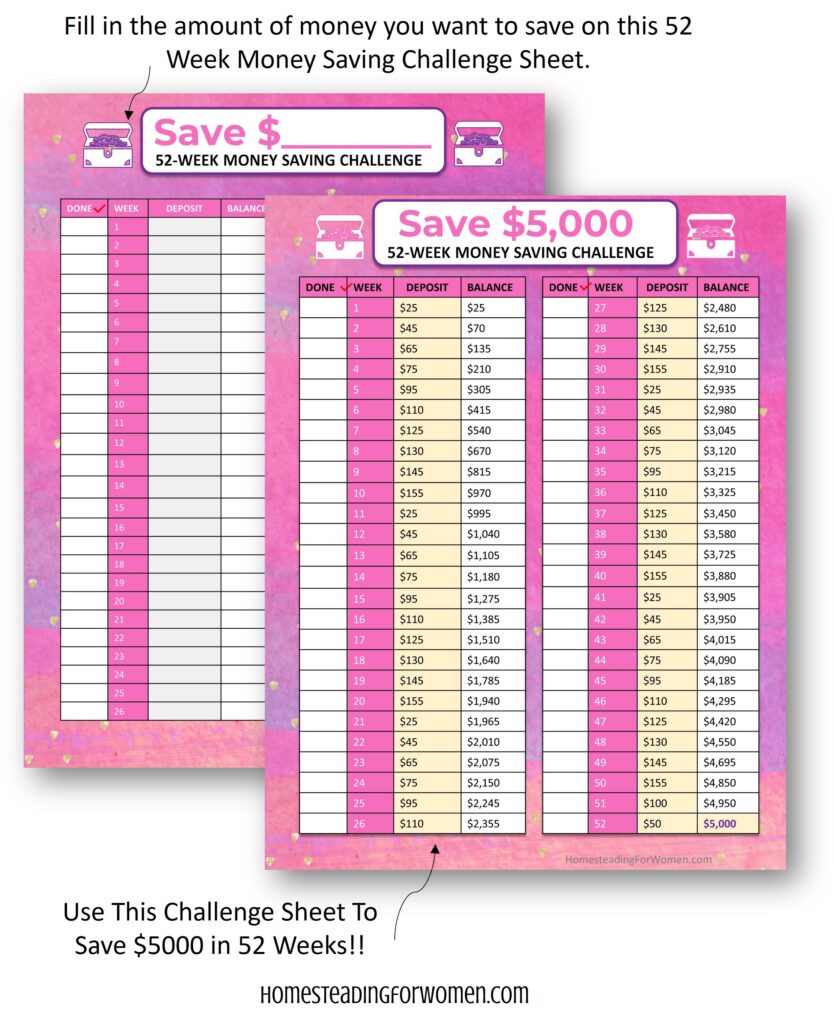 FILL OUT THE FORM BELOW TO GET THE FREE 52-WEEK MONEY-SAVING CHALLENGE PRINTABLES!
[convertkit form=3475249]
Money Speaks Only One Language…if you save me today, I'll save you tomorrow
How To Use The 52 Week Money Challenge $5000 Printable?
It's really simple, download my 52-week money-saving challenge printable, then print it out. I have filled it out for you so all you have to do each week is record the deposits that you make in the bank.
Easy Peasy!
Each week deposit the planned (on the printable) amount of money that you've chosen to save in your account and mark it off on the chart.
What if I don't have enough money each week? No Worries! One thing that works for me is if I overspend on one area of my budget, I make up for it in another area. I might not eat out if I've bought something big for myself. Making a budget first really helped me with this savings challenge.
See how it works?
I discovered a secret when I started working on this save money challenge.
What to know what it is? Sure, you do!
I started to find money everywhere. A little here, a little there. It was really starting to add up! You can read more about that in a second. But first I create a blank 52 week money challenge printable as well. You'll get that freebie in the download too.
You might also like to read:
15 Items To Sell To Make Money
How Bloggers Make Money
Make Extra Money

Blank 52 Week Money Challenge Printable
You will also get a blank 52-week money challenge printable so you can start saving any amount you want in a year. Say you want to save $10,000 for a downpayment for a home. Then you would just divide out that amount in the money-saving chart, recording in reverse. You can start saving any amount. Once you get started it will be easy to stay on budget after a few weeks. And let me tell you from my personal experience. I feel so much better having money in the bank. The worry is GONE!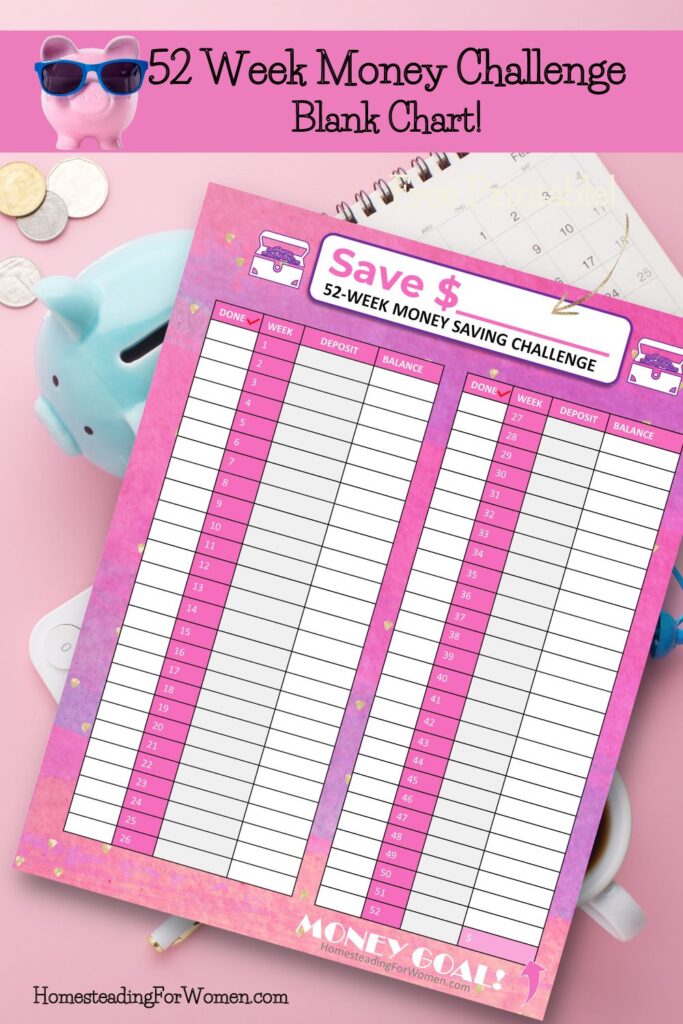 Simple Tricks To Find Money In Your Budget
I changed little things around the house, and it's making a big difference. I've been thinking like this…"How can I save $5 today?" It's easier than you think!!
One big thing you can do that's super simple is to turn off the light when you leave the room.  (I'm bad about remembering this too.
Here are some more ideas to get you started.
Changing out the lightbulbs to LED in the house saves us $50 a month on our electric bill.
I save $50 or more a month by just drying my clothes outside on the clothesline during the summer months when we have the air conditioner on. I can stay nice and cool inside during the summer this way and not worry about the electric bill going up.
 Turn off all the lights when we leave the room. (Gotta get a handle on this)
Buying building supplies at yard sales and thrift shops. Doors, Nails, Hinges. It has saved us so much on building things around the homestead.
 Hair appointments, no more. I've cut and colored my hair forever. ($120 a month savings)
Use your car until it quits, don't buy new.
Pay with cash only. You get huge savings.
Negotiate those credit cards. That's how we paid them all off for 1/4 of what was on the card.
Buy designer clothing at thrift shops and yard sales. (I never pay retail for things)
Buy a computer from best buy on a 12-month no interest and pay it off in the 12 months.
Make a grocery list BEFORE you go to the store. Stick with the list. Make a menu plan for the week and look at the things you already have at home.
Eat out less, don't buy two drinks when you go out to a fast food restaurant, and drink water to save even more. Buy one meal and an extra sandwich for a couple. Drinks are so high! I always take water with me.
Never buy retail to decorate your home. Find the best thrift shops and go early to get the deals.
Make my own dog food and yummy treats.
Negotiate monthly bills. I called Dish network and got my bill down to $65 a month. (Mr. B has to have his TV) 😉
I used Ebates app on my browser to buy from. $50 Check when I bought my computer.
More Side Hustles. Read about these here.
I hope you liked this article, and grab your copy of my Free 52 week  money saving challenge printable today! What are some things you do to save money? Leave a comment below.
Pin It For Later!