About

Michelle Here!
I love chihuahua's, chickens and crickets. 🙂 I am a wife, mom, blogger, retired cricket farmer and full time eBay seller. 
Homesteading for women is for women who live the homestead life or is just dreaming about it. Anyone can live a simple lifestyle again, slow down and smell the roses, kinda life.
I think we all are guilty of rushing here and there, forgetting our morals and how we were raised. Unplugging from technology and getting outside to the live simply lifestyle.
My hope with this blog is to inspire you to to this, for not only yourself but our country. Unite with our brothers and sisters and slow down, visit over a glass of lemonade on the back porch, smelling the fresh flowers from your garden.
Live Simply Lifestyle!
Just a little bit about myself.
I'm a wife , mother, blogger and a retired commercial cricket farmer, who after 25 years of making over 300k a year, found herself without income.
Almost overnight a virus hit the farm and every farm in the country, a bug virus was killing off all the crickets and there wasn't anything we could do about it. We decided to not fight it and just retire with the money we saved we went on a much needed vacation.
Then what?
Who was going to hire a 40 something woman who raised bugs for a living other than McDonald's.
Ah NO!
I put myself to work figuring out how to sell things online and was doing pretty good at it and it has paid all my bills each month and got me completely out of debt.
Now I want to add yet another income stream to my empire!
I started taking courses on how to build a blogging business and doing affiliate marketing after tinkering around for several years, I decided to get serious about it and in January of 2019.
I've learned the hard way, you've got to have several income avenues coming in at one time. That way you won't be devastated when one is going slow for you or quits completely like our cricket business did for us.
 My little homestead in the middle of Hoosier National Forest.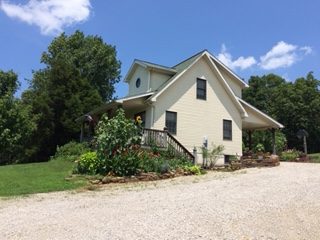 We have a little over 25 acres with a 2 car garage that can never have a car in it, also a rabbit barn, chicken coops, another almost finished barn to store our camper and tractor.
Our Tiny Home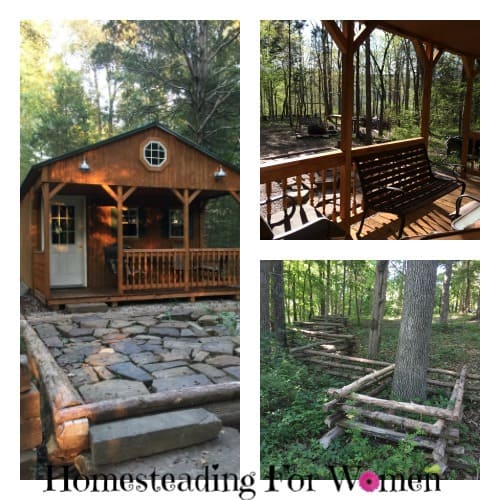 I love spending time in our cabin or some call it a tiny home. It is completely off grid, everything runs on batteries, lights and electric. The heater runs on propane gas. Sometime we will add some solar panels. But for now this is fine and we can't see it from the house at all, it's overlooking a big valley with a creek at the bottom. Read more about the Tiny home here.
We raised two boys, sadly our oldest son died at 25 years old in 2006. That is one of the hardest things I've ever had to go through. You just have to put one foot in front of the other and keep on living for your family.
Live Simply Lifestyle!
I thought this would be a great time to share my journey on my homestead. Join me  and see what I'm up to  on my simple life as I blog about it here one homesteadingforwomen.com.  I would love to connect with you email me or follow me on social media.
Michelle 🙂