Getting a blog started is super easy and it cheap too. I've been blogging for many years, you can tell because hubs is always saying to me "You could blog about that!" Do I have him trained or what?! 🙂 Today I'll show you How To Start A Blog in Four Easy Steps. Have you always wanted to have a blog but just didn't know how to get started?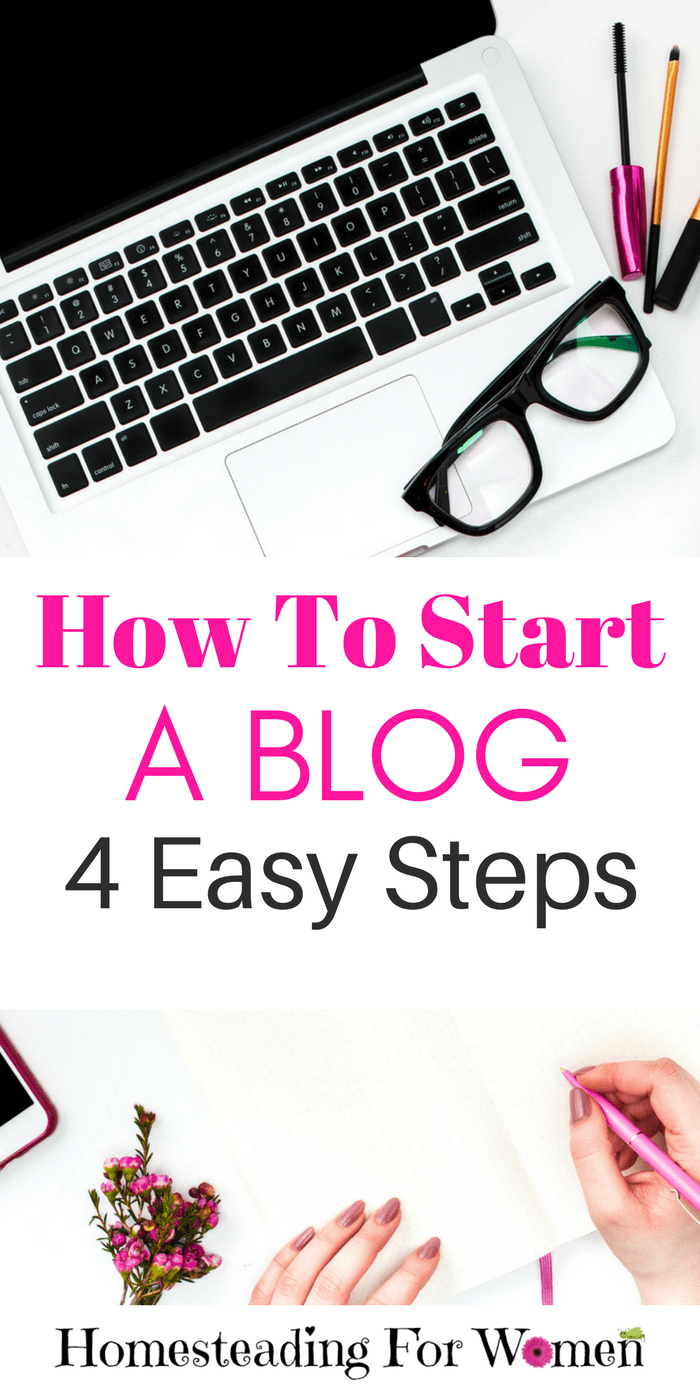 Blogger or wordpress
First thing you need to do is find a place for you blog to be, a home as such. That would be your hosting service. Like Bluehost is the hosting service I recommend to bloggers. I'm in many blogger groups and I'm so surprised at how many people opt for the free blogger option. Let me tell you a few things about getting a free blogger blog. If someday you decide to try and make money with your blog.
Blogger will not let you, if you decide to put any affiliate marketing links on that free blog they can take it down is seconds. Can you imagine the heartbreak it would be to work so hard on a blog? Then one day it gets deleted! Say time passes by, then one day you're getting great traffic to your blog and you want to see about making money with it. If the blog it a free one then your out of luck.
I've seen so many people ask how to move their free blog posts to a paid hosting one and it can cost thousands of dollars, if you can even find someone to do it for so little. I've also seen people that were making $5000 a month on a free site then one day the sight is gone with all your articles because the company  went bankrupt they didn't have to pay the money that was owed to them.
So Please For the love of Chihuahua's Don't get a Free Blog!
Do what I've always done, buy a domain with hosting and then you can do what you want with to with it. You can sell it if it starts making money. Actually you can sell any website if it's making pennies for a couple thousand dollars. Sweet! I know people that do for a living. They build a blog up to where it's making a little money and then flipping it for big cash. Sound fun?! Ok Let's Get Started!
Step One: Pick Your Domain Name And Register it
You can click here to get your domain and hosting all in one place. Which is a Great deal! Bluehost has  Special Discounted price of a low $3.95 a month. I paid $9.99 a month with no free domain. So you better jump on this deal while it's still available. Picking a domain name is a little tricky but you don't need to fret too much about it, just make it simple.
Here's a checklist to help you out. See if you blog name passes the test.
Can you tell your friend your blog name easily or do you have to spell it out for them?
Is it easy to say or is it super long?
No name of any Brand, you will get sued.
If you tell me your blog name, will I know what your blog is about? I had a blog named cricketlady and it was about selling on ebay. Lol! Big Fat Fail!
Is your blog name broad enough to cover all your subtopics? "Cannedhamfordogs.com" would be too narrow. See what I mean?
Now you need to head over to Bluehost and get your domain name and your hosting. Then come back over here to get your blog set up.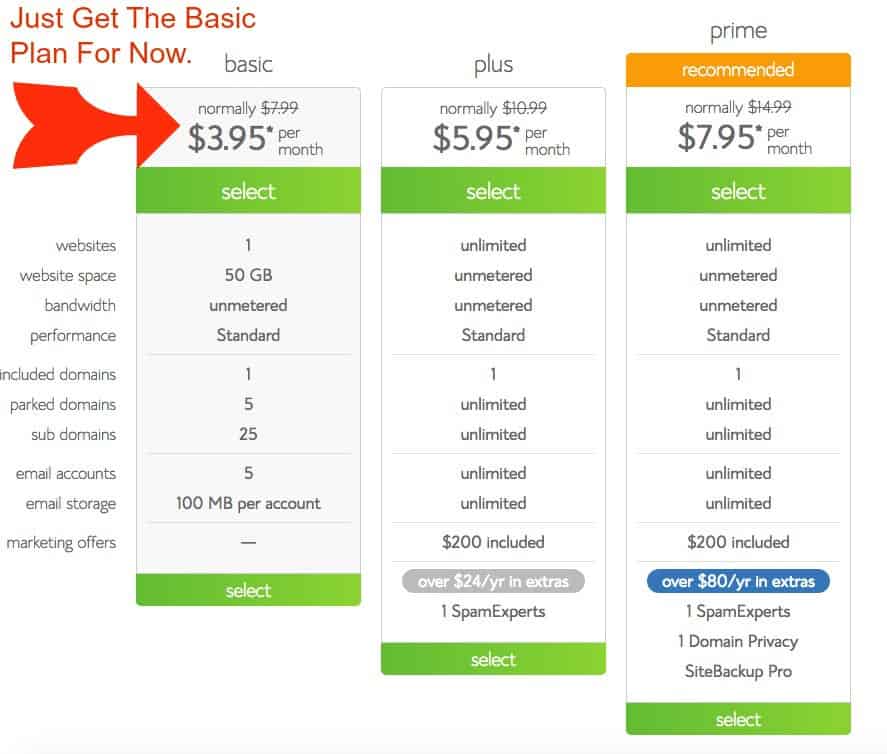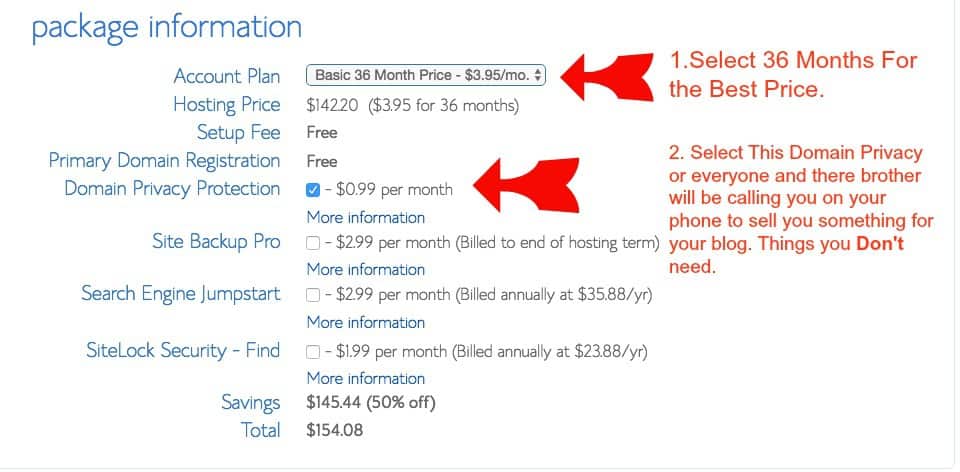 Step Two: Buy Hosting Package For Your Blog
If you haven't done so already now is the time to buy your hosting package, I recommend Bluehost, you not only get a free Domain name but you also get a cheaper monthly rate if you buy the 36 month plan and that's only $3.95 a month that way, and you won't have to worry about paying that bill each month. It's a really sweet deal too! You have to pay upfront for this but it so worth not having to worry about it. You must buy at least the 12 month upfront to get the free Domain name but that brings you monthly bill to $5.95 a month.
Step Three: Point Your Domain If you didn't buy it through Bluehost.
Skip this if you bought your Domain and hosting at the same time from Bluehost
Now if you already had a Domain Name and you didn't just buy it from Bluehost. Then you need to point you blog to the new host because it's just sitting where you bought it from, be it GoDaddy or Namecheap. You want to open up two new tabs in your browser. One where you bought your Domain Name and one with Bluehost CPanel (that's like your homepage).
How To Change Your DNS Nameservers using GoDaddy that has your domain and Bluehost that is your hosting:
Your First tab you want to open up GoDaddy.com Find Your Account Manager.
You will see your domain name and then you will see "DNS" Click on that box.
Next you will scroll down till you see Nameservers, click the "CHANGE" box. Select "CUSTOM".
Type in the nameservers you were provided from Bluehost, should be: ns1.bluehost.com and ns2.bluehost.com.
Select "Save".
Then you need to add that domain that you bought as an addon domain to your Bluehost account. Just Click on the "Domains" in your Cpanel and click on "Assign". Just Follow along the steps easy peasy.
Step Four: Install Your WordPress To Your Blog in Bluehost
This is super easy! Much easier than it used to be, your so lucky! First you need to go back to your Cpanel. See the image below. Click on the "W" for wordpress. You will also be sent an email with your Cpanel login from Bluehost. I like to copy that information and I put it in the cloud somewhere. Like google docs or Evernote and when you setup your wordpress it will ask you to fill in how you will log into your website.
This is important PRO TIP: Don't put "Admin" every hacker out there will try to get into your site with that log in. I like to use something different. And the password should be hard. Don't make all of your passwords the same. Someone told me years ago that has helped me so much with my passwords. He said to start out the same for them all. I pick a number "920" and then the Three letters of the site or something about the site "Blueh" and the end is always "Bugsn2$" Isn't that cool…bugs n 2 Dollars!
So my password would be "920BluehBugsn2$" That way if I go to a site on my tablet and I can't remember the password I might remember it better with my coded password. I always keep the first numbers and the last the same and the middle is always different. But It has to do with the site. It's a little crazy but I have figured out some of my passwords when I'm sitting on the couch with my tablet and don't want to run to my computer to see what the password is.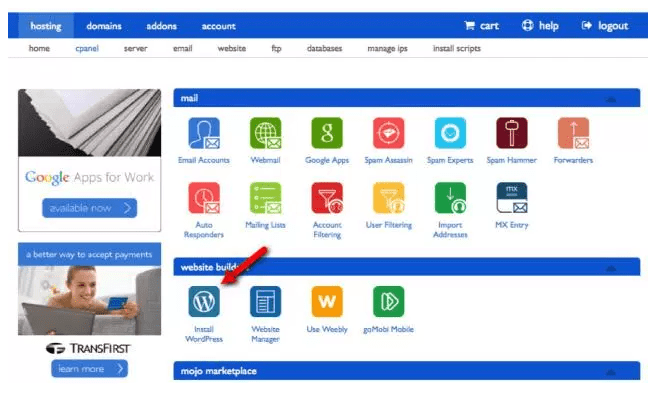 Now you know what to do. Now you need to head over to Bluehost and get your domain name and your hosting. They are giving us a special discount of only $3.95 a month if you sign up for a year you get a FREE Domain Name Too! Sweet!