This post contains affiliate links. Click here to read my full disclosure policy.
Making Room For New Baby Chicks with a New Chicken Coop!
I love baby chicks! we've not had any in a few years and our old gals are getting to be 10 years old. Wow how time flies! I bought some chicks a couple years ago but our little outdoor dog ended that really quickly. So this year we had a plan, Build a Chicken Coop for the Baby Chicks so that won't happen again!
 See The Best Selling  Chicken Coop  you can buy online!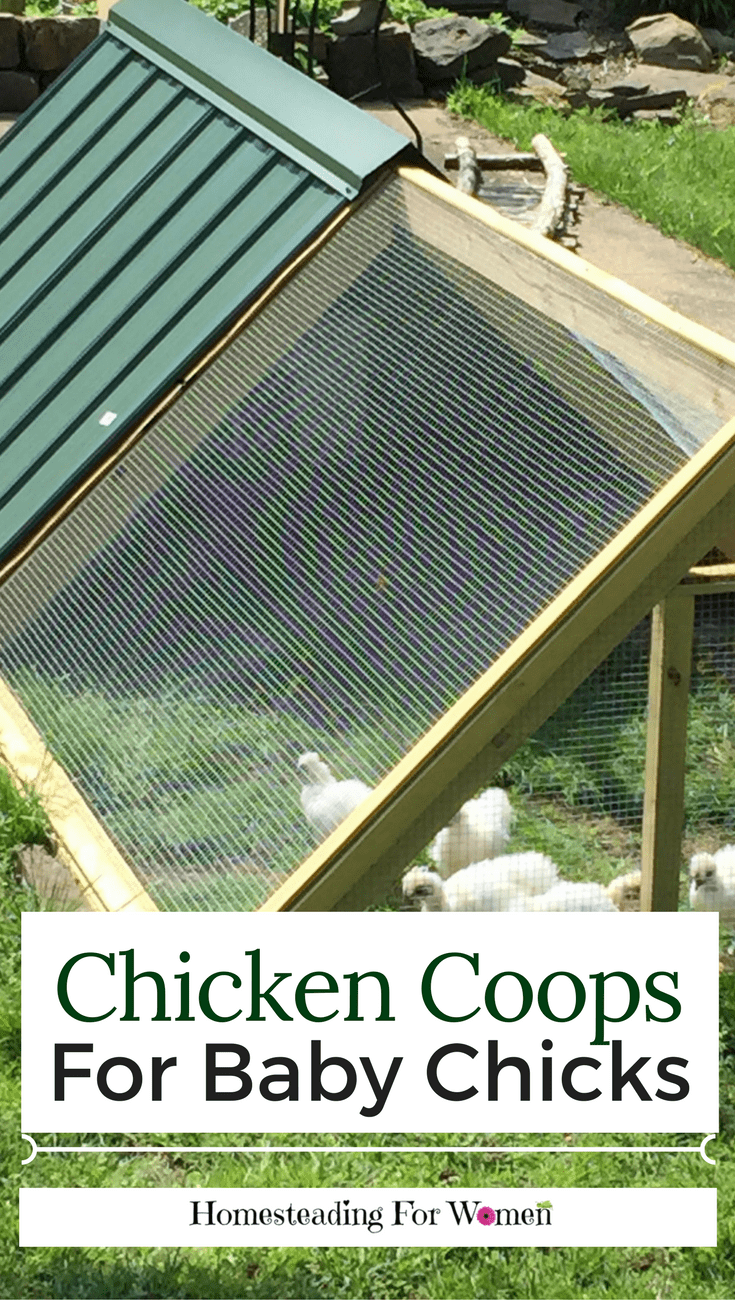 Getting Started with Baby Chicks
You will need a few things to get started with before you bring the little chicks home. This is what I gather up first.
You will need the following:
Waterer
Food Holder
Something To put them in
Light
Bedding
When I bring chicks home I put them in this tub  this year I put paper on the bottom (which was a MESS!)
Next time I'm using bedding like this They also need some kind of lighting to keep them warm, I used this clip on light for heat because of it's safety feature. (I had a Pet Shop owner burn down all of his reptiles because the light fell and caught the whole place on fire while he was gone).
Like I said I used paper on the bottom of the tub and It worked out fine for the first 5.  But the second batch… why oh why did I get so many chicks the second time. I'm adding paper every hour and it's such a mess! I bought 10 silkies and hubs bought 6 more.
What the heck!
JAXPETY Chicken Coop Rabbit Hutch Wood
ALEKO 75X26X46 Wooden Pet House Poultry
ChickenCoopOutlet 78
Merax Chicken Coop Wooden House Cage
Prevue 465 Red Barn Chicken Coop
ALEKO Wooden Pet House Poultry Hutch,
I had this tub sitting in my kitchen. Which was fine for the first week, second week…not so much. Did I tell you that chickens grow really fast!
Let me paint the picture for you.
My kitchen table was next to the tub and when 10 chicks start flapping around and chicken dust is flying in the air.
YUCK!
DIY Homestead Project! See How To Build A Chicken Coop
Here is My Baby Chick Setup
We also bought this feeder for the Chicken Starter Food and a plastic jug for the water like this one plus the light. We quickly moved our first batch of chicks, the 5 really friendly ones to our New Chicken Coop that hubs built for me. That's when I went to town and bought 10 more silkies. The next day we went back to town and bought 6 more.  We lost one, but he was sick from the beginning. I think the girl knew it when she gave me that little stunted chick. She didn't want to watch him die. She got in the cage to pick him out for us and then gave us a super discount.
She knew!Oh well. I figured I would lose more but we didn't.
Farm Love Life Is Better With
Chicken Shirt Large Black
The Amish Chicks Are More Friendly
I did notice that I like the first 5 chicks better, we bought them from an Amish auction, they are much calmer and more friendly than this last batch that we bought from tractor supply.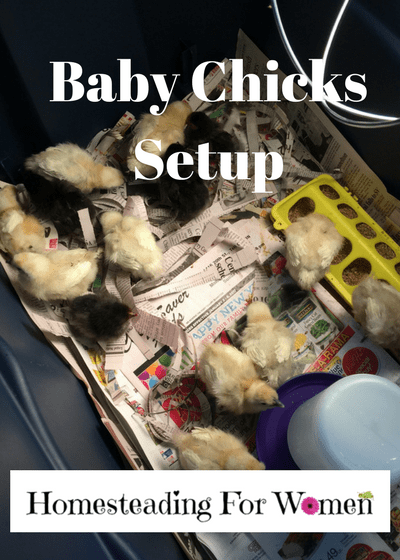 (Update: The second batch of chicks did become more friendly, especially when we feed them this. They come running when I call them now!
Maybe I'll get a rooster in the last batch that I can breed with the friendly chickens.
We'll see.
We also added This Light to the new chicken coop and kept it on during the night for them or if it was cold, I kept it plugged in all day. They really liked the new cage, you could see them sunning themselves on nice days out in the grass.
We did have to move the cage over, but that's why we build it with big handles on each end so we could move it around.
Did you know chickens can't see at night? That's why they go to bed before dark.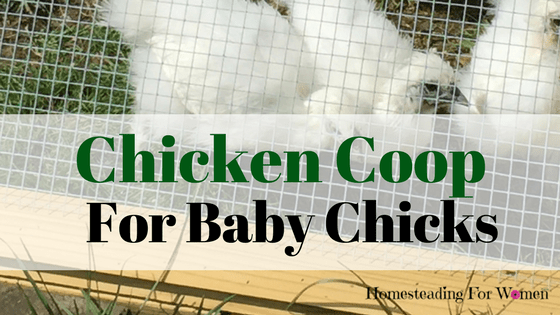 Moving chickens
When the 5 oldest chicks was getting too big for this cage, we moved them to the permanent chicken coop that we already had for a while. We then moved the 15 chicks to the new chicken coop we built. It's been raining so they haven't even checked out the grass yet. I was worried that they wouldn't get in the box under the light. They were just standing in the corner in a puddle of water. I just left them alone and later just peeked in the front of the cage and they were all under the light in the box. Yes!
So our new Chicken coop for baby chicks is a success again! As these get bigger we are going to build a new chicken coop for the silkies and the old hens. Our fence has been down for a couple months now, free ranging until the garden gets planted that is. 🙂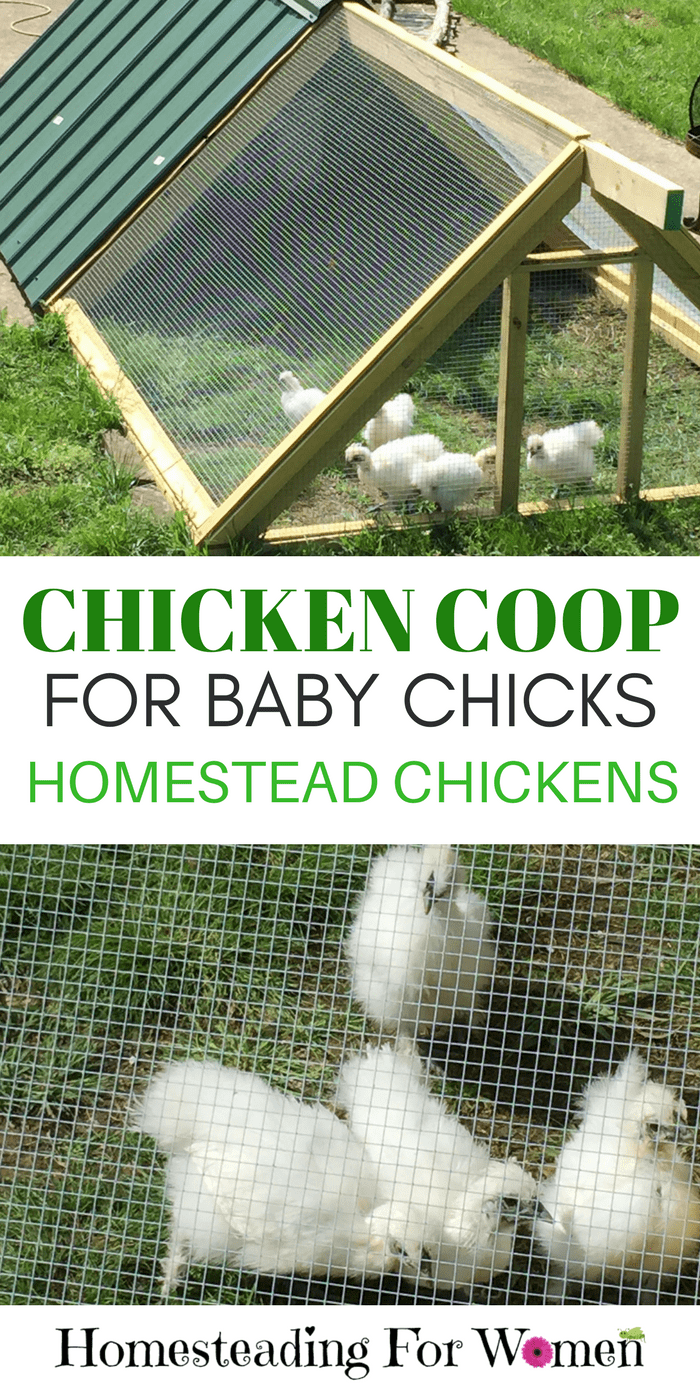 Happy Backyard Chickens!