This post contains affiliate links. Click here to read my full disclosure policy.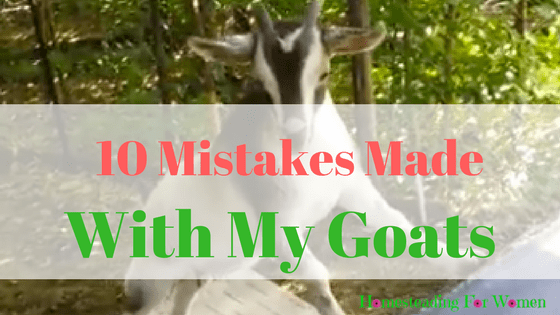 I really loved my Goats, I think that was the Problem! Hubs is really great about getting me the animals that I want. I was raised in town and a goat was not something to get in when I lived. We tried goats when we were first married but we really lived in the woods and unfortunately we had a problem with coyotes and within a week we lost our goats. I didn't try again for 30 years.
In A HURRY? Just Can't Wait To See These Cute Goat Boots I Found For Women!
Are You Ready For Goats On Your Homestead?
To me I think of goats as unruly kids, you give them a mile and they take 10 miles.  I joined a facebook group about goats in our area and posted that I was looking for a baby goat, one that didn't need bottle fed.
I wasn't going to get a baby goat that I had no idea how to take care of. And I don't recommend getting one that small unless you are doing a 4-H project or just really love taking care of a baby goat that will need a bottle every 2 hours. Totally up to you on that one.
See The Best Price On Things You Didn't Know You Needed For Your Goat!

Comical Shirt Ladies Original Goat Whisperer Navy Frost
Womens Crazy Goat Lady Shirt – Goat Shirt – I Love Goats
Goat Boots! Sloggers Women's Waterproof Rain and Garden Boot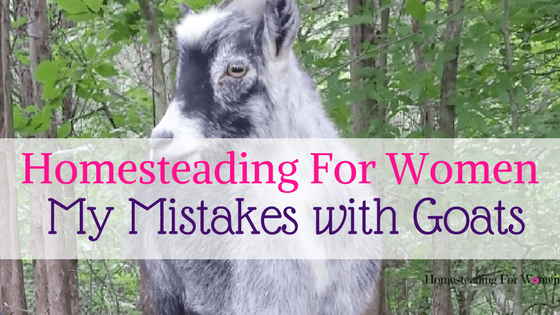 Not long after I posted the notice on facebook a nice lady that lived close contacted me that she had a Momma and baby that she would sell and some hay too, Bonus! We could get everything we needed all in one stop! I was so excited and they were kinda tame although I couldn't get near the baby for weeks. That was disappointing. I think that's why so many people want to bottle feed, to make them super tame.
All was fine, we just had a couple Dog Houses for them to sleep in and later on build them a bigger place to stay but they didn't like it. lol! After all that work making them a nice shed that was off the ground, they slept in the old dog house and under the new shed. Go figure!
Benefits Of Having Goats
First I'm not going to lie. There are many benefits of having goats on a homestead and more than likely I'll get more when I have a barn and lot that is out in the field close to our Cabin, rather than have them in the woods, which I'll talk about later. I'm just going to give you a small list of reasons why you might want to get goats on your farm and then you can read my mistake list to help you make your own mind up if you want to get them or not.
Goats are mostly great around kids.
Perfect 4-H project for the kids to work with and learn about taking care of.
Goats are very entertaining and fun to watch and play with.
They will clean out a heavy thick brush with thorns out of your woods or fields.
They have been known to be very protective of their property, alerting and protecting from animal intruders. Say for you chicken coop.
They poop a lot and that is great fertilizer for your garden. It's easy to clean up and add to the compost pile.
They are cute as heck! What can I say I'll always have a soft spot in my heart for these little goats.
They talk to you, and you can pretty much tell what they are saying. Mine little one in the picture would say "Haaaaaay". 🙂
Milk The Goat Bucket
Zenport Zen-Magic Hoof Trimmer
10 Mistakes I Made With My Goats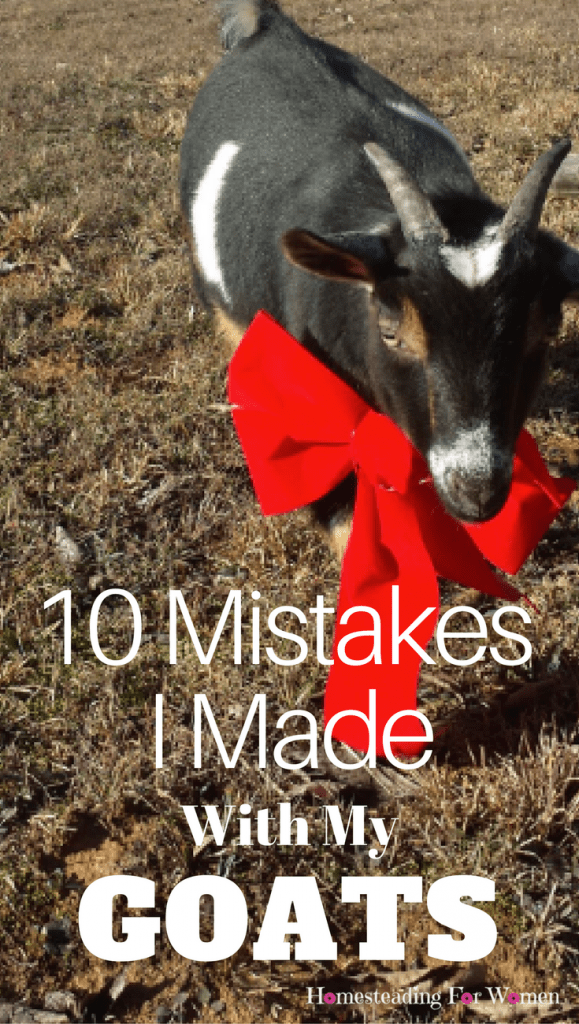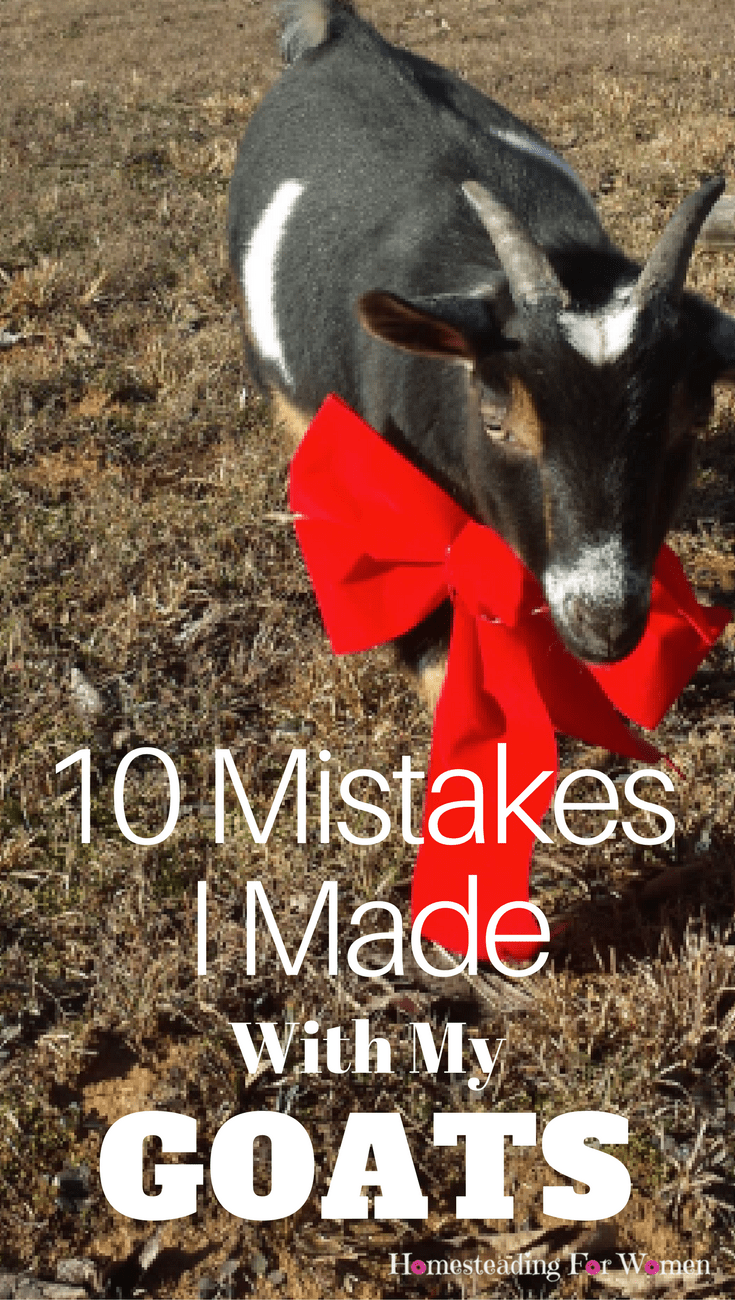 I'll just give you a run down on what I did wrong with my goats and hopefully help you be more prepared than I was when I bought my goats.
1. I spoiled them, I just loved them too much and they soon learned that as soon as I walked out the back door, I was going to go to their pen and give them food. That was fine for a while but then when I didn't come to the cage they just stood and yelling for me… all day long. (sigh) Hubby was sure I wasn't feeding them and would go feed them again. Thus Fat Goats.
2.Give them what kind of mineral? That always confused me.
3.Brought home a 6 week old Baby and put him in the same cage with my Momma goat and her baby. NOPE! She tried to kill him. The little guy had to stay in a dog kennel all night until the next morning when we added fencing in the pouring rain, fun times!
4.No proper place to store enough hay to feed the goats over the winter. Ended up buying hay from the feed store in town and then late in the winter the hay was moldy from rain, so we had to track down some hay from far away. No one bales square bales anymore around us as they can't get any help bringing in the hay from the field, they all do round bales that they bale by themselves.  We didn't need nor want a big round bale of hay. Those suckers are big!
5.Didn't realize how hard it was going to be to cut trim the hooves, but if you do get these, they work Great!
6.Didn't really know when to worm them and was getting mixed messages from everyone we asked. Some said do it, some said don't unless the vet said to give them some. "Check their eyes" someone said, really they look fine to me, we didn't give them any wormer that year we had the goats.
7.We wasted a bunch of our hard to find hay, if it falls on the ground the goats won't eat it. Until we bought THIS!
8. We put the goats in a lot with mature cedar trees, great shaded place that we used to have a couple old dogs. The fence was great and we thought they would  love it. Oh they did and they stripped all the trees of their bark, we lost many trees before we sold the goats.
10. Not understanding that goats don't share and my little baby goat wasn't getting enough food, unless I stood over him until he was finished eating.
TIP: I found this on pinterest, great idea if you have more than a couple goats. I wish I would have had this for my three goats.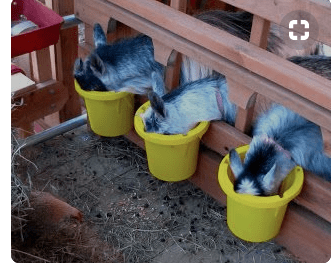 Conclusion
If you're thinking about getting goats, make sure you re-read all my mistakes so you won't make those and remember just how destructive these animals are, I've seen one eat a tin can before. And if your marriage is getting stressy over the animals then maybe it's time to part ways. With the animal of course. (snicker) Hubs would walk up to the cage each day and just shake his head looking at all our fine cedar trees being destroyed.
That's when I put on my big girl pants and put the ad on facebook to sell them all. Luck would have it, that they guy that bought them from me also bought all the goats that I bought my first Momma and baby from. So they would go back to live with some of the old goats that Momma grew up with and they were going on a farm close to where we lived. I had them off the farm in 2 days.
WARNING! Selling your Goats on Facebook -a couple of the people that called just wanted to buy them to sell to the feedlot. Oh that makes me sad everytime I think about it.  But I saved my sanity and hubby is happy again, thank goodness and hopefully the goats are happy as can be.
Happy Goat hunting or not,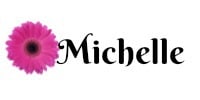 Zenport Q91 Zen-Magic Ultra Twig and Hoof Trimming Shear Twin-Blade, 7.5-Inch Long
SCENIC ROAD Wall Hay Rack, 25″ x 27″ x 10″